If you've been keeping up with design trends, you've probably noticed a new one that has recently come on the scene and is rising in popularity: layering rugs.
While the typical rug has been a beloved staple of home decor for a long time, layering multiple rugs together is increasing in popularity due to how it brings textures, colors, and even an element of hygge (the Danish word for a feeling of contentment or well-being) into your home.
Keep reading to learn more about rug layering, five rug layering ideas, and even get some product recommendations that won't break the bank.
What is Rug Layering?
To put it simply, rug layering is when you combine two or more rugs (typically just two), placing one on top of the other to create an intimate, focal space.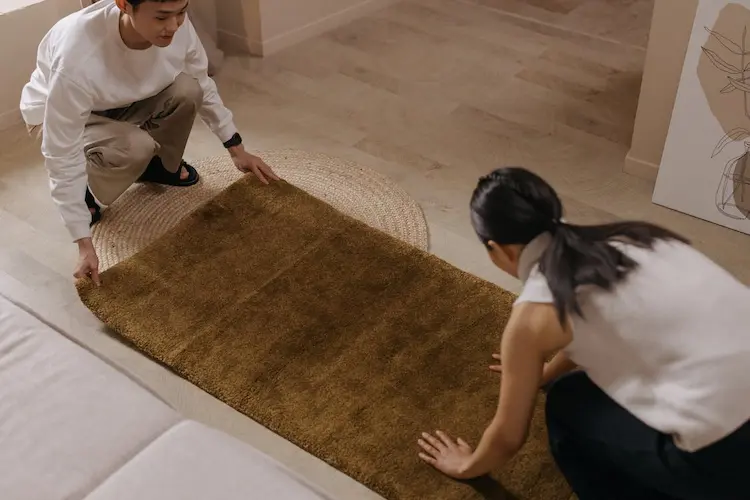 You will typically find that people layer rugs in the areas they most use and want to define as more cozy and conversational. For this reason, the most popular choice to do some rug layering is a living room, den, family room, or bedroom.
Designers have been utilizing rug layering in more recent years because people want spaces that have more bold and more colorful textures and patterns.
Instead of neutral greys, whites, and tans, people want spaces that reflect their diversity of spirit–ones with bold colors with juxtaposed patterns and textures. Rug layering allows you to effortlessly do this, while also helping to define a space and give it a more cozy feel.
Rug layering is also popular because it works well with almost every design, taste, and style.
From mid-century modern to boho, it is very easy to find rugs that match the look you are going for. Layering them together makes that space better reflect you without needing a complete design overhaul or renovation.
Rug Layering Tips & Tricks
To borrow an old cliche, the sky is pretty much the limit when it comes to rug layering combinations, but there are a couple of things you want to consider and some things to avoid when layering rugs in your home.
Pick a Main Color or Pattern
Before you begin to layer rugs, it's important to pick out a main color or pattern you want to highlight.
Yes, the fun part about rug layering is that it allows you to create and design a unique look for your home. But, you can go overboard.
Pairing together too many different colors, textures, or patterns will create the opposite look you are going for, making the space feel chaotic and untethered.
To get the most out of rug layering, you will want to come up with a central focus—a color woven throughout each rug (no pun intended) or a texture/pattern (such as jute) that naturally helps to bring continuity.
This will go a long way in anchoring your space and allowing what you want to pop (such as a specific pattern or design) to stand out.
Pick a Focal Point
Aside from featuring a main color or pattern, you will also want to map out a space that you wish to be the visual focal point.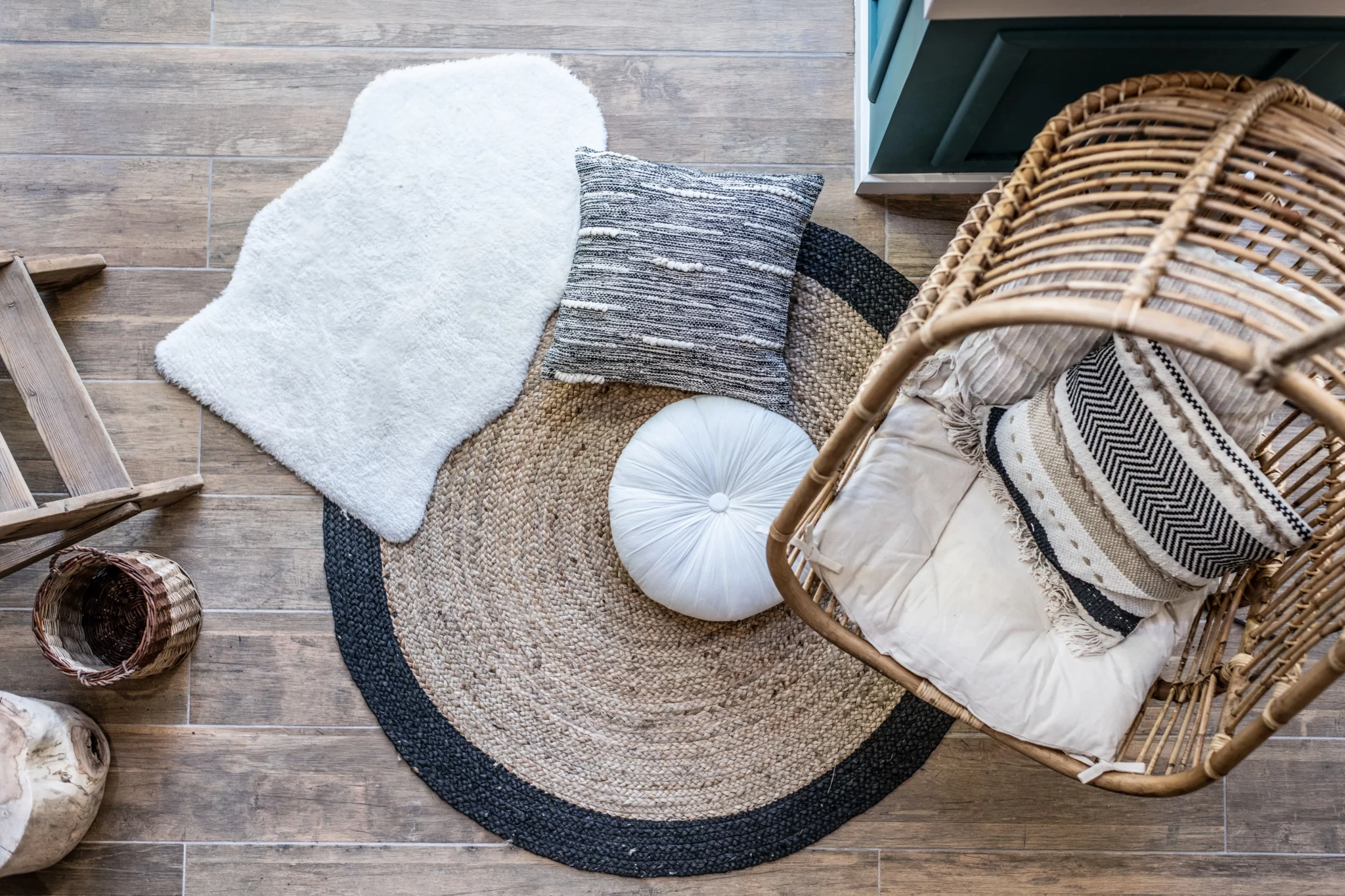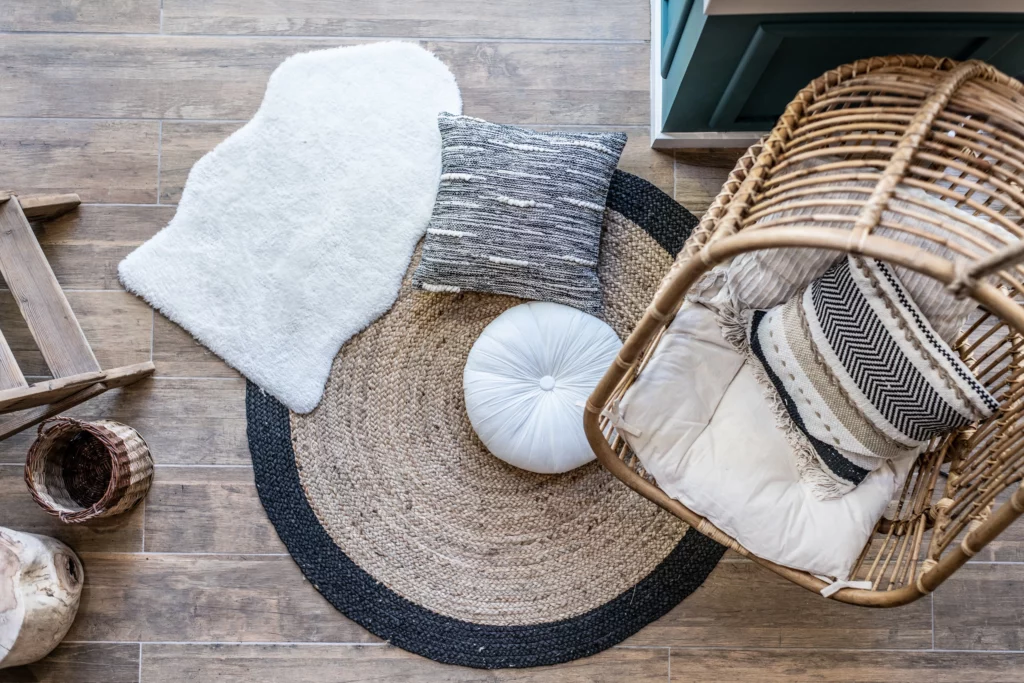 Living rooms, bedrooms, and kid's playrooms work so well with rug layering because they have a natural focal point. When you go into these spaces, you naturally want to plop down on the couch and have a conversation or sit on the rug and play with your toys.
Staying with this natural focus is important as you decide 2 things:
1) which space do you want to stand out and
2) what mood do you want to bring to that space
Are you looking for a fun, conversational space? Or maybe you're layering rugs in your bedroom and want to create an intimate, cozy retreat?
Test Before You Splurge
Before purchasing that expensive dreamy rug off from Anthropologie, consider purchasing a couple of cheaper rugs that feature a similar design scheme to experiment with (T.J Maxx and Marshalls are great places for this).
Often, rug layering takes moving furniture and re-arranging a space to get the right look. Plus, many times, what a rug looks like online and how it looks in your space are vastly different.
It's always a smart idea to experiment with a couple of various rugs with the same overall look but slightly different features before spending a lot of money on the rugs you are hoping to land.
At the very least, you'll want to make sure the store you plan on buying from has a good return policy. And don't be afraid to try out VR tools that let you see how a rug will look in your space, they are pretty impressive.
RELATED: 18 Awesome Stores to Buy Cheap Rugs
Don't Worry About Design Style
Often when people think of rug layering, they think of the bohemian home design style.
While the boho design does lend itself really well to rug layering, you don't have to follow this style to layer some amazing rugs together.
The best part about rug layering, and what makes it so much fun, is that it puts you in the driver's seat. No two layered rugs are the same!
We're not saying go crazy with every home decor style under the sun, but allow yourself to get creative and don't get stuck on a super specific design style or taste. 
Go for Odd Shapes & Sizes
You might be hesitant to try a rug simply because it's an odd shape or size, but these are perfect for rug layering.
One of the greatest things about rug layering is that it allows you to use rugs that might have otherwise been too small or just an odd shape in general for your space.
Layering is where these types of rugs shine–so when it comes to shapes and sizes, no rug is left behind!
Don't Mix Too Many Patterns & Textures
While this may seem like a no-brainer, some people try to go too big—layering 5 or 6 rugs together.
While this can work in some cases, layering multiple contrasting rugs together brings chaos to a space (and can be a tripping hazard).
Don't Forget Rug Liners
Just like when you use a single rug, placing a rug liner underneath your base rug will go a long way in both preventing your rugs from shifting place over time and also preventing unnecessary tripping.
Wayfair is always my go-to spot for rug liners, as they have various sizes for every type of rug out there! Or, you can grab some on Amazon for quicker shipping.
Now that you know what to avoid and consider when about to do some rug layering, let's take a look at what rugs really work together (aka the fun shopping part).
5 Rug Layering Ideas
While we want you to have the complete confidence to go crazy and come up with your own beautiful, Pinterest-worthy rug layering combinations, here are some of our favorite design ideas for you to consider.
Pair Jute & Traditional Rugs
The combination of the natural, earthy jute combined with a patterned, colorful rug anchors a space and gives it a feeling of warmth and harmony.
Get the Look:
Over $500:
Under $500:
Layer with Animal Print or Hide Rugs
Animal print and hide rugs (preferably faux hide) are some of the easiest ways to bring a connection to the natural world into your space.
Simply put the hide rug on top of a complimentary area rug that is more neutral and larger. Since hide rugs are typically oddly shaped compared to your typical rectangular rug, they are perfect for rug layering.
We recommend layering a solid or minimally printed rug under an animal printed or hide rug, otherwise, it can feel too chaotic.
Get the Look:
Over $500: 
Under $500: 
Area Rug & Sheepskin
Another popular rug layering combination is a larger area rug topped with a fluffy white or beige sheepskin rug. It will look luxurious, plus it will feel cozy as can be when you walk on it.
Simply pair any printed area rug you love with a sheepskin (or faux sheepskin) rug on top. We love the UGG sheepskin rug, but you can also opt for a more affordable alternative.
Since the sheepskin is white (or beige), you can truly pick any design of area rug to put underneath and it will still look great.  
Get the Look:
Sheepskin Under $500:
Go Moroccan…
…by simply putting together complementary patterns and layering them!
The beauty of Moroccan rugs is that they naturally exhibit stunning patterns and color combinations, which takes all the stress of having to color and pattern coordinate out of the equation.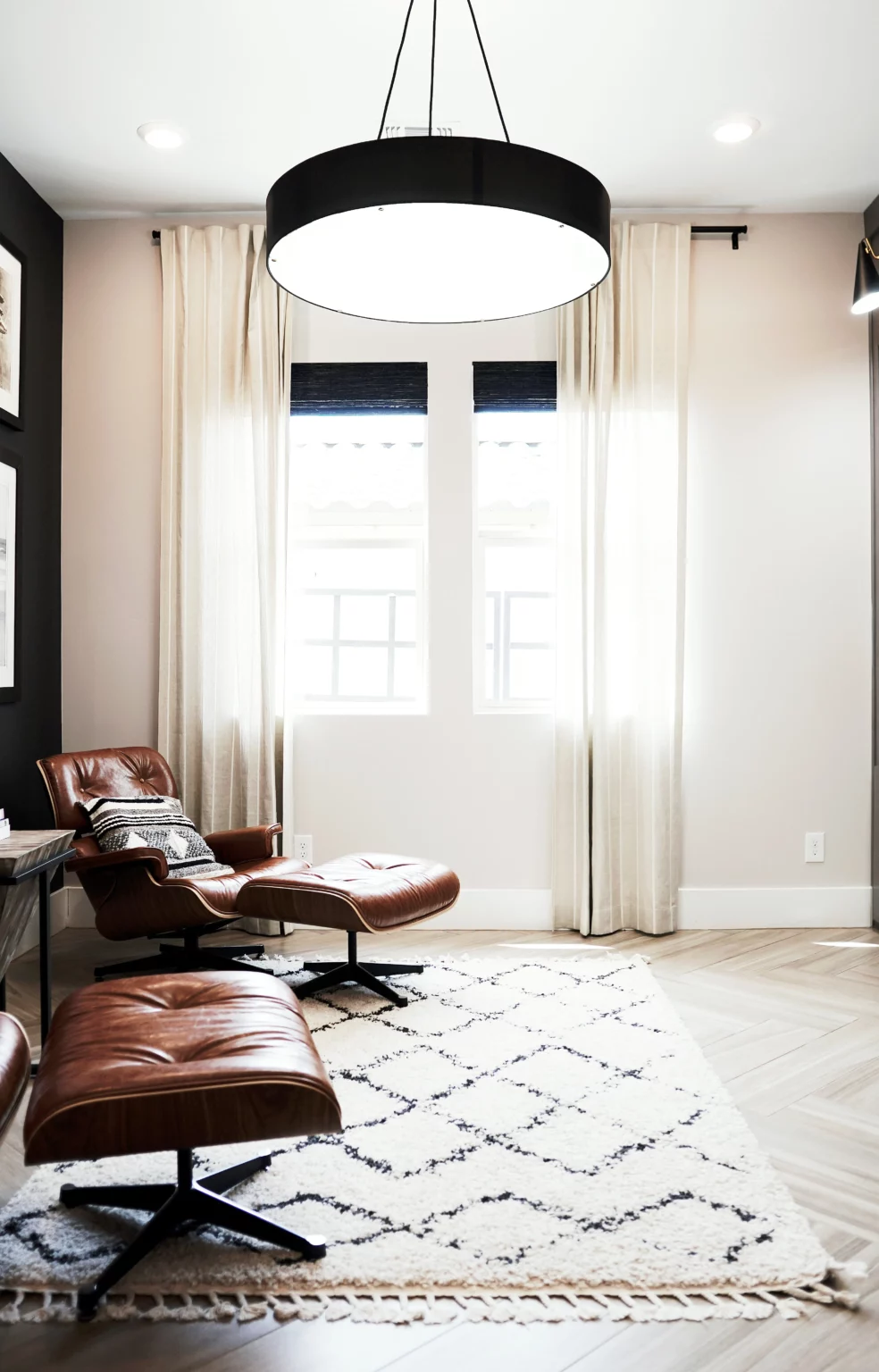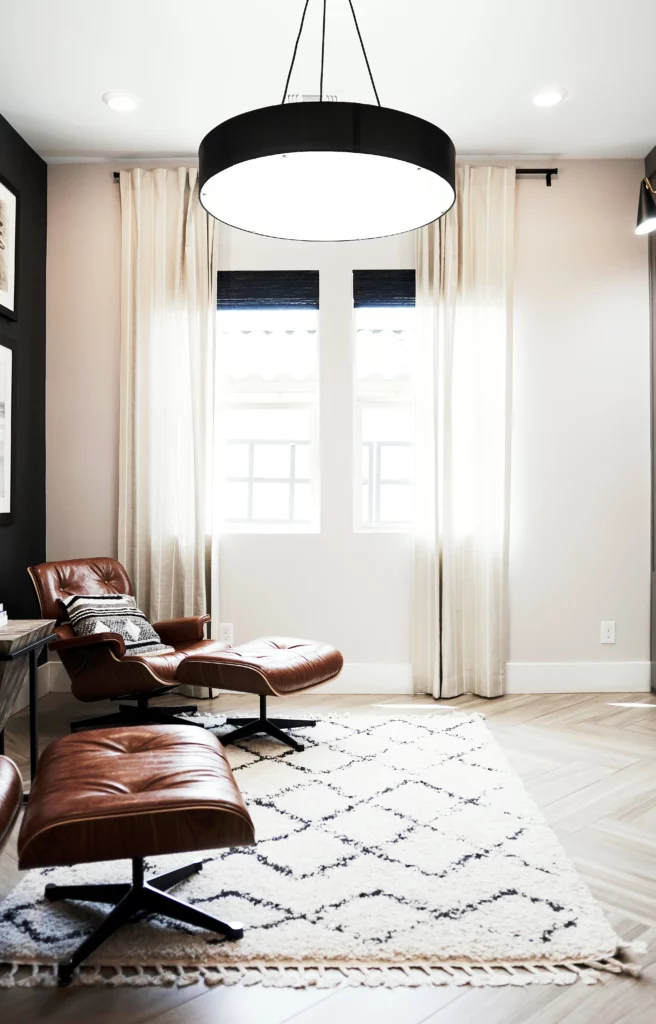 Throw in a Turkish rug, which can be even more unique, and you are golden!
Get the Look
Over $500:
Under $500: 
Layer Different Colors and Patterns
Hippies at heart, it's your time to shine! Use your floor as a canvas and create a colorful and unique combination that is completely yours.
Get the Look:
Over $500: 
Under $500:
Define Furniture with a Smaller Area Rug Underneath
This technique works especially well for bedrooms—as you can make your bed more of a focal point simply by placing a smaller accent rug that almost creates a boundary around your bed on top of a larger rug that encompasses more of the space.
Already have carpet in your bedroom? No sweat, you can still layer!
Putting an accent rug on top of the carpet actually helps to make your space feel cozier and more inviting. 
Get the Look:
Final Thoughts
The biggest thing to remember when layering rugs is that you can be creative.
While certainly there are some important tips to remember when layering rugs to avoid a cluttered look, the beauty is in the process; no two layered rugs are the same.
So, get started layering some rugs – we hope that you found our suggestions helpful along the way!