Many shoppers love Urban Outfitters for its trendy and unique selection of home decor and furniture. But if you can't find that *perfect* item or just want to discover new home stores like Urban Outfitters, we've got you covered.
Keep reading for our ultimate guide surrounding alternatives to Urban Outfitters when it comes to furniture and home decor.
Note: If you're looking for stores with more budget-friendly prices, don't forget to check out the Urban Outfitters home sale section!


Since this is a sister brand of Urban Outfitters, it's no surprise Anthropologie tops the list of stores like Urban Outfitters home.
Sadly, they are just as expensive as UO (if not more expensive). We do love the sale section and sometimes you can find an impressive deal, so don't forget to check that out.


We love this store for quirky home finds, oftentimes featuring plenty of colorful creations.
Whether you want to splurge on unique furniture or find a one-of-a-kind gift for your favorite person, Coming Soon is a wonderful place to do so.
Furniture (and even some small items) can be expensive, but you might stumble upon a few things that are surprisingly affordable like this $150 splat table. You can also shop the less than $50 section if you're on a budget.


For colorful furniture and decor that will truly stand out in your home, you can't sleep on MoMA.
With standout designs in even the smallest products they offer, it's no surprise that these pieces are created by the Museum of Modern Art.
They have a surprisingly large selection, each piece just as unique as the next. You can also find some of their styles at Nordstrom.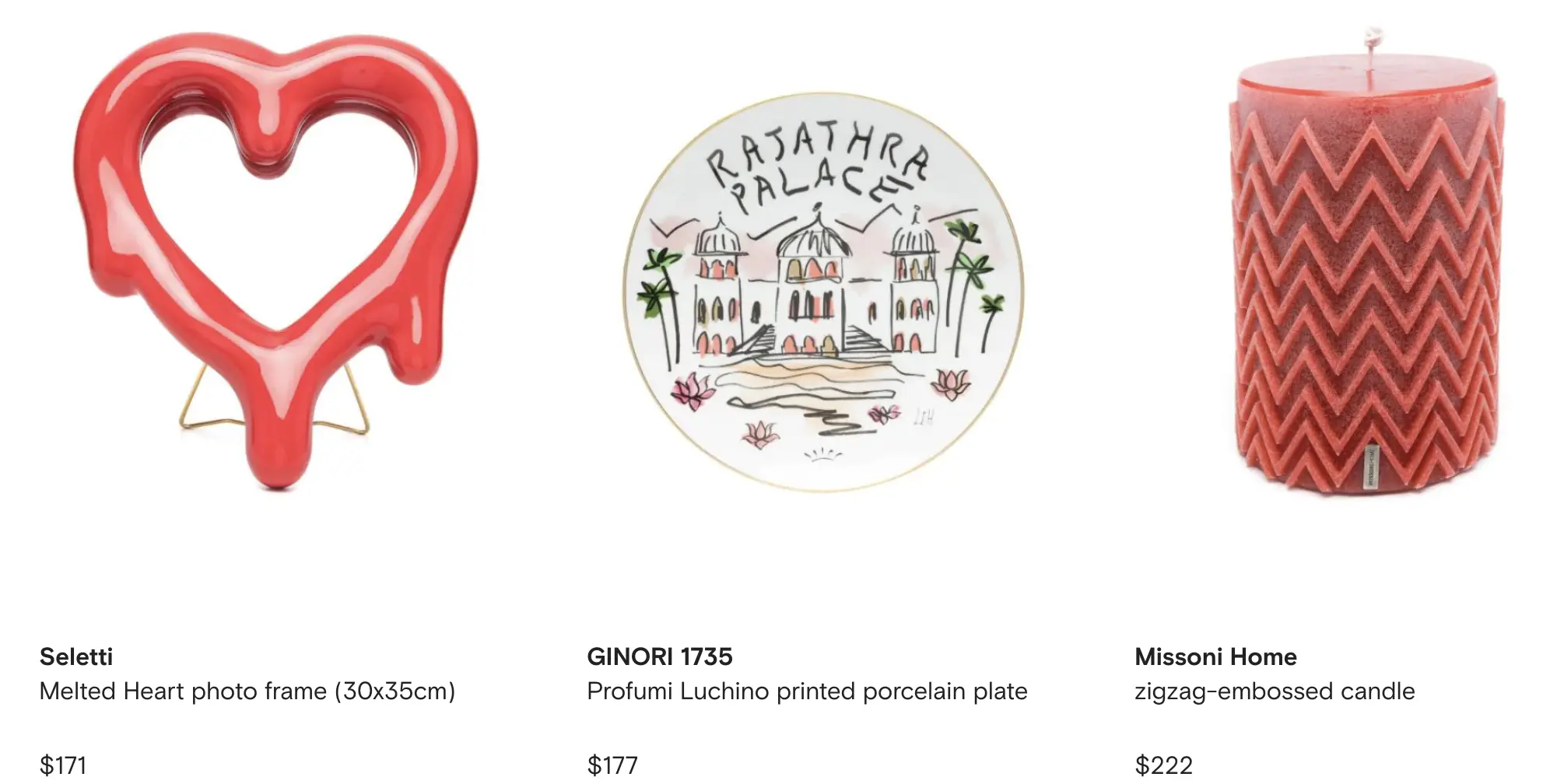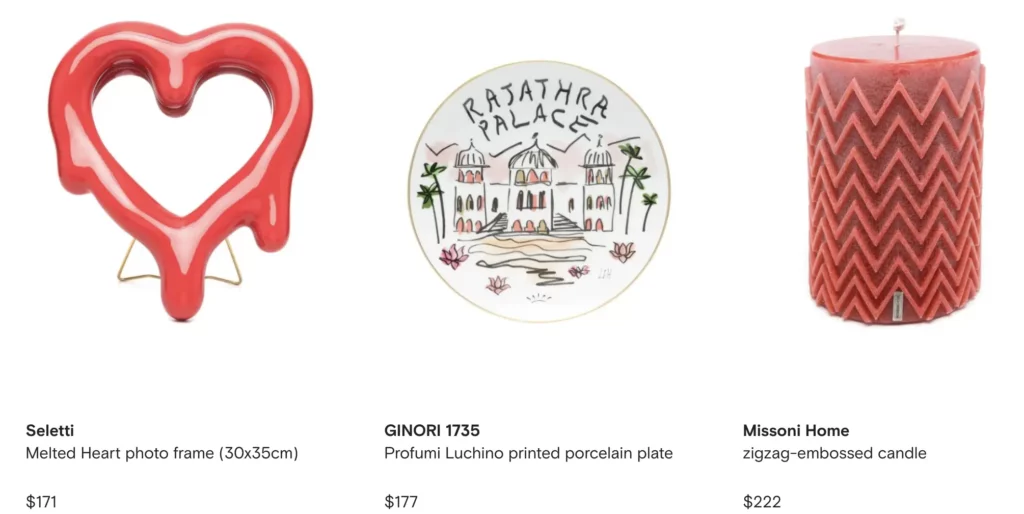 If you dream about owning designer homeware, Farfetch's home section will make you drool. From Versace dishes to Off-White doormats, you can find home goods you never thought existed.
Don't be afraid to check it out, even if you can't afford Versace plates. They list items from so many different designers and brands, meaning you can actually find some less expensive things too.


Cotton On's home and lifestyle section (also known as Typo) can be described in one word: cool. In fact, their selection is surprisingly similar to Urban Outfitters home.
Even better than their wide selection of hundreds of items, their prices seem to be more affordable (for the most part), so you can go to town if you're on a budget. There is a ton of unique home decor and gift-worthy products that will already have you stocking up for the holidays.
Our Suggestions: The kitchen section is stocked with cute, unique kitchenware (mugs, bowls, and glasses galore). And of course, we love the gifts section.


If you don't already turn to H&M for all your affordable fashion needs, you'll be heading there for all your affordable homeware needs.
H&M has a variety of home essentials, mainly featuring minimalistic decor that still manages to make a statement.
Prices are also some of the best around, so you'll definitely want to check out H&M Home if you're looking for affordable home stores like Urban Outfitters.


You probably already know about World Market, but we love it so much we just had to mention it (and if you didn't already know about World Market, you're in for a treat).
From trendy furniture pieces to affordable decor to unique food items, World Market has thought of it all. They offer a ton of unique home finds for decent prices, with plenty of local stores so you can actually view things before you buy.
Our Suggestion: We love browsing their best-selling furniture section and you can't miss out on the sale section.


For standout furniture and other home decor, you can't go wrong with West Elm.
They are one of the most popular home stores around, so you can be sure you're getting high-quality pieces that will last for ages.
Although West Elm is more of a mid-range home brand, they do have a decent sale section for extra savings.


Trust us, their products are better than their name.
Structube has a variety of affordable furniture and decor, most of which are styles that are inspired by the latest interior design trends. For example, they have this iron-framed mirror that looks highly similar to the famous Anthropologie mirror everyone raves about.
For example, you can find plenty of accent chairs under $400, which is pretty impressive. They also have a small budget section, sale section, and open box section for those who can't afford to drop hundreds and hundreds of dollars on new furniture.


Their collection might be fairly small, but we think Ferm Living is worth checking out. Their style is very modern, but they offer plenty of unique designs we haven't seen elsewhere.
Plus, Ferm Living is dedicated to sustainability and creating products that actually last a lifetime, which can be hard to find in home brands.
We love the cute wavy pond mirror. They're also available at Nordstrom if that's more of your style.

Pretty Little Thing has a surprising section of homeware with trendy & unique styles, plus very impressive prices.
From cool pillows to statement bathmats to aesthetic organization jars, you can be sure PrettyLittleThing will have something perfect for your home.


Although their home section is fairly small, you might be able to find some eye-catching goodies.
Similar to their clothing selection, Dolls Kill has some standout styles that you might love if you're a fan of Urban Outfitters' unique home decor.
Most notably, they do different collabs that are perfect for anyone who loves themed home stuff (or clothing). Prices are great too, especially when they have a sitewide sale, which is pretty often.


To support small businesses while finding ultra-unique home items, Etsy is perfect.
Since there are so many sellers and stores, here are some of our favorite unique Etsy stores similar to Urban Outfitters home:
For Unique Candles: soycandleNYC, SouthLake gifts, LOVEUCANDLE, bluewinestudio, CoolkieShop, AlphatoxGummies
For Random Cool Home Decor: mondayhome, ThriftysRetro, VRCulture, LightshadowArt, Aliggery, SofestoreShop, SunSprinklesShop, WickedFurniture, SweetDreamsRugs, wonderhausdecor,


Although they don't have furniture, Uncommon Goods is an amazing store to find quirky home decor that you can't find anywhere else.
Similar to how Urban Outfitters always has a fun selection of quirky gift-worthy items (think mugs, DIY sets, weird books), Uncommon Goods has even more.
Some fun examples: Mars Zen Garden, Floating Moon Lamp, Geode Candles, and this Indoor S'mores Fire Pit,


We love heading to our local TJ Maxx and Marshall's (Homegoods too) for a regular home haul, but did you know you could shop some of their home finds online?
There's definitely a larger selection in local stores, but there are still over 1,000 great items online at each store.
Note: We put these stores together because they are owned by the same company, so there are many overlapping styles. However, we'd recommend browsing through both stores as there are a few unique things.


For affordable decor and furniture that is heavily inspired by the latest trends, don't forget about Target.
Their own brands come out with regular trend-focused collections (such as Opalhouse for all you boho decor lovers), plus they sell a wide variety of other non-Target brands.

Zara is always compared to H&M, their home goods included. They offer similar aesthetically pleasing, yet minimalist decor for the home.
That being said, Zara Home prices tend to be higher than H&M. We'd still recommend browsing their options though; it might be worth the splurge if you find that perfect piece.
Our Suggestion: It might sound boring, but Zzara Home is actually a great place to find quality linens (such as duvet covers, curtains, etc.)


A little more minimalistic than Urban Outfitters, The Citizenry sells home decor from your most aesthetic Texas house dreams.
Their style can be described as clean and warm, with plenty of white and neutrals to go around (some call it "high desert style" and we fully agree).
Their furniture is especially beautiful and will make a statement in any home.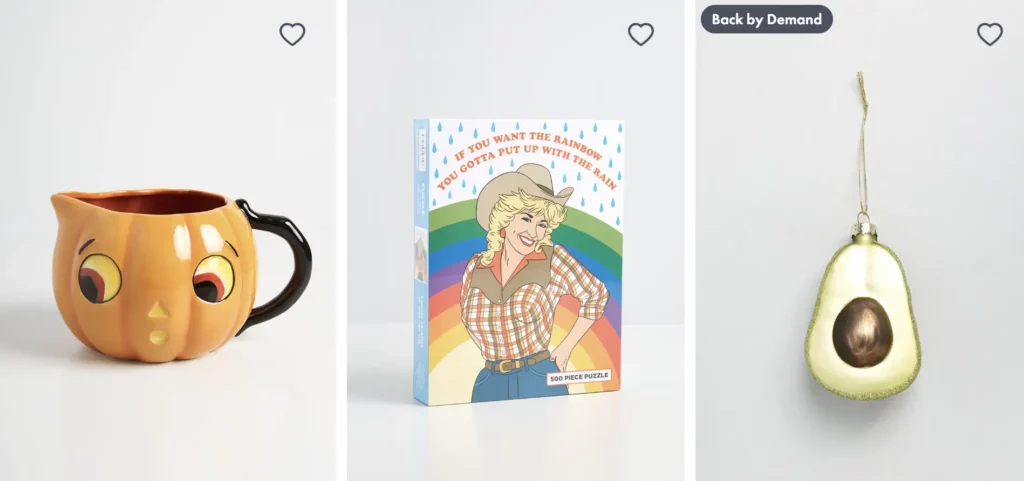 Another store that's known as a fashion retailer but has a secret collection of home finds, Modcloth always has a cute selection of unique decor that's hard to find elsewhere.
Even better than that, their prices are to die for. The selection isn't the largest, but it's still worth browsing through.

There's nothing more unique than stocking your home with vintage finds!
Although Chairish is a secondhand furniture store, we still highly recommend checking them out as they do a great job at sourcing items. You can find some amazing, unique home products that will truly make your house feel like a home.
Prices can vary drastically depending on the designer and how sought-after a piece is, but there are some more reasonably-priced items too.
Note: Don't forget to check out Pamono by Chairish while you're at it. We love the "Space Age" themed section.


We love the unique and modern styles from Homary, but reviews are a hit or miss, so we would proceed with caution. Many people state the shipping takes months and the item isn't always very good quality, plus customer service isn't the greatest.
They also make you pay for return shipping in case something doesn't work out, which can be expensive (especially for larger pieces of furniture).
We still mentioned it because they have some incredible designs, but we'd only buy certain items from this brand where quality isn't hard to mess up (for example, vases or organizational products).
Note: Litfad is another very similar website to Homary, possibly created by the same company.


This one might surprise you, but these arts-and-crafts stores always have a few of their own home decor collections that can be pretty impressive (Michael's even has some accent furniture).
Their designs can be a hit or miss though, so take this one with a grain of salt. We always love their holiday decor collections and affordable baskets!
Plus, they often run 50% off sales (or even higher), so you can score fantastic deals.


When all else fails, you can always check out Amazon.
It might feel like everyone has the top sellers from Amazon and there's not many unique things, but search terms like "quirky home decor" or "unique home decor" can introduce you to items that you don't see every day.
And if you're a Prime member, you can always rely on their free returns policy in case you don't like something since a lot of other home stores require customers to pay for return shipping.
Bottom Line
We hope you found some new stores like Urban Outfitters home that you love. Urban Outfitters has definitely perfected the art of unique home decor and furniture, but there are a few great alternatives that might have what you're looking for.