I love Quince for affordable fashion finds, but I recently started exploring their large selection of cozy home items.
I'll be honest, Quince seems too good to be true. With prices that are drastically lower compared to traditional retail prices for the same products, it's understandable to be a bit cautious to shop from this brand.
Luckily, I've tried quite a few clothing items from Quince and recently received their European linen sheets to give a try as well. I'll be diving into my Quince sheets reviews as well as sharing everything you need to know about the brand before you try them out.
What is Quince?
Quince is an e-commerce brand that focuses on providing quality clothing and home essentials made with luxurious fabrics for more affordable prices.
Since they ship directly from the factory, they are able to cut costs and sell their luxurious garments for cheaper than traditional retail brands.
A traditional retailer has to deal with the factory, sourcing, tariffs, warehousing, physical stores, shipping, and perhaps even more. However, Quince's business model only involves the factories they partner with. Their how it works page breaks down all the interesting details about their model.
Quince Linen Sheets Review
NOTE: Quince sent us a set of sheets for reviewing purposes, but all our opinions are 100% honest.
I had the opportunity to try out their linen sheets set and have been using them for a couple of weeks. So far, I've been super happy. I got the Sand color (which is a beige) and it's perfect for my bedroom.
They are super comfortable, breathable, and lightweight. I like to sleep cold and tend to overheat easily – I have yet to feel too warm with these sheets. I will most likely buy the matching duvet cover so my bed looks complete.
A big concern with Quince that a few people have complained about is that some of their materials feel too thin, but I'd say their European linen feels perfect.
I will say that the sheets quickly start looking super wrinkly and slept in (even before I ever washed them). The online photos show very non-wrinkled sheets, but honestly, I prefer this wrinkly look. It feels cozy for some reason, but not everyone will feel the same. You can see the wrinkles in my photo below.
I could definitely fix the wrinkles by tucking the sheets in more every day, but this seems like a
Also, it's worth noting that the fabric might feel too scratchy for some people. It feels great to me because I love linen sheets, but my boyfriend says he would prefer a softer fabric. So if you haven't tried linen sheets before and think you might be sensitive to the feel, I'd consider other Quince sheet options.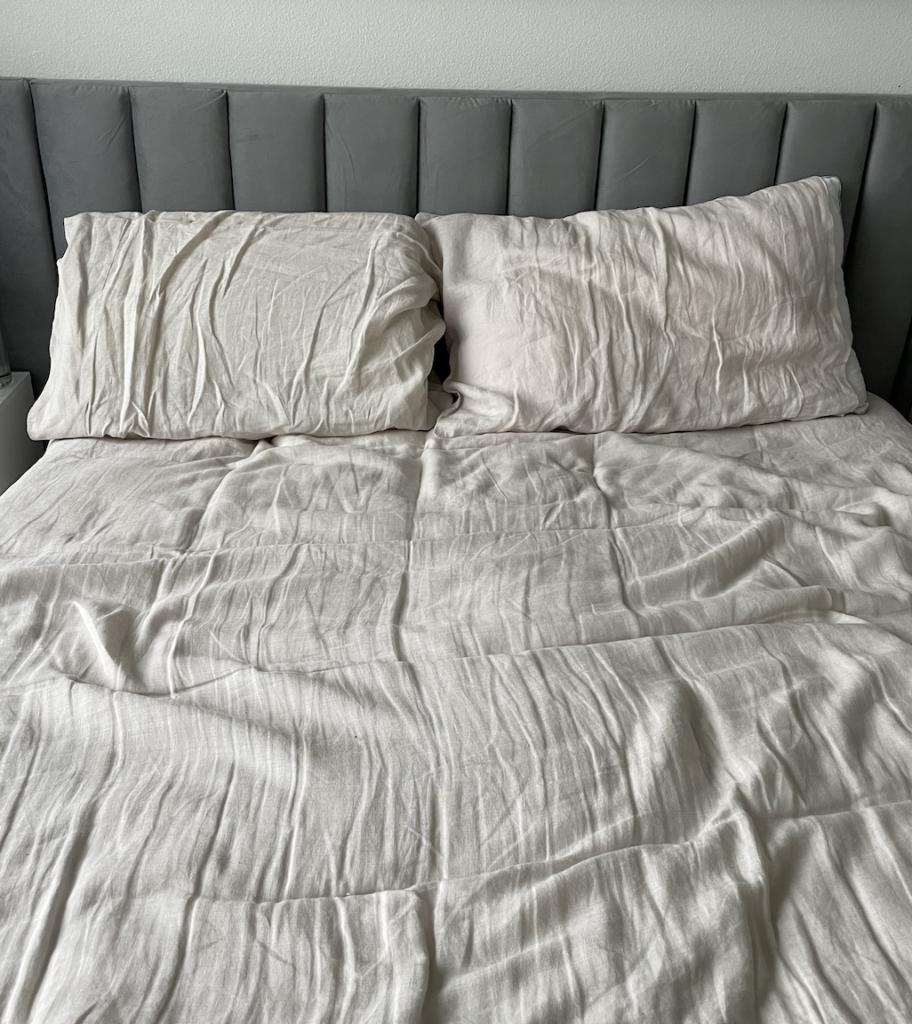 Bottom Line
To sum up my Quince sheets review, I've been extremely impressed with Quince and definitely recommend giving them a try.
Aside from these sheets, I own 8+ clothing items from them and have only been disappointed with one thing: the Mongolian Cashmere Sweatpants.
I got the tan color and they are extremely see-through, plus they pill very easily in the thighs. I don't think the pilling is their fault since all cashmere pills easily, so getting cashmere pants with thick thighs was a bad plan on my part. The pants being see-through was the worst part, but they're still extremely cozy and I love them for lounging at home.
Otherwise, I love my Quince items and am always excited to shop from them. They are definitely comparable to Everlane, but I'd say many things I've tried from Quince are better quality than similar items from Everlane. For example, Quince's cashmere is softer and cozier than Everlane's cashmere.
Usually shopping at more affordable brands is risky since you don't know the quality you'll be receiving, but Quince is almost always top-notch (plus they have an impressive 1-year return policy). I highly recommend trying them out – their gorgeous waffle towels are next on my list.
Quince Sheets Reviews FAQ
How is Quince so affordable?
On their how it works page, Quince states that they partner directly with factories, which cuts out a variety of different costs (including sourcing, warehousing, and selling in physical stores). They ship directly from the factories to their customers, which allows them to sell their quality fabrics for 50% – 75% less than traditional retail.
Are Quince sheets non toxic?
Yes, Quince states that their sheets are free of harmful chemicals and toxins.
What is the Quince return policy?
Quince has an impressive 365-day returns policy. Original packaging must be included and items must be unworn (however, bedding is an exception – bedding can be used and even washed). Also, final sale deals and customized items aren't able to be returned. Made to order items and mirrors are subject to a $35 restocking fee.