Your pillow from high school just isn't cutting it anymore, and you've seen some people posting about the Ecosa pillow on TikTok. Still, you're wondering—is it really the miracle worker everyone is saying it is? Read on for our Ecosa Pillow review.
We read hundreds of reviews before writing this review and our editor tried out a pillow herself, so we hope this review will give you the confidence to make your own decision about the Ecosa pillow.
What is an Ecosa Pillow?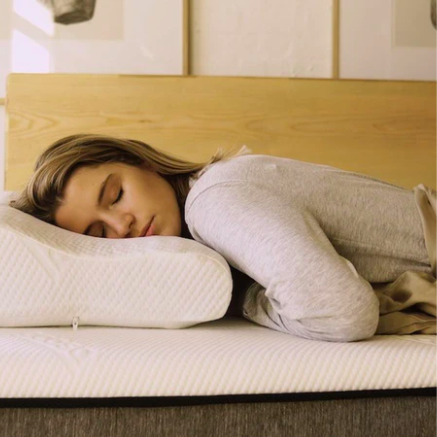 Ecosa is a bedding company that was determined to create the perfect memory foam pillow. Unlike the cheap $10 memory foam pillows that fall apart after two nights of sleeping on them, Ecosa wanted to build a memory foam pillow made out of the best of material that would give you the best night's sleep you ever had, month after month.
So, they spent two years creating a luxury pillow made of activated charcoal memory foam that is ergonomically designed to provide perfect support. It even comes with adjustable height pads to accommodate every body type, wherever you go, plus compression bags so you can take it everywhere.
Ecosa is so convinced that you will love their pillow that they offer a 100-night trial, where if afterward you don't like the pillow, you send it back for a full refund, no questions asked.
RELATED: 14 Best Couches for Small Spaces – Maximize Your Space
Ecosa Pillow Reviews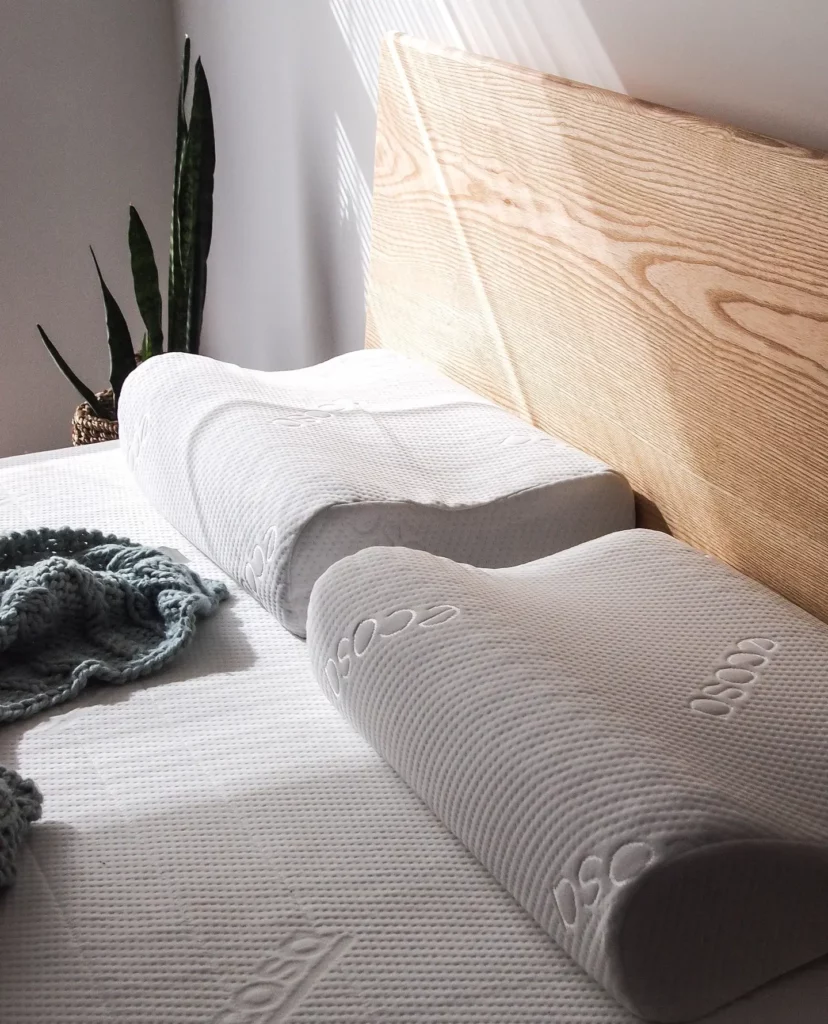 Our editor was sent an Ecosa pillow to try out, but her opinions remain 100% honest. We also scour through hundreds of other customer reviews to ensure we provide the most accurate brand reviews.
Overall ✭✭✭✭ 4 stars
We give the Ecosa pillow 4 stars for two reasons: 1) literally, a ton of people love it (on their website alone, they received five stars from over 7,368 reviewers!), and 2) it offers superior back and neck support that is unlike its competitors.
Our editor was sent an Ecosa pillow to test out (she is mainly a side sleeper) and loved it. She did feel that it was a bit disappointing at first because it's not one of those super soft pillows that you just sink into, she got over it because it's clearly designed to give the best possible support. She would wake up with neck and back pain every so often, but this hasn't happened since switching to this pillow. The adjustable height pads and compression travel bags are a convenient bonus!
One reason that prevented us from giving the Ecosa pillow five stars was because it seems to only work for side and back sleepers. Many of the reviewers said that it would not work or be comfortable for you if you are a stomach sleeper.
Also, people who enjoy ultra soft pillows (like down pillows) may not enjoy sleeping with this firmer pillow unless they need to relieve pain or feel they need extra support.
Shipping ✭✭✭✭✭ 5 stars
Ecosa takes its customer's experience very seriously, which includes a great shipping experience. Published on their website that they ship out the pillow within 24 hours (M-F) after receiving the order and offering free shipping, Ecosa makes it as easy as possible to click, get, and start sleeping amazingly.
Product Quality ✭✭✭✭✭ 5 stars
After reading through hundreds of reviews, it was very apparent that the quality of the Ecosa pillow is well worth the cost (at least that's what the people who purchased one think). The memory foam is superior to similar pillows, with a lasting design.
The only downside to the product itself is, in addition to being geared specifically to only side and back sleepers, it's a one-size-fits-all (one reviewer mentioned that he would have loved for it to be a bit bigger). Other than that, many individuals said that they will never use another pillow again.
Customer Service ✭✭✭✭✭ 5 stars
With a live chat and email option available for you to ask any questions, the Ecosa team is ready and available to ensure that this is the best experience you've ever had with a pillow company. Of course, it also helps that they take prompt delivery of their product seriously, too.
Finally, here's a quick look to see how it compares to a similar pillow by a different company:
Ecosa Pillow vs. Tempurpedic Neck Pillow
With Tempurpedic offering a very similar pillow designed for the same type of support, we decided to compare these top two pillows.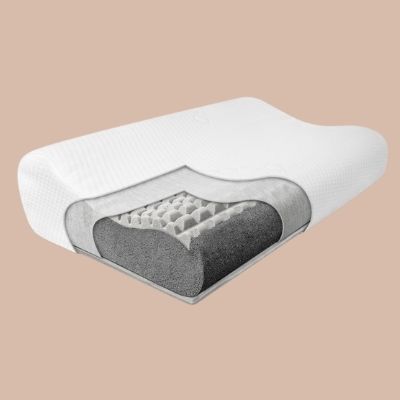 $65 – $100
✭✭✭✭✭ 5 stars, 7,289 reviews
Pros:
Side-sleeper ergonomic design
Made with activated charcoal memory foam
Adjustable height pads included for all body types
Comes with two compression travel bags
Removable cover
100-night money-back guarantee
Free shipping
Discount available if purchasing multiple pillows ($65 per pillow if buying 2+ pillows)
Cons:
Only one size is available width-wise, which won't necessarily work if you have broader shoulders
The removable cover is satin, which can cause some people with allergies to react
Designed for side and back sleepers, so stomach sleepers are at a loss.
Firm style that might not feel comfortable to those who like soft pillows
Price might be too expensive for some
---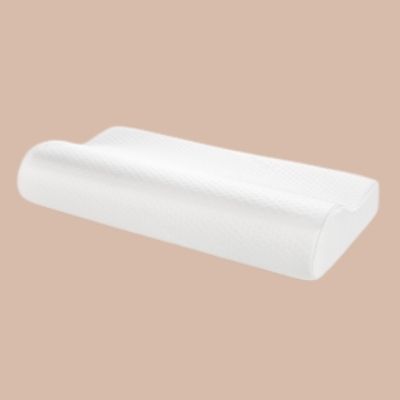 $109 – $149
✭✭✭✭ 4.2 stars, 2,772 reviews
Pros:
A firmer memory foam designed to specifically support your neck, shoulders, and back while you sleep
A contoured design that supports your neck
3 different sizes—small, medium, and large to fit your body type
Polyester knit hypo-allergenic cover; cover is removable and washable
Cons:
Non-returnable & non-refundable
Extra firm style that might not feel comfortable to those who like soft pillows
Price might be too expensive for some, larger sizes are more expensive
As you can see, if you are a side or back sleeper who is looking for extra head and neck support, the Ecosa pillow is clearly the option that you want to go with. Not only does it have more stars and overall better reviews than Tempurpedic, it also has a 100-day money-back guarantee that allows you to try it risk-free.

What People Are Saying About Ecosa Pillow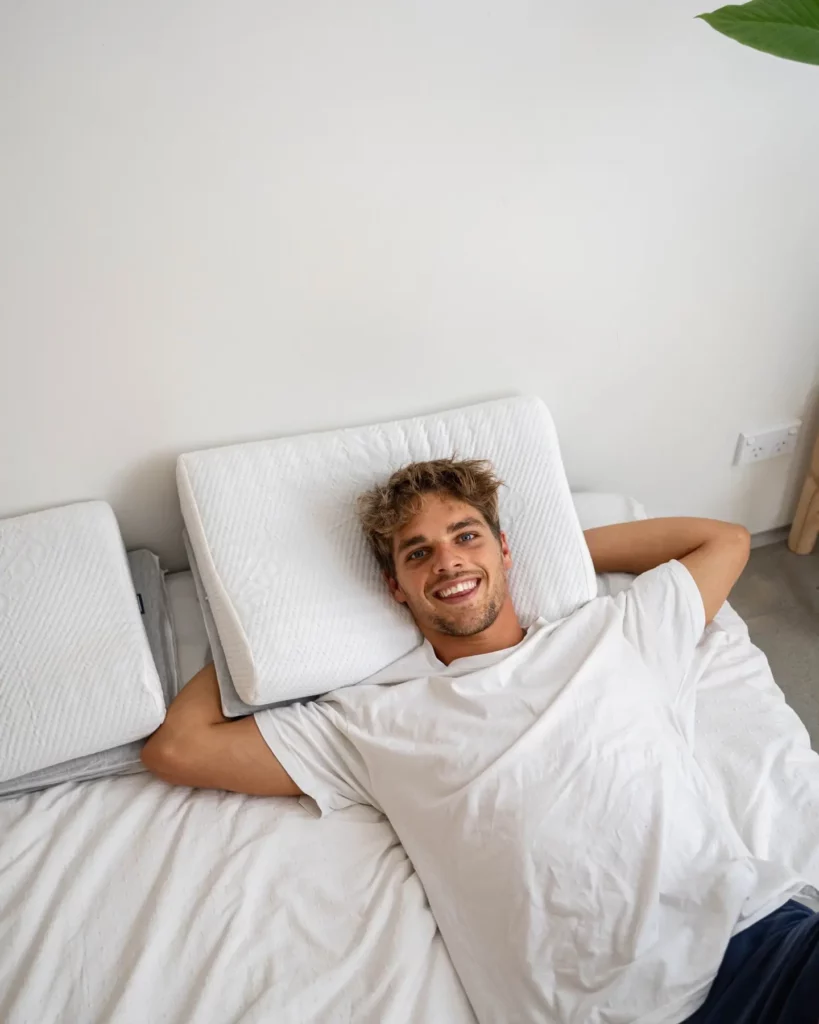 We love the Ecosa pillow, but don't take our world alone on it! Here are some of our favorite reviews that capture what the Ecosa pillow is all about.
Sarah S: ✭✭✭✭✭
"Purchased two pillows, for my husband and I. Wish we'd come across Ecosa sooner as it would have saved us the hassle of trying and failing with other brands! They were packaged well with quick delivery. Highly recommend it."
Dr. Siri S: ✭✭✭✭✭
"As a chiropractor for almost 40 yrs, I know the importance of a good pillow but the difficulty in finding the perfect one. I have been selling the same pillow, which I love, for 25 years but it is getting quite expensive. I have been looking for another awesome one but have been very disappointed in what is out there. Like Goldilocks-either too soft, too hard, etc. I tried the ecosa pillow (saw it on instagram) and this is JUST RIGHT! They have the perfect foam density, adjustable to fit different sizes, good for side or back sleepers, washable cover, supportive in all the right places and good price point. I am truly impressed and will be recommending these pillows to my patients."
"If you prefer an ergonomic shape to your pillow, the Ecosa one is for you – but it's also for you if you wake up with a crick in your neck all the time. I found this pillow was the clear winner for neck support. While I prefer the Koala pillow at the moment (and still find it supportive) the shape of the Ecosa is brilliant if you sleep on your back or side."
"One night on this pillow, and the stiffness was gone. This wonderful pillow is almost undermined by the service of the Ecosa company. After placing the order online, I received the email "your order has been confirmed", one hour later, "your order is being processed", then one hour later, "your order has been shipped". I all but had to pick myself up off the floor. In a day and age with so many under par companies out there, it is so refreshing to find a company as stellar as their product.
Final Thoughts
Overall, we believe that the price is definitely worth it. The reviews online are raving (unless your a stomach sleeper), plus our editor tried out a pillow and loved the extra support. On top of that, they offer an amazing return policy that allows you to try the pillow risk-free for 100 nights.
Another part of what made us give the product such great reviews was the company's dedication to providing an amazing product and a great product experience. If you're looking for a new pillow, definitely check out Ecosa!