From popping pastels to subtle undertones, here's everything you need to know
If you love design trends like me, one thing that probably surprised you during 2020 is the rise of bright, bold colors. It was almost impossible to walk into Target (or peruse online) and not see bold greens, purples, yellows, and mauve weaved subtly into rugs, throw pillows, bedding, and even furniture.
While I am a sucker for any pop of color, I have to say that I have become convinced that purple is the way to go when it comes to home decor and interior design. Both eye-grabbing and peaceful, purple's versatility makes it a great focal point to any space.
Purple is also very easy to incorporate if you are looking for more subtle undertones. Don't quite believe us? Check out this list of 14 purple color combos that, perhaps surprisingly, will make your space bursting with beautiful purple undertones.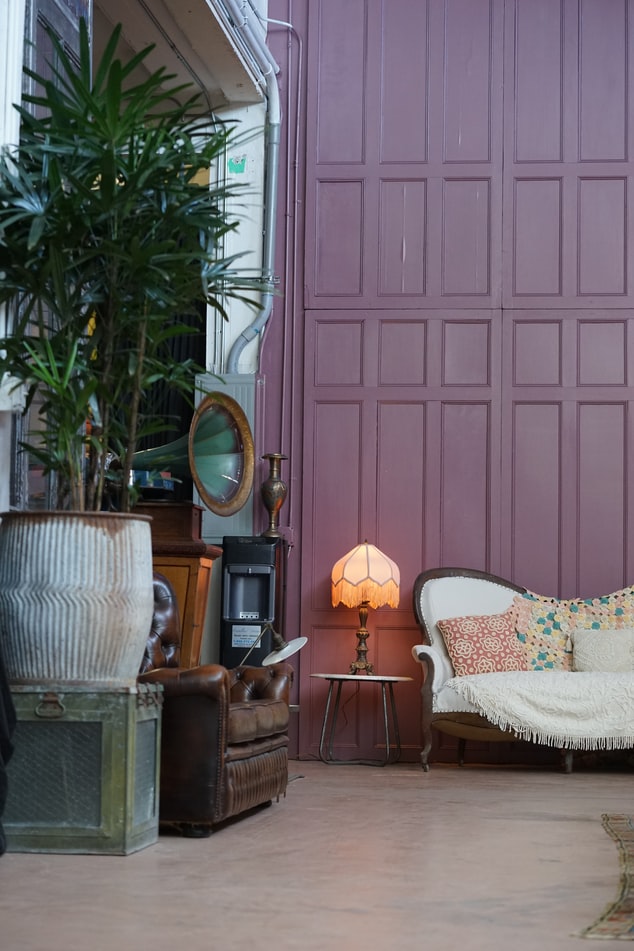 Why Purple?
Purple has a long and celebrated history as being a color of royalty and vitality. A paradoxical combination of fiery red and calming blue, purple is considered one of the rarest colors in the natural world. There are only a handful of occasions you will find it (such as in lavender, lilacs, and African violets). Purple has been widely regarded as a natural mood stabilizer because of its rarity and combination of a cool and warm color.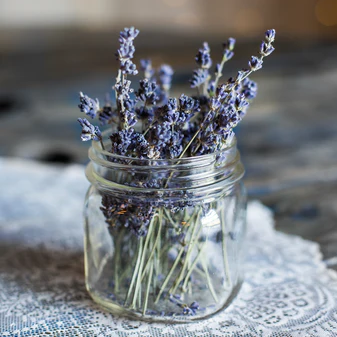 According to Jennifer Bourn in her article on the meaning of purple,
"The color of purple has a variety of effects on the mind and body, including uplifting spirits, calming the mind and nerves, enhancing the sacred, creating feelings of spirituality, increasing nurturing tendencies and encouraging creativity."
In an age when we're constantly plugged into what's going on in the world, purple, when added to a room in small or muted quantities (too much can actually cause you to feel angst), instantly brings down the temperature in a room. Even just the slightest touch of purple can make a room feel instantly inviting and calm, giving you a feeling of being grounded to the natural world.
And, with so many different hues and types of purple, there is no shortage of purple color combinations. Let's check out some of our favorites (scroll down to see our #1 pick)
RELATED: 22 Calming Paint Colors to Make Your Home Feel Like a Spa
Colors that Go With Purple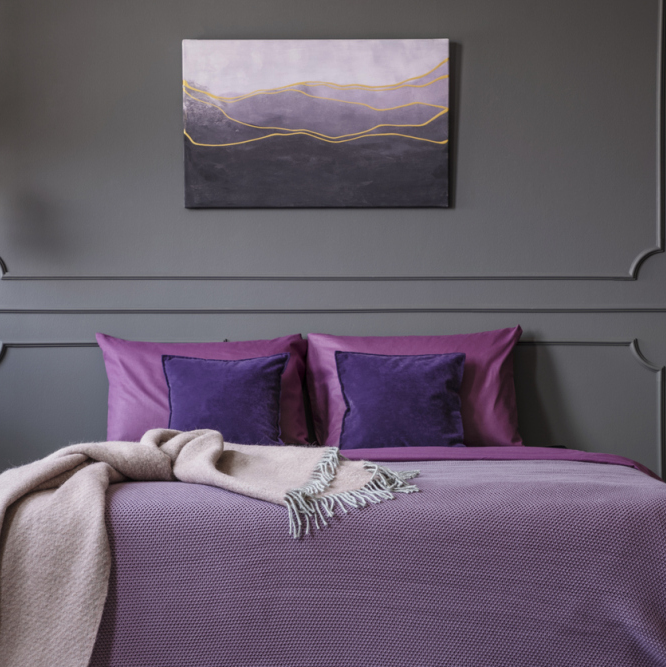 Charcoal Gray
Make your bedroom a calming, sensual, and mysterious place with this sensual color combination.
Get the look: Use Mole's Breath paired with lilac pieces; we recommend woven indie for bedding and this weighted blanket as an accent piece.
---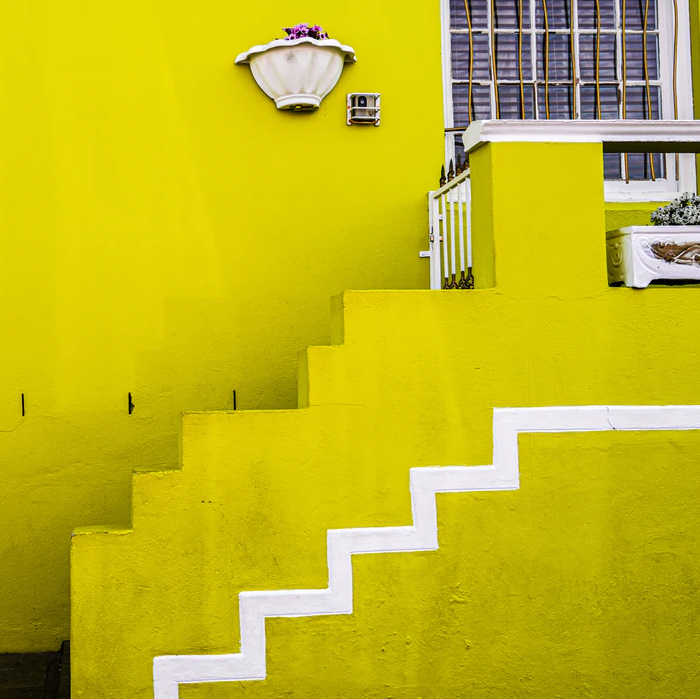 Hello, 60s! Bring your space or furniture an effortlessly creative bohemian and fun feel with this combination of neon yellow and bright, fun purple.
Get the look: Amethyst Glitter and Lemon-Lime would be a perfect way to brighten up your furniture!
---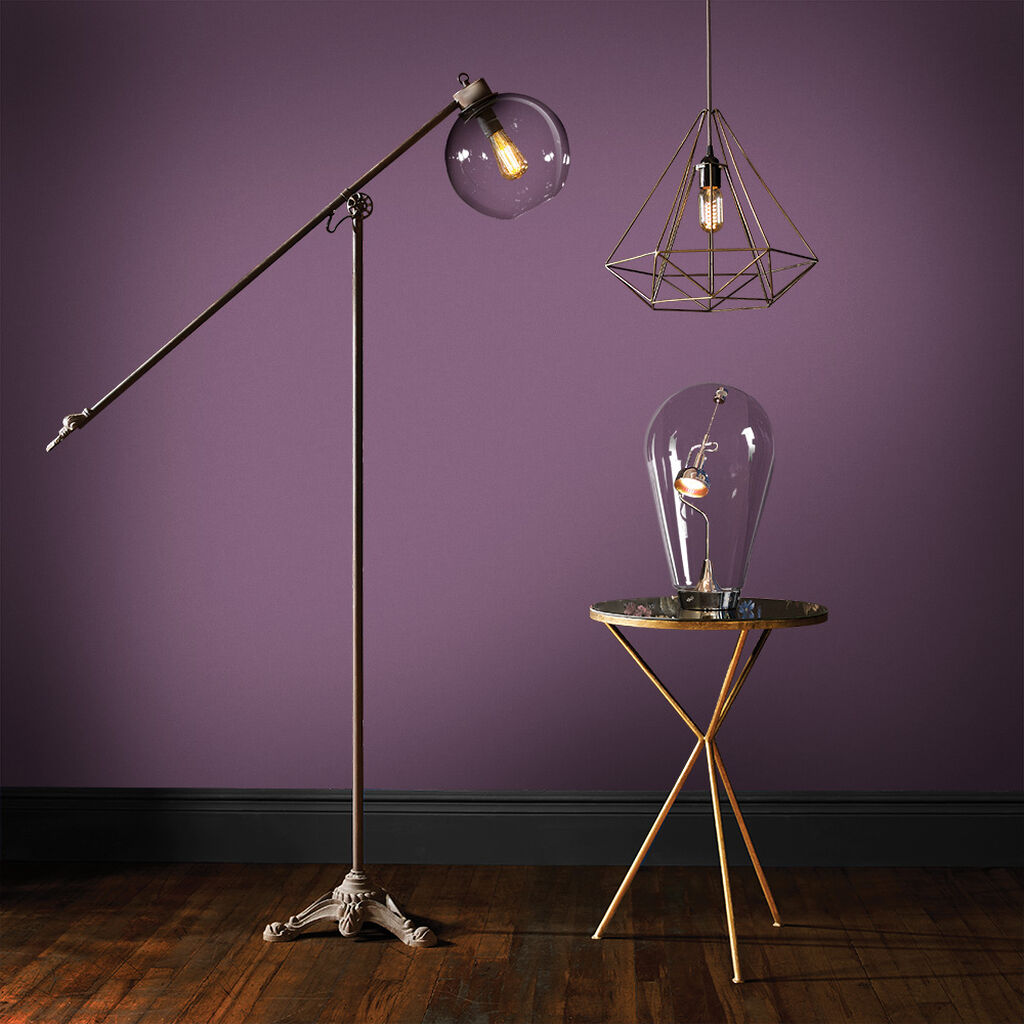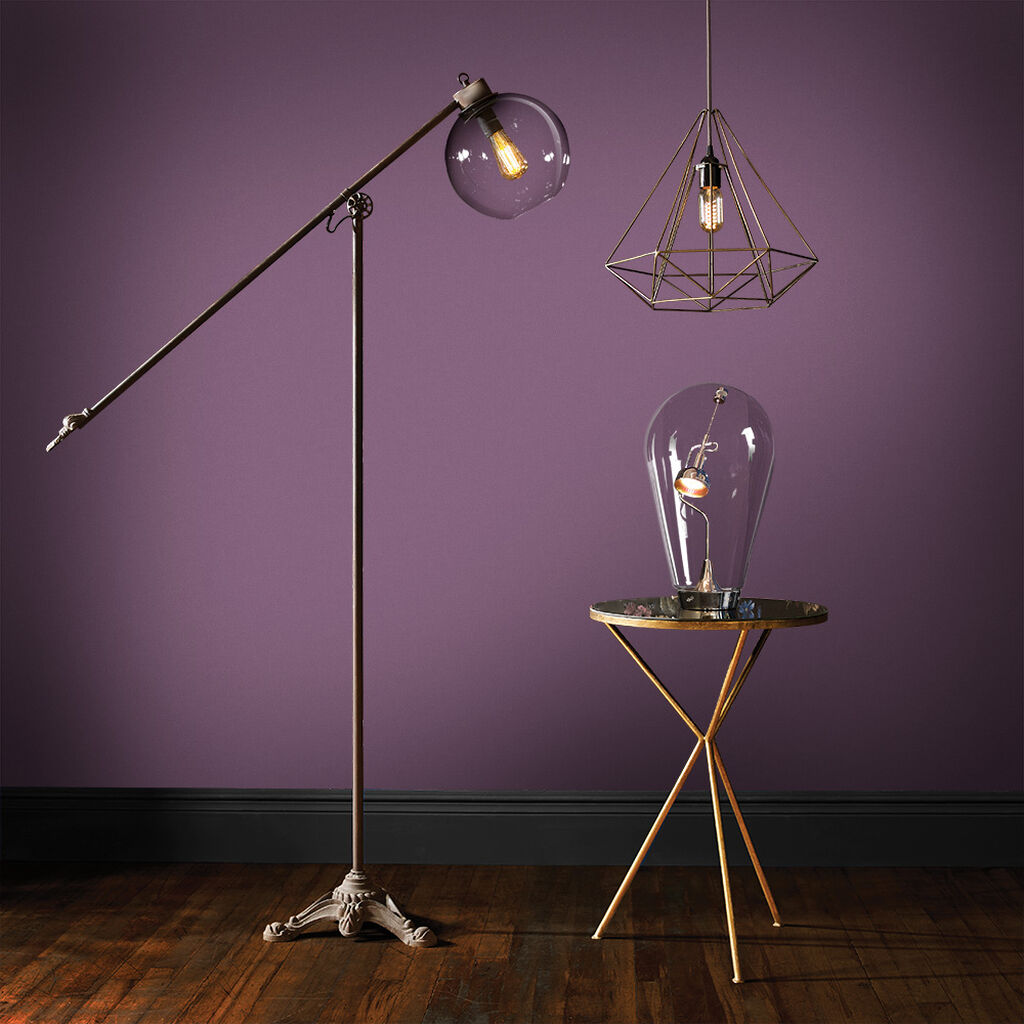 ---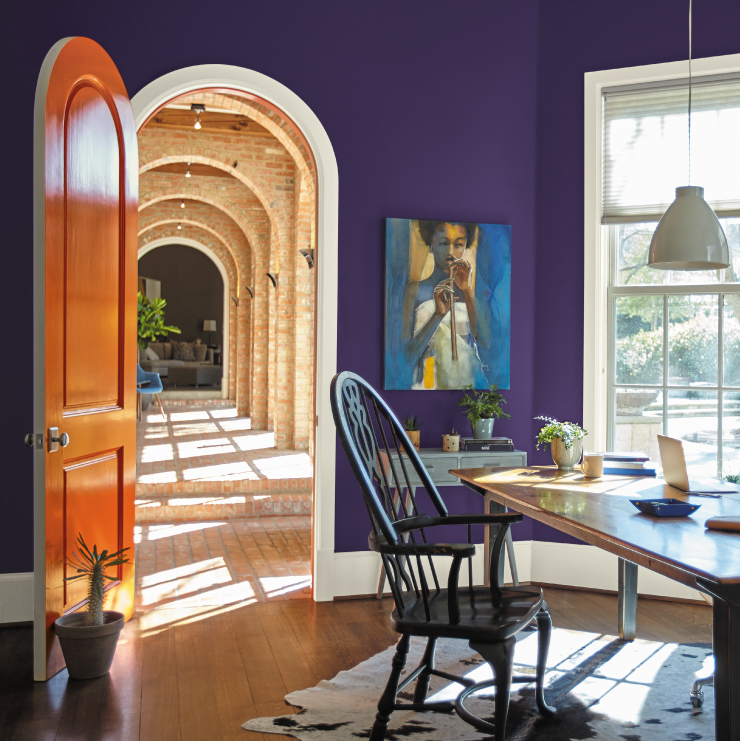 Get ready to grab a book and be transported to a faraway land with King's Court, a deep royal purple that boasts darker blue undertones. Pair with orange, and you will get a room that feels magical, bright, and just waiting for an adventure.
Get the look: Use King's Court for your walls and Dutch Orange as a focal/accent color.
---
It's no surprise that my go-to color, black, works amazingly with purple. Especially when paired with magenta, black as an accent color makes a room feel clean, smooth, and minimalistic.
Get the look: Use Euphoric Magenta for the walls and these hanging pendant lights
---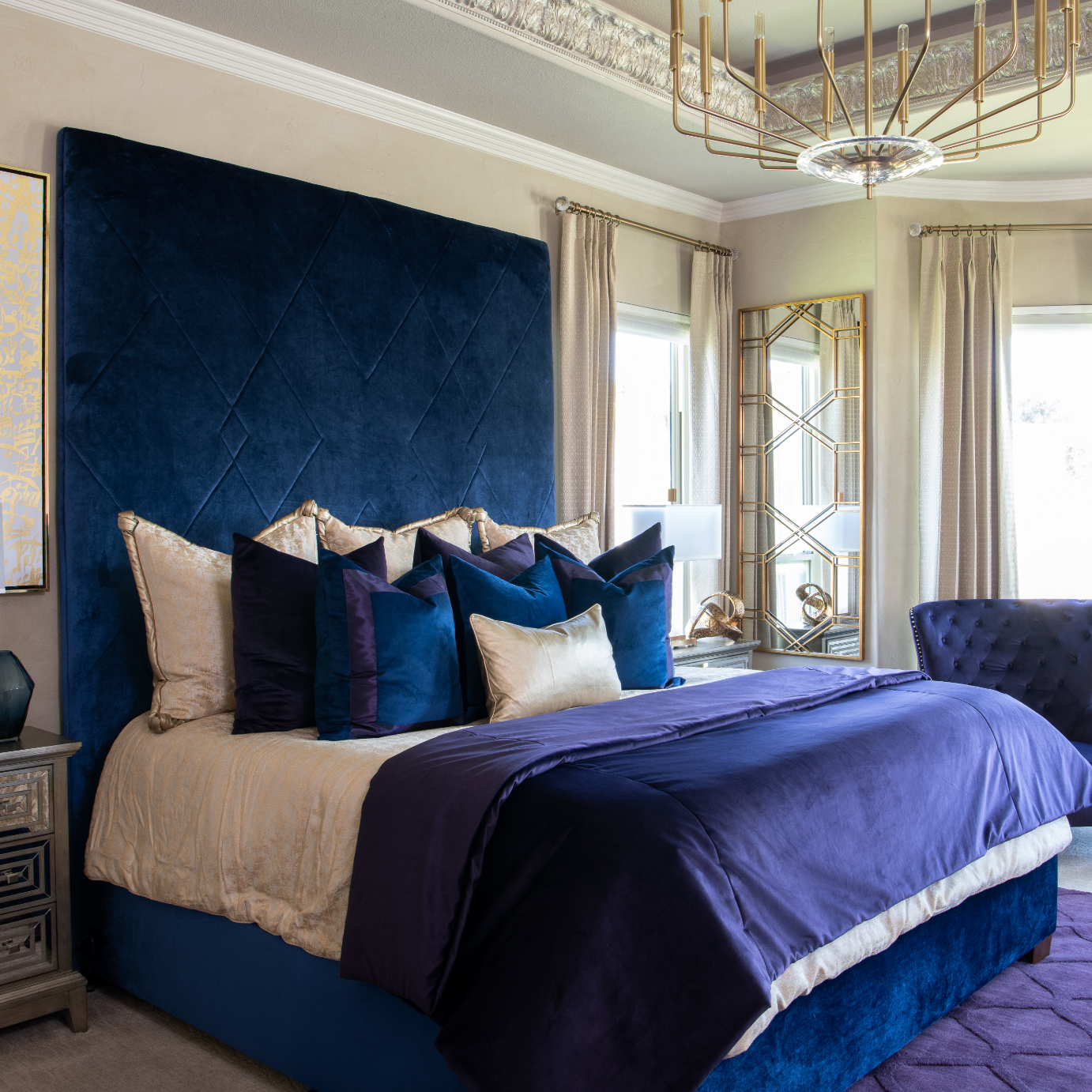 One of the oldest purple combinations, there truly is nothing more luxurious and noble than royal blue and violet.
Get the look with this stunning velvet royal blue canopy bed. Pair with this duvet cover and give your space a little variation with these mauve sheets
---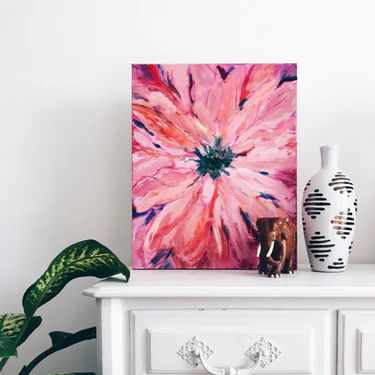 A young girl's dream come true. The cotton-candy-sweet combination of rosy pink matched with wine-colored purple makes a room feel both romantic and playful.
Get the look when you combine Crimson Red with Elderberry Wine.
---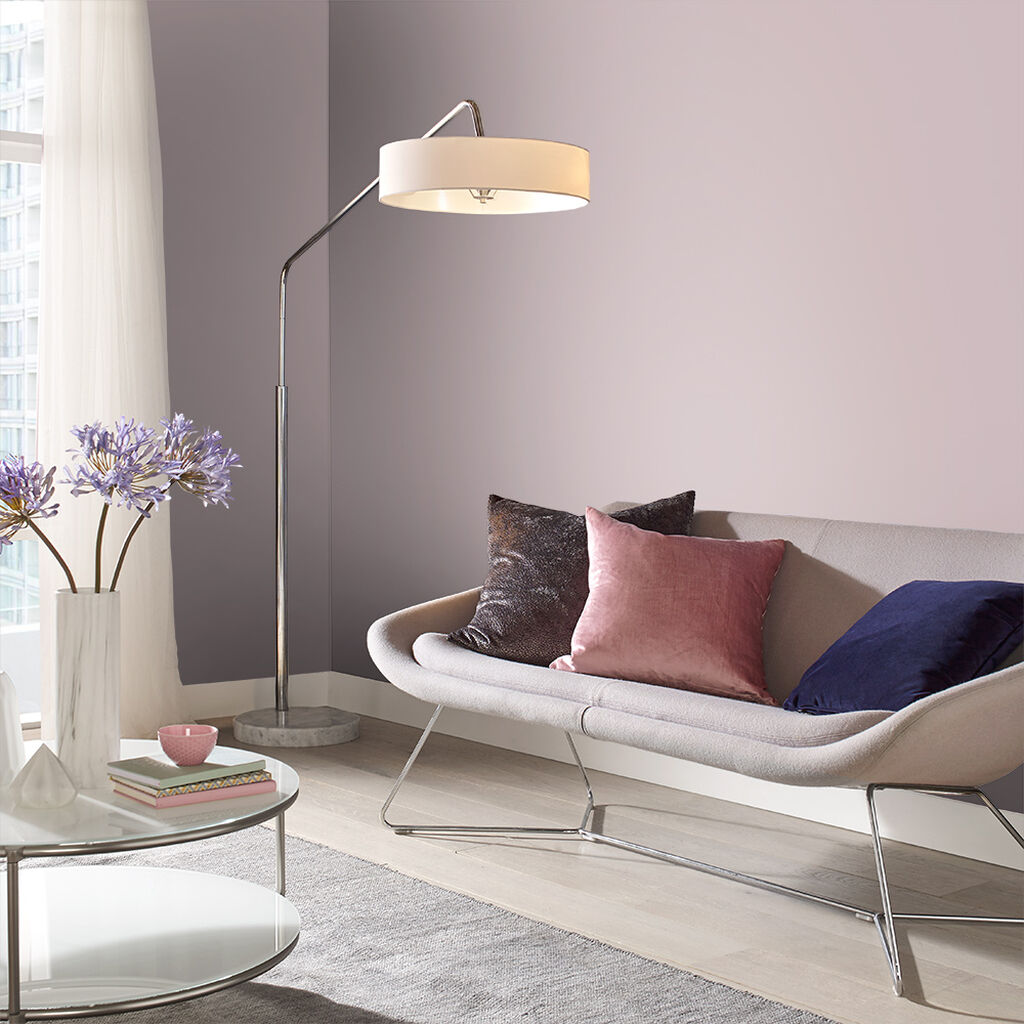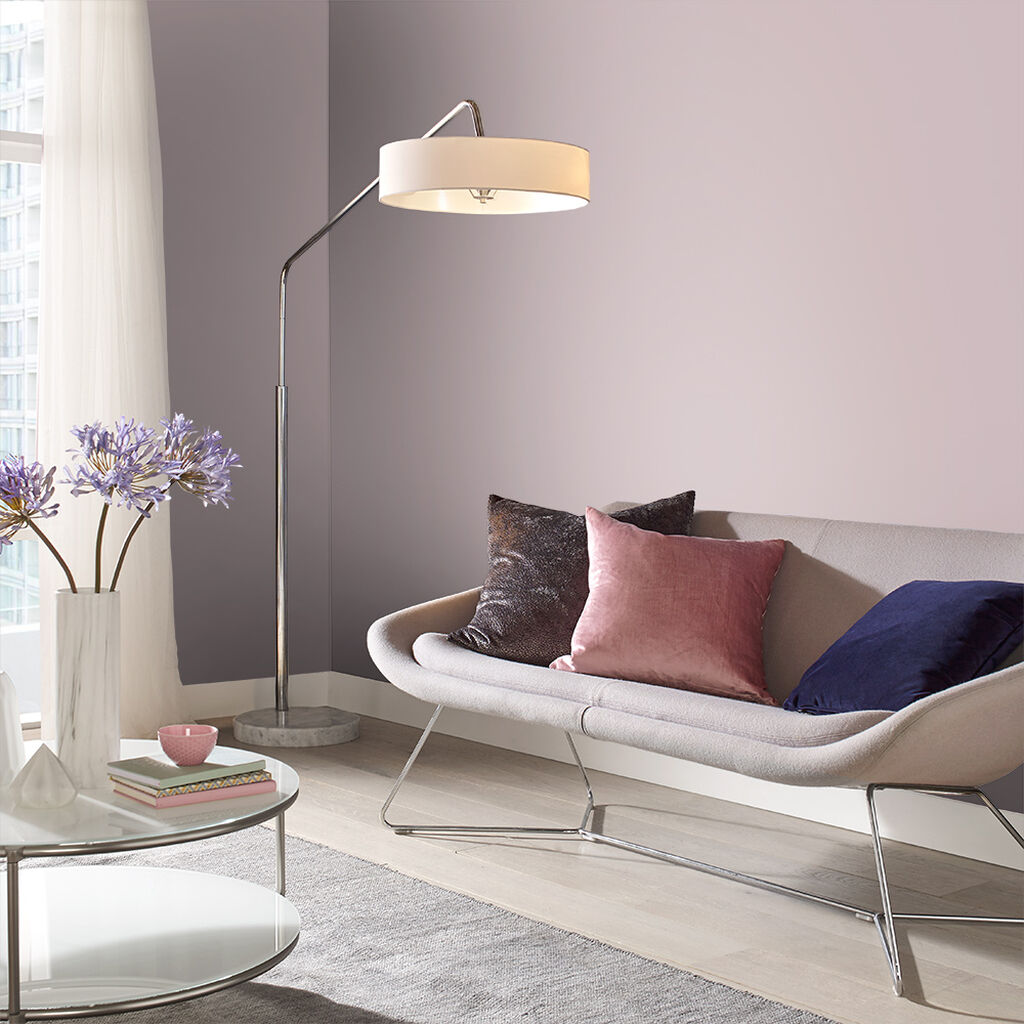 ---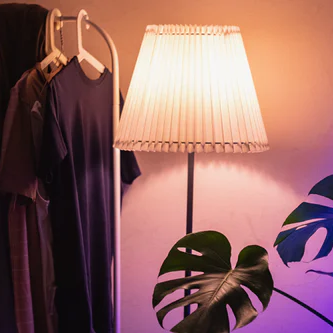 While this combination may seem difficult to pull off at first, there is an earthy feel that you just can't find in any other combination but purple and green.
There are two ways to get this look:
OR
---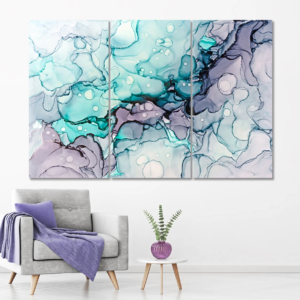 …A color that represents tranquility and hope, is a perfect match for the regality and creativity found in purple. Easily combined and able to accent almost every design taste and room, this is a color combination that will leave you feeling relaxed and balanced.
Get the look: This is an effortless way to bring purple and turquoise into your space without having to do an entire design re-do. Simply hang this gorgeous painting or grab a trendy accent rug, and you're good to go!
---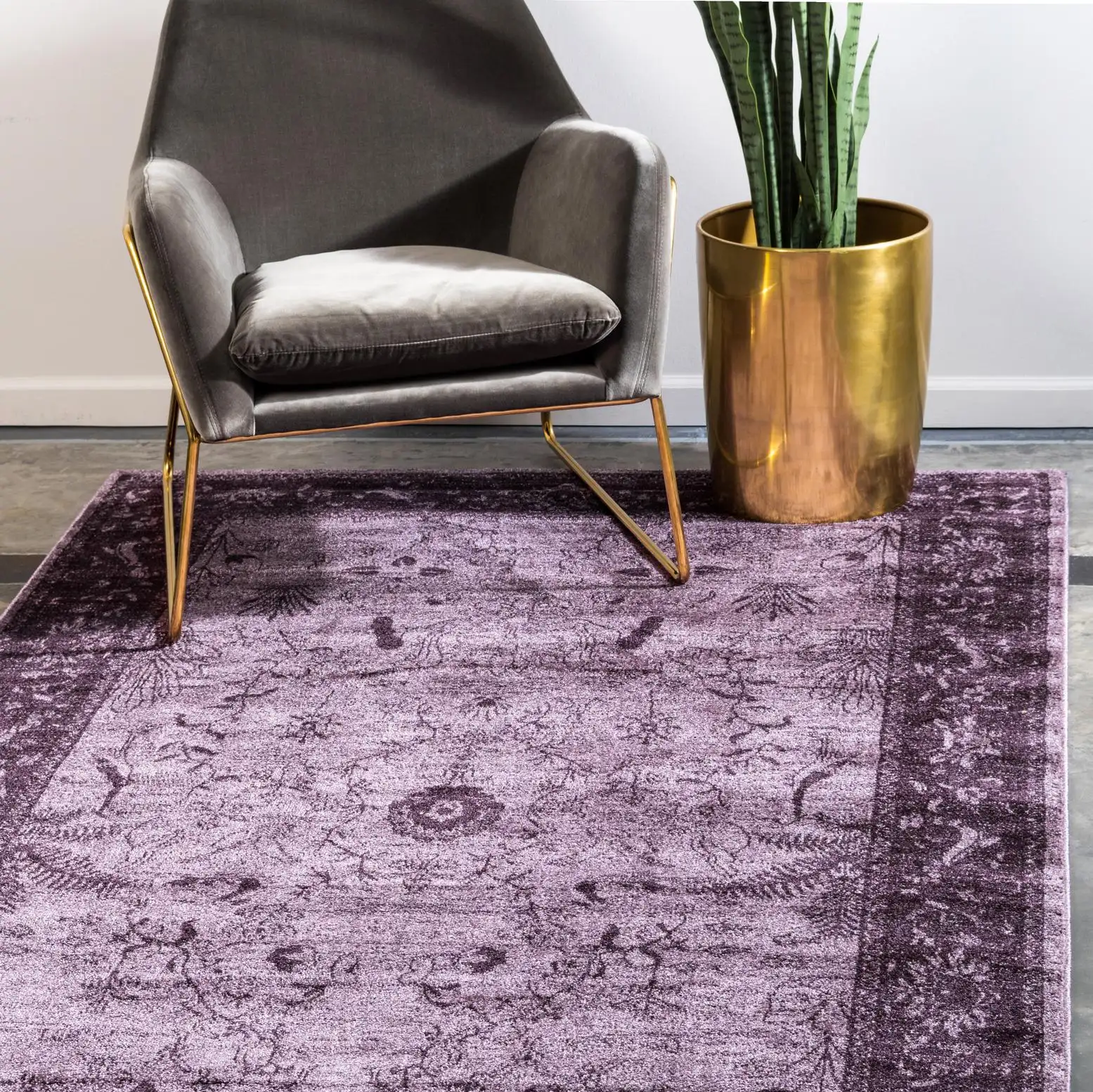 Similar to suggestion #12, adding a darker brown into a purple color scheme or decor style brings warmth into the space and is especially great for areas where you want to mingle and have guests feel welcome and comfortable (i.e., living room and dining room).
If you already have a lot of wooden furniture or elements in your home, you can get this look pretty simply by adding a few accent pieces: we love this rug, one-of-a-kind purple swivel armchair, and amethyst geode.
---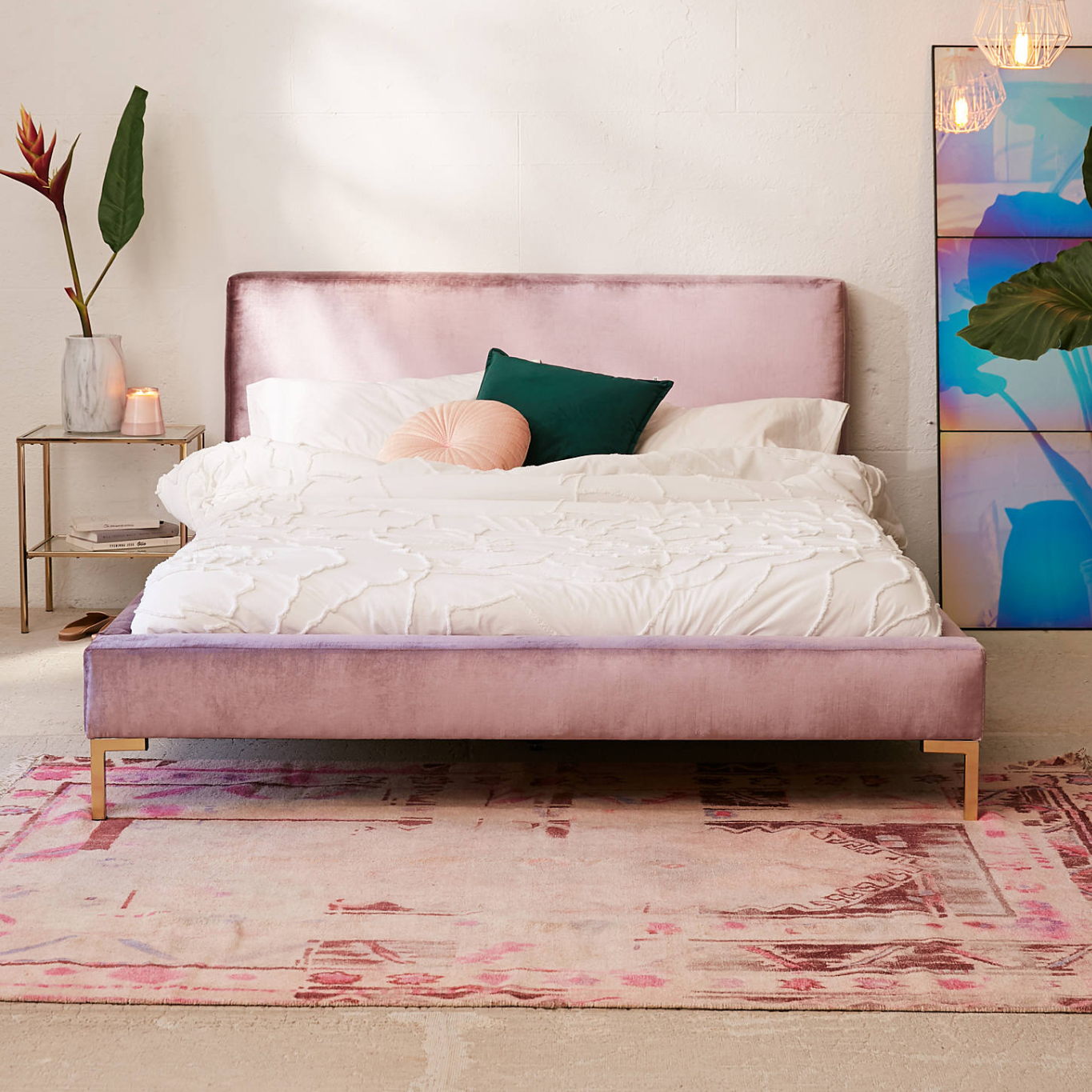 ---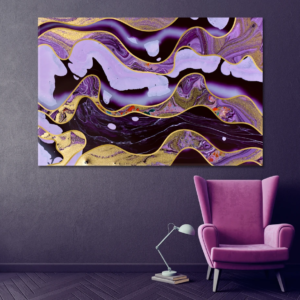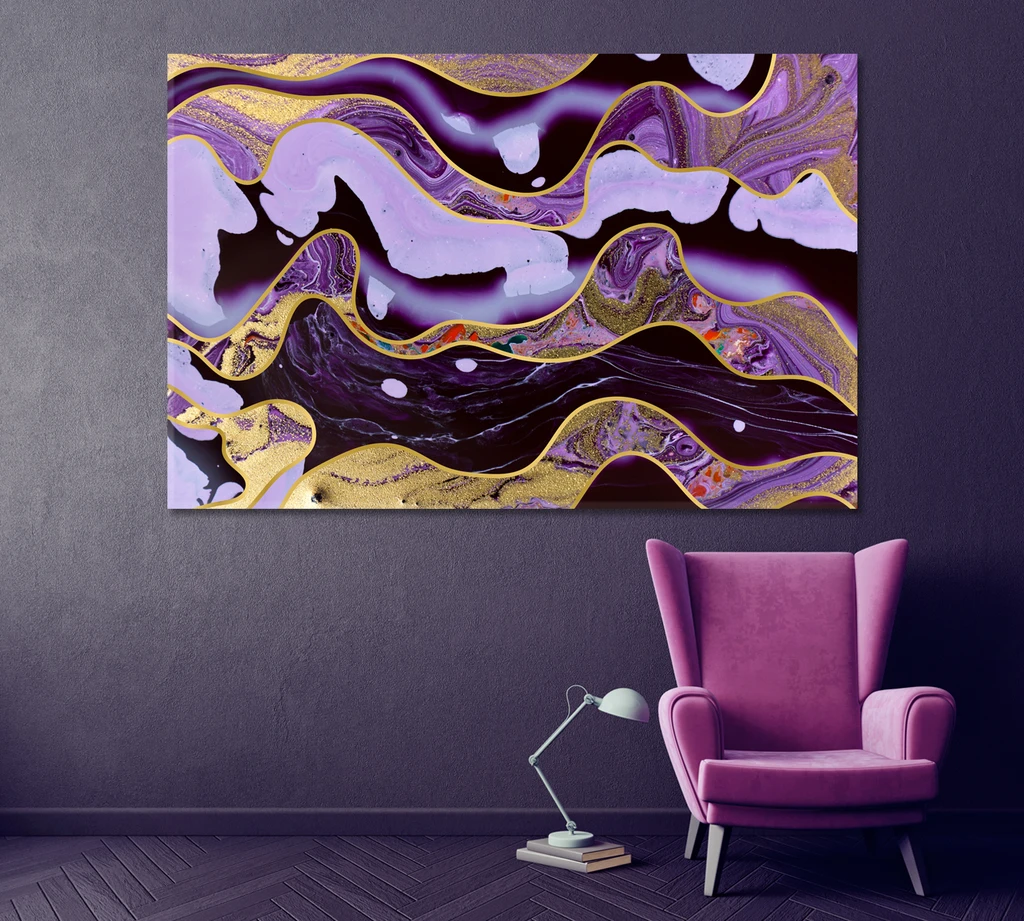 I love tan and purple simply because, with this color combination, you can use a lot of leather and natural wood to balance the purple and bring out its earthy undertones.
Get the look by being creative! The great thing about this color combination is that it's so versatile. For example, you can easily pair a light, muted purple with leather accents for a cool bohemian, artsy feel. Or, take a risk and choose a more bold look with dark purple and tan accents.
---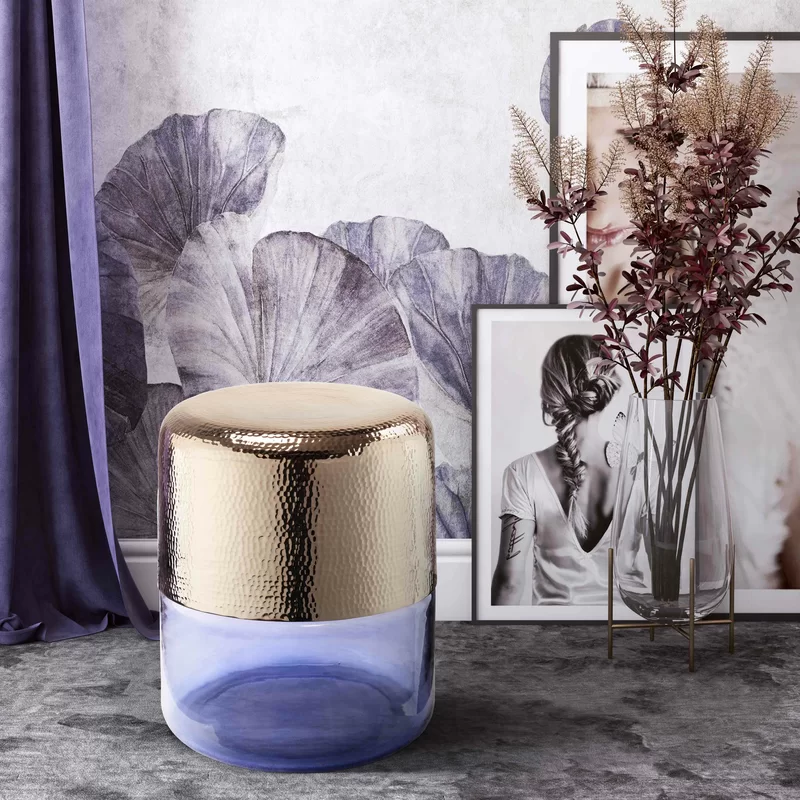 Gold makes everything better, and it certainly does so with this royal color. Gold is our number one favorite purple combining color because it brings elegance, beauty, art, and a sense of the divine into every space.
Get the look by weaving gold and purple into your space through this stunning end table, abstract canvas, and these charming coasters!