Ruggable is the next big thing in home decor! Rugs that are as big as 8×10 that you can wash at home? It sounded too good to be true, so we thought we'd order some to test. Today we are going to giving our honest Ruggable reviews after owning for 7 months.
With three animals, we planned on really putting it to the test. Today, we are going to be giving our Ruggable reviews on the Area, Runner, and the 6' round rugs. This post is not sponsored and we'll be giving our honest opinions about the products, experience, and quality!
As pet owners, we always avoid getting super nice rugs because they eventually get ruined and hold a ton of strange smells that sprays just can't fix. Although you can get some rugs professionally dry cleaned, it's expensive and such a hassle.
How Does Ruggable Work?
It's pretty simple actually. Their rugs are designed with 2 pieces, with a top design cover and a non-slip pad underneath. To wash it, you simply roll the top cover off and throw it in the wash. They are thin and lightweight, making it easy to machine wash.
Overview of Ruggable
How easy are rugabble rugs to install
Our Ruggable rugs were easy to install, comparable to rolling out a normal rug. The only difference is you have to align the top cover with the bottom pad, which is not hard at all.
It's held together with a velcro-like material so you can't tell that it's two separate pieces. 
Cleaning your Ruggable Rug
Next up, the part I was most excited about! So far, we've washed all of our rugs 10+ times since getting them and have noticed no difference in the color or stitching. It's like an industrial carpet made for extreme amounts of use. We dig it!
Washing it is super easy, you simply take the top cover off and stuff it in the washer. It takes about four hours to dry.
You can also vacuum it like a normal rug in-between washings. We've read some Ruggable reviews where people had issues with it coming off the bottom pad while vacuuming, but we never had this issue with any of our styles. Maybe our vacuum isn't as powerful as some other reviewers.
How's The Quality
The overall quality was better than I expected (and I'm pretty picky about my rugs). In all honesty, we didn't have high hopes for a washable rug simply due to the fact that it has to be stuffed in a washing machine to clean. That's a new level of wear and tear. That said, it's pretty comparable to most regular rugs.
First Puppy Accident
We recently adopted a new puppy who had to be potty trained. After his first accident on the carpet, we thought we'd have to also wash the second piece which is only supposed to be spot cleaned.
Upon further investigation, we found out that it has a protective layer in between the carpets so nothing soaked through. We washed the top and it was as good as new, with no odor. As pet owners, we are now 100% SOLD.
Since that first accident, we've encountered all types of accidents (puke, poop, pee, spilled drinks, spilled food) and the rug always comes out of the wash with no stains. It's amazing.
How's Ruggables Rug Selection
Another thing I'd like to mention was their amazing selection of both indoor and outdoor rugs. They have pages and pages of different patterns, styles, and sizes. You can even purchase just the top portion so you can switch out rugs while the other is being washed!
I always browse through the best sellers since there are so many options.
Pricing
I wasn't super excited about their price range. Obviously, you're going to be paying a little more for the washability, so I definitely wouldn't have paid the money for these if I didn't care about being able to wash my rugs. 
Ruggable Reviews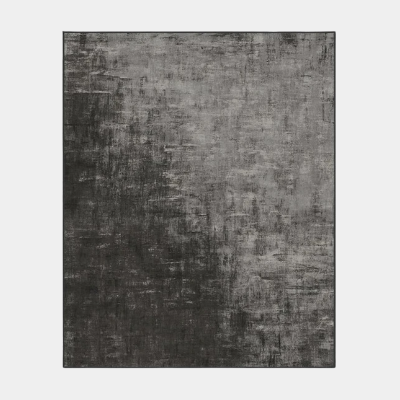 This rug does the job that it was meant to do. It's very durable, easy to clean, easy to vacuum, convenient for doggy accidents, and comes in plenty of different designs to fit your style.
We give it a 4/5. If we'd gotten a Plush model like our runner, it would have been a 5/5!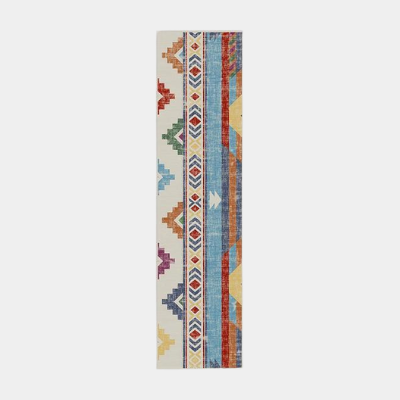 This has been by far our most favorite rug from Ruggable, simply due to it being Plush. We didn't realize how much of a difference it would make.
We wish that we had gotten our area rug in Plush as well (or Shag, I've heard these are very comfy also). But, due to anticipating accidents and not knowing they were that much more comfy, we went with the traditional. We give this a 5/5!
Plush models are a tad more expensive and have different sizing options, but it's not a significant difference. The regular 8×10 is typically $399, while a Plush 6×9 is $439. It's definitely worth a little bit extra in my opinion.
Although it looks nice, this one was a little unnecessary. We place it under a round dining table that we barely use. We probably wouldn't have even washed it if it weren't for this review.
If you don't anticipate having to actually wash it, then what's the point? I wouldn't recommend spending the extra money. We give it a 4/5 just because we didn't think it through.
It definitely looks nice and is good quality, but we could have purchased a non-Ruggable rug for a lot cheaper.
7-MONTH UPDATE
After about 7 months of having our Ruggable rugs, we feel that we can give a good representation of what it's going to be like to own one yourself. The only thing that we really didn't like was that the edges started to curl up, but this didn't happen until we had washed it over 10 times.
Even so, this is fixable. Make sure you clean the dog hair off in between the two pieces then take an iron (on low) and towel to the edges. FIXED! I also noticed a lot of Ruggable reviews said this didn't happen.
Pros
Machine Washable! This is truly the best part of owning these rugs, it's perfect for pet owners and parents
Liner to prevent spills from seeping through to the bottom pad
Over 10 styles to pick from
Non-slip (you don't need to buy those pesky rug liners)
Cons
Edges curl up (but, many people don't experience this and it's fixable)
You have to pay for return shipping if unsatisfied
More expensive than most traditional rugs
Thinner rugs if not Plush line
Overall, Is Ruggable Rugs Worth It? 
Overall, yes it's definitely worth the money, we are huge fans, mainly because we have pets that shed like crazy and make all sorts of messes.
On top of that, I'm very clumsy and have made my fair share of spills on these rugs. I'm sure these rugs are even better for parents with little kids!
Our favorite was the "Plush" rug models as these were softer and, as the name suggests, plusher. In the future, I will always buy this style. 
You will love Ruggable rugs if. . .
You have pets
You have kids
You're prone to messes
You wear your shoes in your house
Your current rugs have the tendency to stink
You simply want an easier way to wash your rugs
Final Thoughts
Being a huge fan of designer rugs, we thought that these only served a few purposes: washing your pets' stench from your carpets and taking an additional step to protect your decor from being ruined. They're a wonderful investment for those of us that have a mess-prone home with kids and pets.
The rugs are high quality, look good, and will last a long time. We love them! Sure, they're not the coziest rugs on the planet, but those rugs aren't an option with pets. These are a great way to decorate your home without having to worry about them being ruined and wasting hundreds of dollars! Now, I can finally brighten up the home with white rugs.
If you don't like the styles offered by Ruggable, you can check out our list of best pet-friendly rugs.