When it comes to mattresses, research can be hard, especially if you're looking at reviews (no matter what brand you're searching for, reviews tend to be all over the place). To help with your research, we've compiled various Purple Mattress reddit reviews all in once place.
Known for their excellent commercials and unique design, Purple is one of the top mattress companies.
However, keep in mind that they are a fairly new company, so it's harder to tell if their products are worth it in the long run. Some of their models haven't even been out long enough to see how they hold up long-term since it typically takes 1–2 years for low-quality mattresses to start disintegrating.
That said, they've helped a ton of people around the world sleep better, so it may very well be worth it.
Although it's great to do online research, we always recommend trying out mattresses in-person before making a decision (although their 100-day trial definitely makes it easier). They also have an excellent warranty in case anything goes wrong.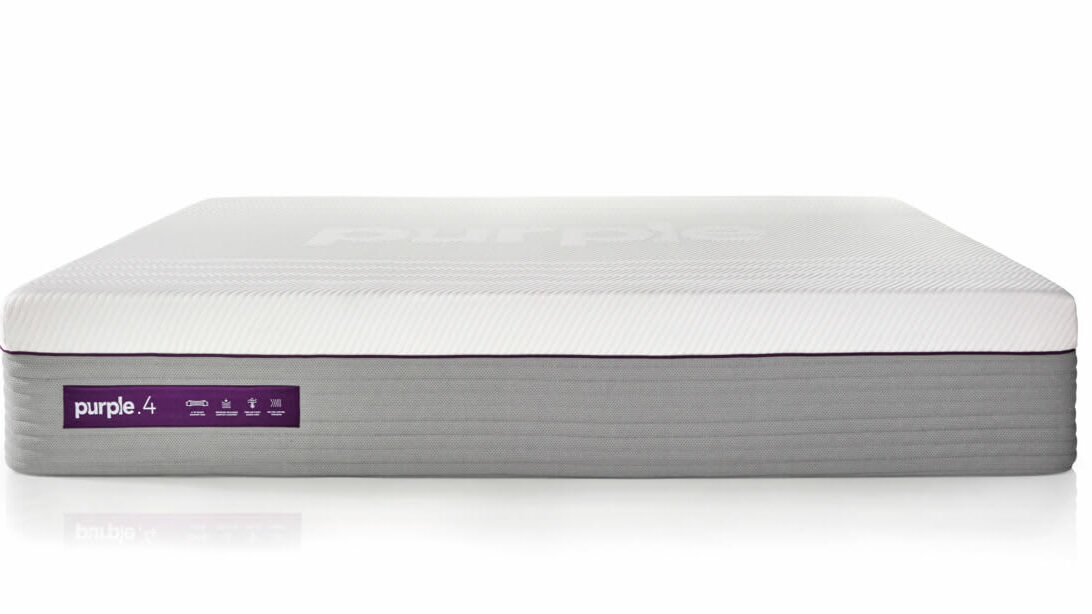 Purple Mattress Reviews (Reddit)
"The first few months were perfect. It was the perfect stiffness for me and I slept like a rock, sometimes waking up in the position I fell asleep in. My back pain from the previous mattress was gone and I was really happy to wake up energized. But then, it all went downhill. About 6 months in, it no longer had the stiffness I enjoyed, it started to dip and I had to find new spots to sleep on the mattress that had the same stiffness. My back pain came back again and I felt like I wasted my money." – u/importanterthanyou
"I will say I bought an adjustable base to go with it and it's such a dream. Just one from a local furniture store, not the Purple base. It has the same features as the Purple adjustable base and fantastic quality, but for a fraction of the cost." – u/rh9553
"As a side sleeper, I liked the Purple 4. My biggest hatred was that the edge support was bad (on the 4 specifically) because the Purple matrix and the memory foam outside weren't directly attached. My leg and arms would get caught and it felt weird." – u/stranger242
"Purple's website lists stores where you can try it and you literally can't go wrong with the trial, it really does have free returns. That being said, you should try it since some people don't love them. Also, I recommend if you're financing that you finance through Mattress Firm as it has the best options." – u/dhsmatt2
"These clearly sag after sleeping in the same spot for a year despite Purple's claims that their proprietary material wouldn't do that." – u/roraima
"I prefer a cooler sleep, and the top layer really helps with that compared to memory foam or even latex foam. So far it shows no wear at all and seems to be very well made. It has GREAT bounce for when you're getting busy, but doesn't transfer motion if one person is getting up and the other sleeping." – u/Cephe
"I had to wait about 4 weeks for it to ship, but besides that, it is easily the best mattress I have ever owned." – u/nbigs
"I have had my Purple for about 6 months so I can't speak to long term durability, but I can say that it has made the morning aches and pains disappear. It feels odd for the first few nights, but now I really notice the difference in the morning." – u/rChewbacca
"I love that it stays cool and if I have to get up in the night, I'm not worried I might wake my wife because it has almost no motion transfer." – u/in8logic
"I got the original Purple and I liked the idea better than the feel. I returned it. It felt like my hips were hitting the floor and there was too much pressure on them no matter how I laid." – u/Rooterbaby
"I've had growing back pain for the last 7-8 months, which disappears when I sleep on another bed. While telling myself this fancy mattress could not possibly be sagging so early, I shifted my sleep to lay sideways along the foot of the bed, and woke up more rested and in less pain. From that point, it was easy to notice how severely the mattress has caved in. Now I have a 200 pound mattress I cannot move on my own. It's been under two years and the thing is utter trash." – u/mmmliz
"There were a few reviews referencing powder that could be found on the bed and pillows that had us a little suspicious." – u/Admiral_Fuzzface
"I went with the Purple 3 because of the feel. It's different, but comforting and supportive. The Purple 4 definitely felt more plush, but it wasn't worth it for the price difference. I also purchased the Purple Adjustable base, which I wouldn't recommend since you can get the exact same base from Reverie for cheaper)." – u/PinkaholicNat
"I have the Original and I'll never go back to a normal bed! This bed has changed my life!" – u/gsshue
"I have never been more happy with a purchase before! I'm a side and stomach sleeper with chronic neck and back pain. I no longer wake up in pain from pressure points or uncomfortable like I did my last two expensive mattresses. It's firm (but not crazy firm), bouncy, and supportive." – u/amanducktan
"I have had the Purple 3 for a little over a year. It was great at first, but the past 6 months I have had terrible sleep. The issue is the HEAT. I need to crank the air conditioning every night to fall asleep, and I still wake up throughout the night sweating. I don't have the same issue in other beds." – u/stargirl437
"My husband and I have had the Original for a little less than 3 years. It took a bit of time getting used to it, but it became a really great mattress. I have noticed, however, since we have been on a weight loss journey, that the mattress is more uncomfortable the lighter you are. I recommend looking elsewhere for a mattress if you're under 200 pounds" – u/Yokaijin
"Purple sheets are worth every penny and I will continue shelling out money for them until the day I die. They're gift worthy. They're just great." – u/Yokaijin
"The hybrid pillows are the real star of the show. Hands down the best pillow I've ever slept on" – GoldenJoe24
"Felt like sleeping on a milk crate." – u/Pinkpillow19
"My lower back pain is now totally gone. I haven't felt much of a difference after the breaking in period, which I suppose is good since I've liked it since the first night." – u/sloppypickles
Bottom Line
Overall, reviews seem to be mixed (like most mattresses, customers either seem to love them or hate them).
While these Purple Mattress reviews from Reddit are definitely helpful and can be great insight, you'll never know how their mattresses will perform for your personal needs since everyone has different experiences.
With any mattress, some people have the absolute worst experience of their life while others have the most incredible experiences. Luckily, Purple is one mattress company that offers an excellent trial period so you can actually sleep on it before making the commitment! If you do decide to buy, this link will give you up to $350 off (plus a $75 gift card to a retailer of your choice if you buy any of the Premier mattresses).