Looking to shop more sustainably? A lot of people don't realize that one of the worst ways we contribute to pollution is with our home essentials, like cleaners and soaps. I recently tried out Grove Collaborative and will be sharing my Grove Collaborative reviews!
Having recently tried Blueland (see my review) and realizing that household essentials can be effective and sustainable, I've made it my mission to have the most eco-friendly home possible.
Although I have most of my cleaning essentials covered by Blueland, there are so many other products in your home adding to waste and pollution that you don't even consider. Shampoo, paper towels, lotions, doggie bags, sponges, oh my!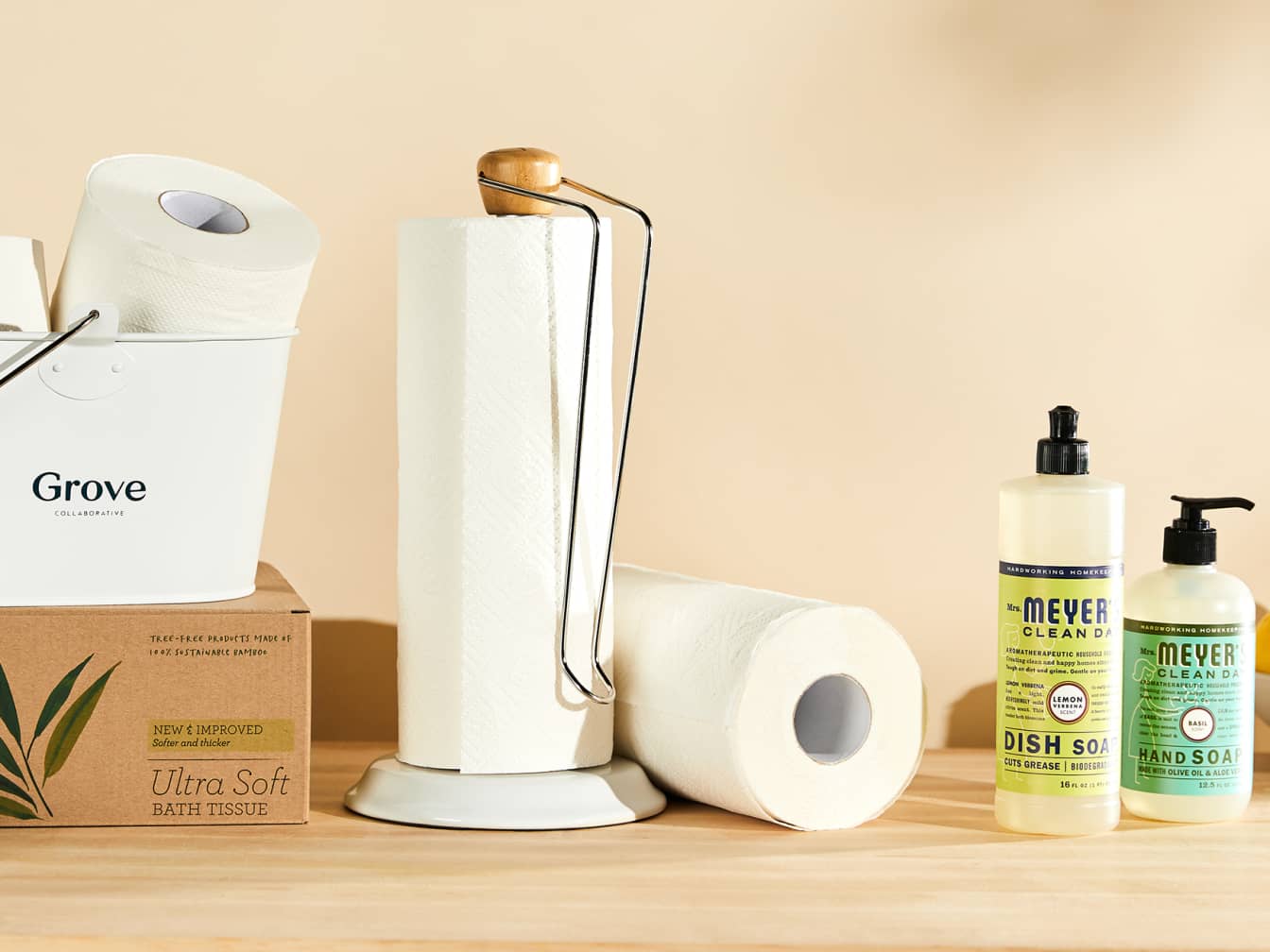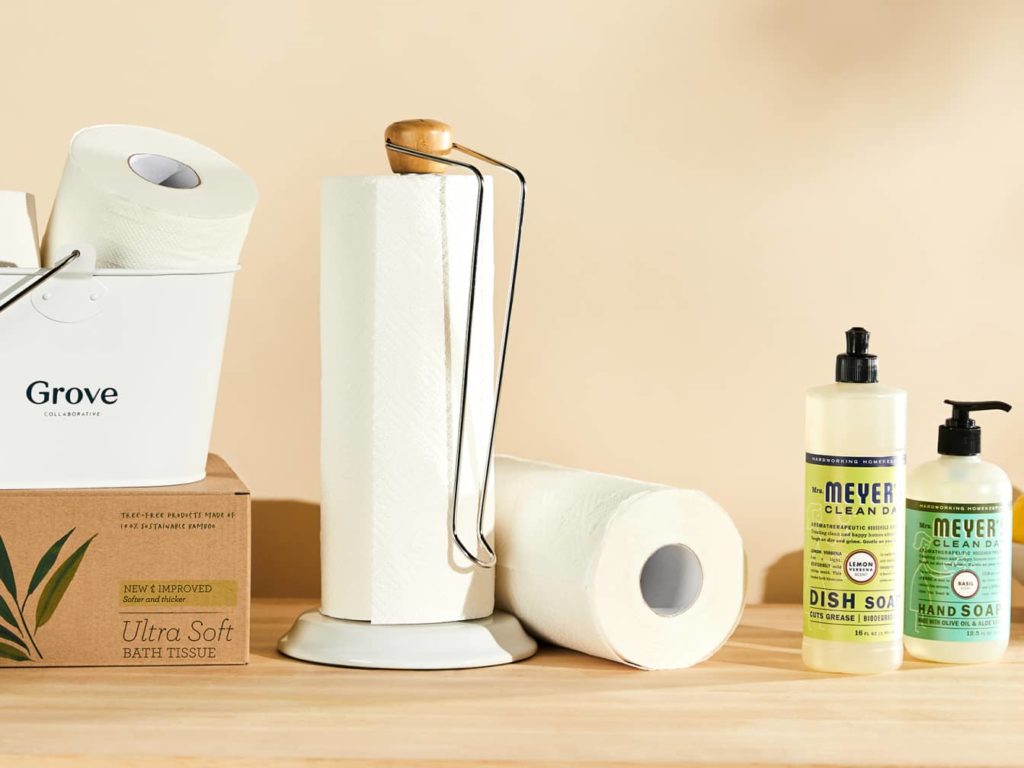 What is Grove Collaborative? 
This brand is all about bringing healthy essentials into your home. Why is it that we allow toxic chemicals into our space so easily?
From cleaning products to bathing essentials, Grove Collaborative is finally asking us why and helping us to understand a healthier way of life for our mind, body, and spirit.
This company is essentially a marketplace that sells both their own brands as well as other sustainable brands. All of their products are also plant-based, cruelty-free, and non-toxic. 
Aside from household essentials, they offer products for pets, babies, beauty, and personal care.
Aside from selling natural and healthy products, they also support other sustainable causes such as reforestation and carbon neutral shipments. You can even view their entire sustainability reports.
Prices
Now when it comes to prices, the creators of Grove Collaborative made it a goal to be affordable for everyone.
Their average prices for cleaning products are only about $5 each. It is also hard to find most products that go over $15 (aside from sets, reusable glass bottles, and other products that just tend to be more expensive in nature).


The only other cost you will incur is their yearly membership. This is $19.99 per year and it gives a few perks:
Free shipping ($4.99 as a non-member)
Free full-size products
Access to new & exclusive products
They do offer a free trial of 60 days so you can experience their membership before committing. Luckily, you don't have to become a member in order to shop from their website. You will just have to pay $4.99 for shipping.
It's also worth mentioning that they have order minimums. Whether you're a member or not, they don't allow you to place orders under a certain amount.
$30 for your first order
$25 for scheduled shipments
$39 for "ship now" orders
While this is a little inconvenient, they do this to help ensure they're better consolidating orders so there is less packaging waste in the world.
My Grove Collaborative Review 
After signing up for the free trial, I placed an order. In addition to the items I picked out below, I also received a free BubbleUp Dish Brush Set with my first order (worth $14.95)!
Shipping was quick, plus all of the packaging they used was recyclable. There was even a card inside with a handwritten note!
Overall, I really liked everything I ordered. Although I didn't try any of their cleaning products,
The only downside is that they sell a lot of products that come in plastic bottles (such as Mrs. Meyer's products), and plastic is one of the biggest issues.
Although many of these brands use recyclable plastic bottles and this sounds like a good thing, it's not always as easy as throwing in your recycling bin. Only certain types of plastic can be recycled in regular bins.
However, Grove Co. is plastic neutral (meaning an equivalent amount of plastic is recovered and removed from the environment). So, this should make you feel a little better about their products!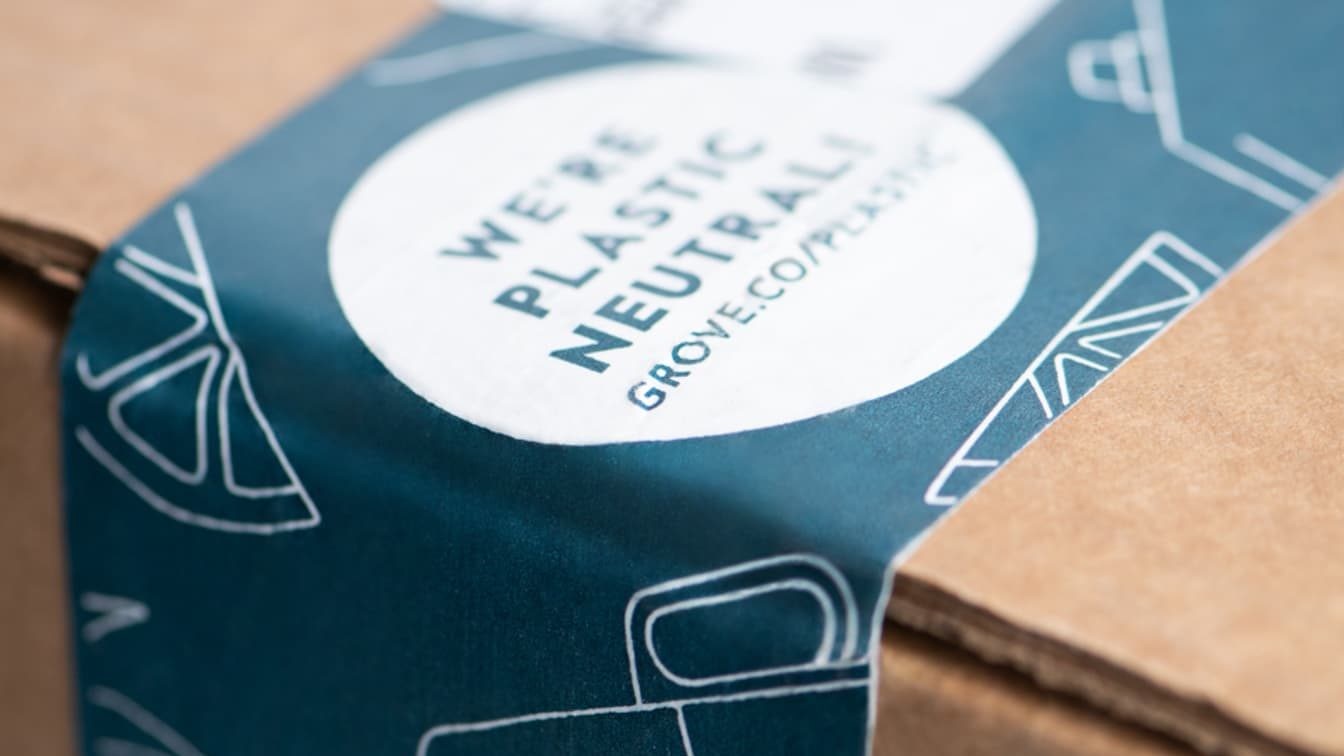 Recycling can be good, but why not do your best to eliminate plastic use in the first place? It's beyond easy it is to use zero-waste solutions like cleaning concentrates and powders that you mix into reusable bottles to create your cleaning products.
To easily see all of Grove's plastic-free options, you can search the term (or just see them all here). Although they sell a lot of plastic, they also have a ton of plastic-free options!
Other Grove Collaborative Reviews
Since I'm only one person, it's time to delve into some top Grove Collaborative reviews and feedback. Let's go over a few top comments. 


"Grove is great, but they're often out of the products I want, so I'm unable to put in my order every month." – Nicole
Everything is affordable and works better than what I've been using for years (and I am super picky). The fact that they give so much back to cleaning up our world is just icing on the cake!" – Shannon 
"I absolutely love Grove and their products, but it can be frustrating that the ship minimums go up and up and up." – Erica
"I love my goodies box every month and the personalized messages on the shipping box!" – Mary
Looks like I'm not the only person who had a good experience! With an average rating of 4.4 on Trustpilot and thousands more great reviews online, you can feel confident when ordering from this brand.
Bottom Line, Is Grove Collaborative Worth It?
After trying them out, I think they're a great place to easily shop online for essentials!
Although they sell a lot of plastic products, I recommend picking zero-waste and plastic-free options similar to Blueland (Grove has a similar cleaning set).
While the yearly membership fee is a downfall, it comes out to less than $2 each month, which is definitely worth it.
With low product prices, all-natural ingredients, and effective formulas, it truly doesn't get any better than this! Plus, I started scheduling my orders so I never have to worry about ordering more of my favorites when I run out.
Grove Collaborative is definitely something to add to your home to help get you on your way to living a happy, healthier, and cleaner life. With such a long free trial and awesome free gifts with your first order, why not try it out?