There are so many different cleaning product companies out there, but they all seem to share the same problem: they waste plastic and contain harsh chemicals. Blueland is a brand that's here to change that – their products are environmentally conscious and totally natural. I will be sharing my Blueland reviews with everything you need to know before trying them out!
What is Blueland?
To start, Blueland is a cleaning brand all about saving a planet.
Because of the huge environmental problem in the world, Blueland is putting their foot down to make a difference in the world, and they're doing so by combating 100 billion plastic bottles that most cleaning products contribute to our oceans, by using reusable bottles.
They use refillable systems, so you don't have to keep repurchasing plastic products and throwing away old bottles. Plus, the little packaging they do use is compostable!
Their mission is all about reinventing common household products whilst keeping the health and safety of the world in mind (and doing it in the most natural way possible).
Prices
Now, their prices vary immensely on their website. They feature products for dishes, laundry, and cleaning sprays.
From $6 for hand-soap refills to $83 for the ultimate Clean Suite Gift set, this brand is pretty budget-friendly.
Overall, it's pretty rare for a brand to bring you high-quality products that are environmentally friendly and also natural at such low prices!
My Blueland Review
Now that I've introduced the brand and their prices, let's get into my actual Blueland reviews of their products!
I definitely got a little carried away when placing my first order. I decided to try out the laundry starter kit, everyday clean kit, and the holiday hand soap duo (I can't pass up holiday soap).
$83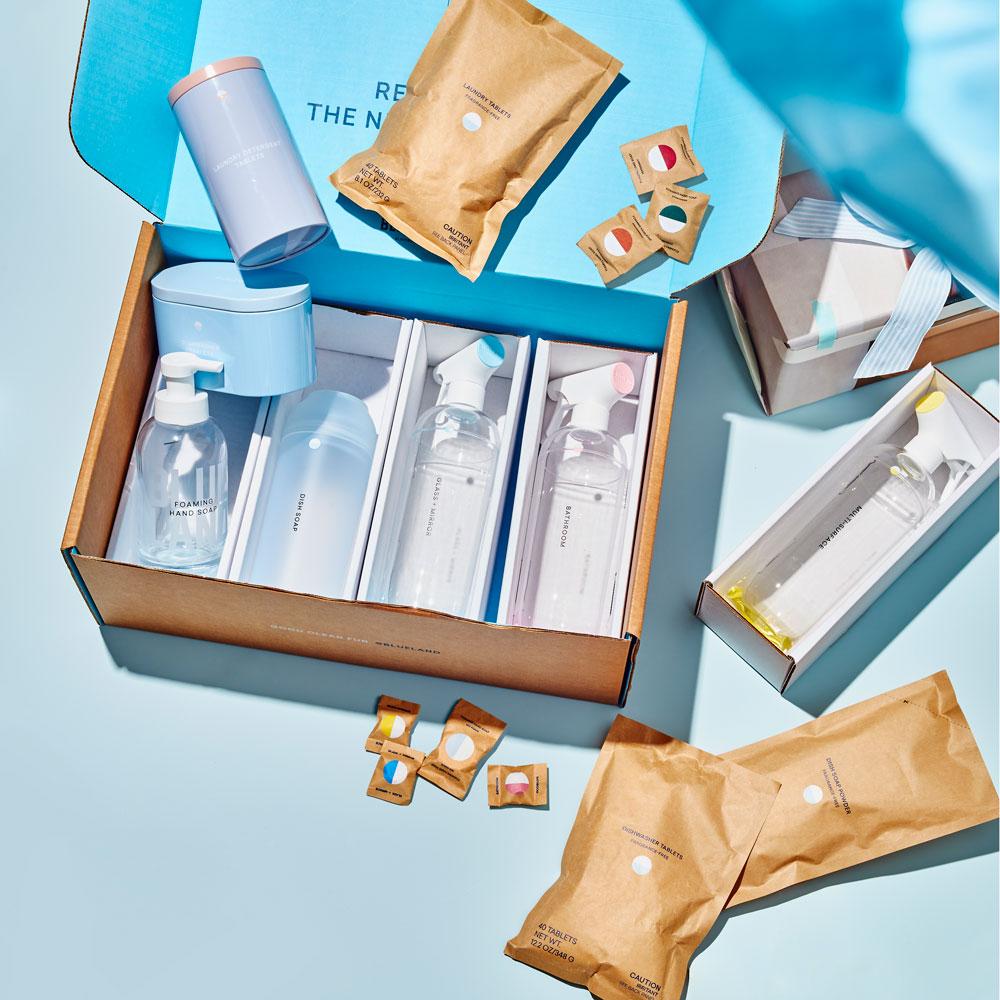 Their largest starter kit features one reusable laundry tin, one tablet tin, 40 pellets for your dishwasher, 40 fragrance-free laundry tablets, six reusable containers with refills, three cl
1 steel tin with 40 laundry tablets
1 steel tin with

40 dishwasher tablets

1 silicone shaker and 16 oz powder dish soap
3 Tritan bottles + 3 tablets for cleaning sprays (multi-surface, glass, and bathroom)
1 glass bottle and 1 tablet for hand soap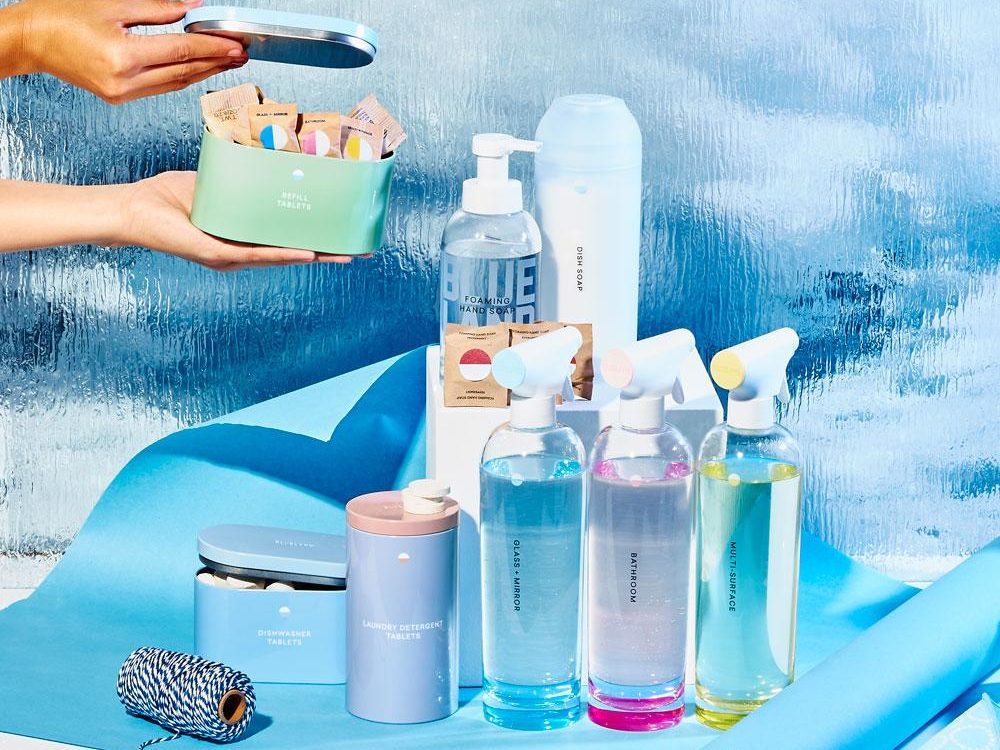 Overall, the kit is a pretty great deal. Plus, if you sign up for recurring deliveres on tablet refills, you get 10% off your initial purchase.
Their tablets don't use any parabens or harsh chemicals – this is the perfect replacement for the popular harsh and wasteful laundry products on the market nowadays.
Being someone who had already used soaps and cleaning products that were more natural since I'm sensitive to harsh ingredients, I was excited to try everything out.
Let me start off by saying Blueland products work way better than every cleaning product I was using before! I'd been having trouble finding a good natural glass cleaner especially, and the Blueland one is amazing.
Aside from that, everything is super easy to make. You simply fill the reusable containers with water and drop the tablet in. Super easy! Or, you can just add your powder dish soap to a sponge and start washing.
For the laundry tablets, you just throw them inside your machine with your dirty clothes, which is way easier than dealing with messy soap containers. Plus, their laundry tablets do an excellent job as well. Even some of the dirtiest things (like an expensive sheet my dog decided to pee on) came out looking fresh!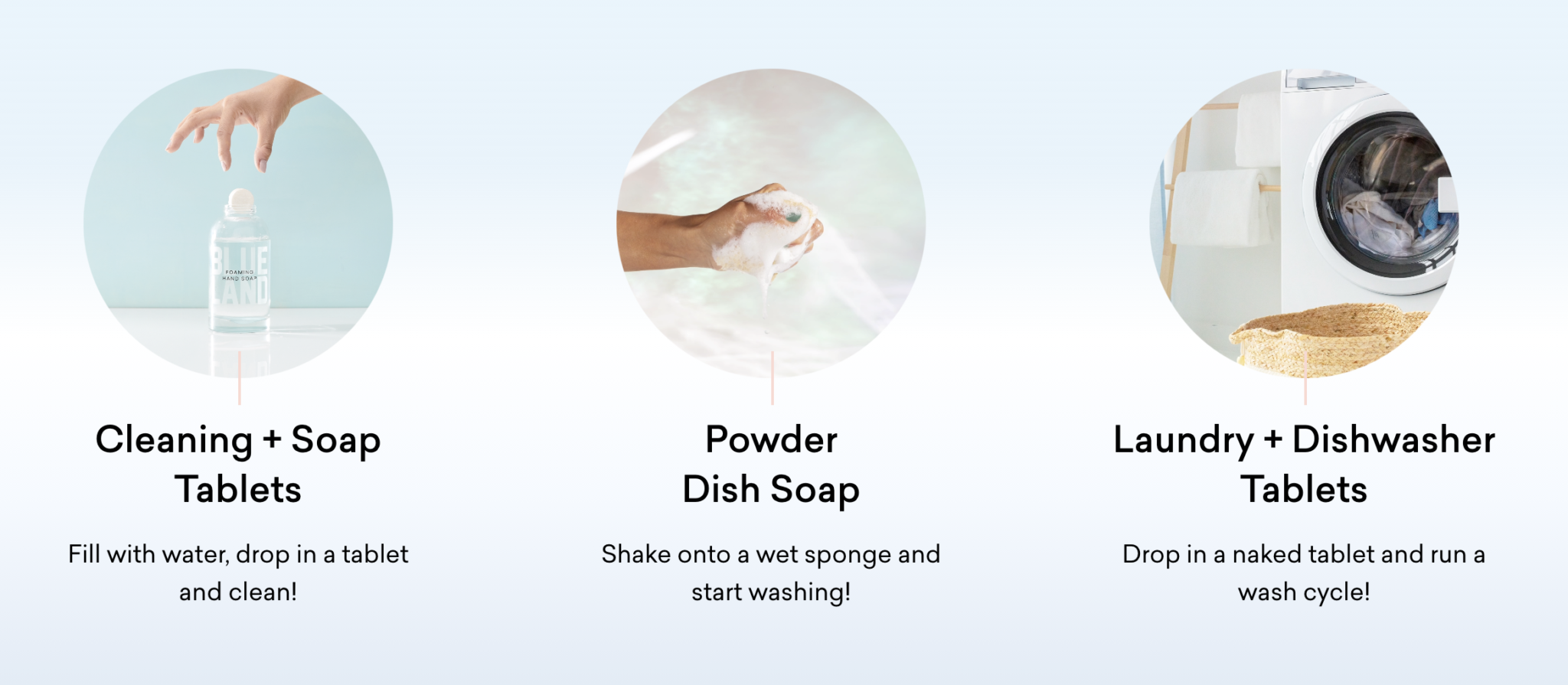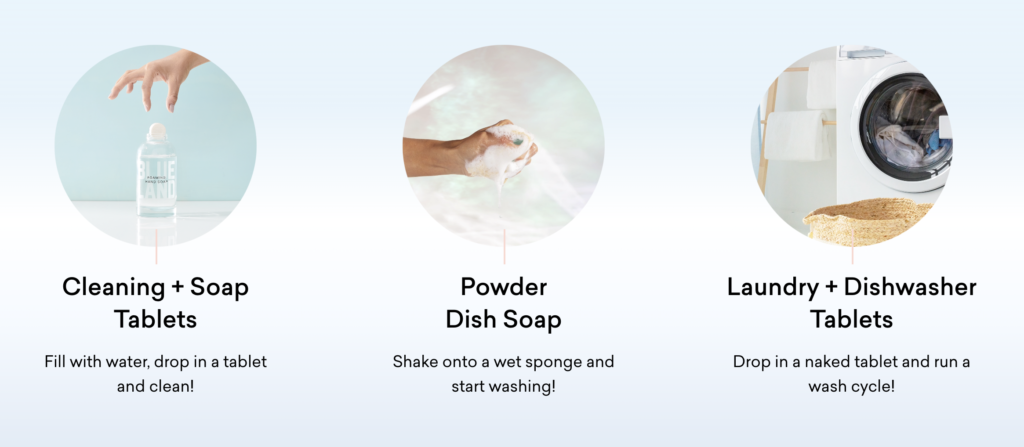 To top it off, their products also smell delicious!
Holiday Hand Soap Duo
Since I ordered during the holidays and have a few bathrooms in my house I need hand soap in, I had to add their holiday hand soap duo. This came with two of their signature glass bottles, 6 foaming hand soap tablets, and three scents (evergreen, gingerbread, and peppermint).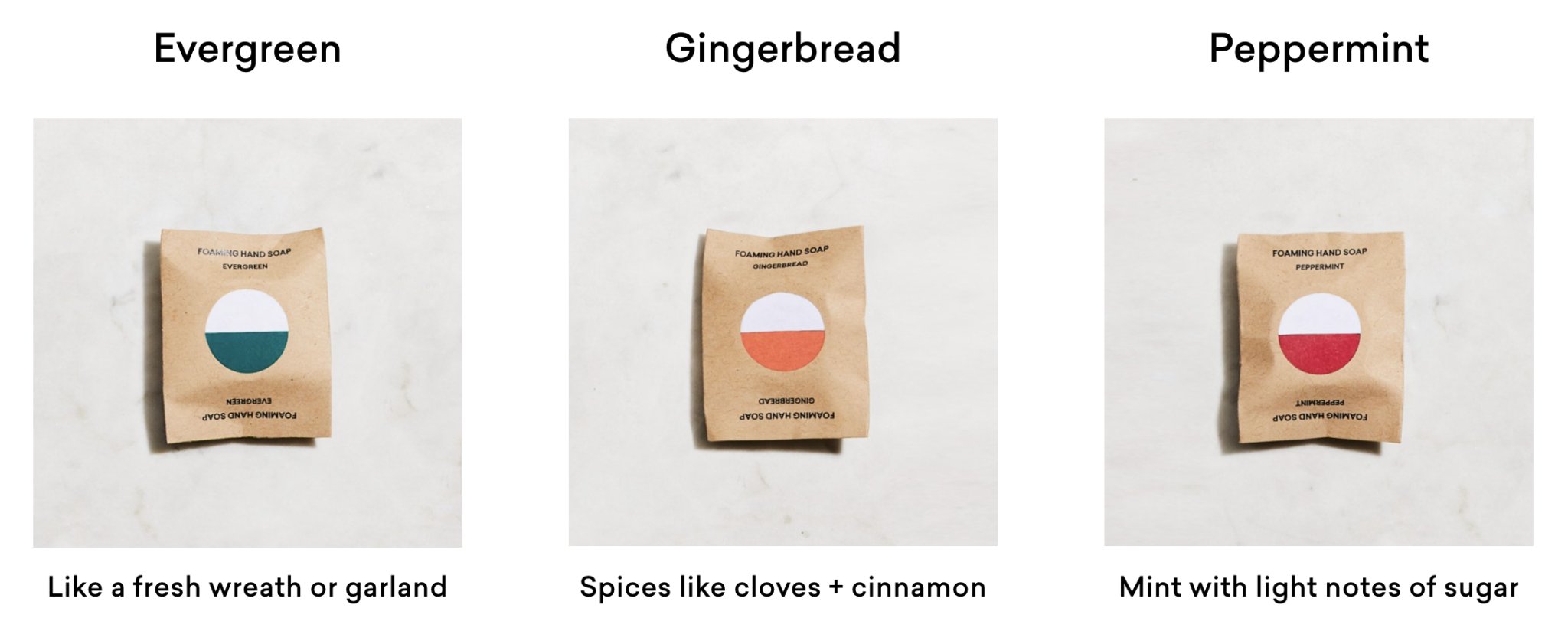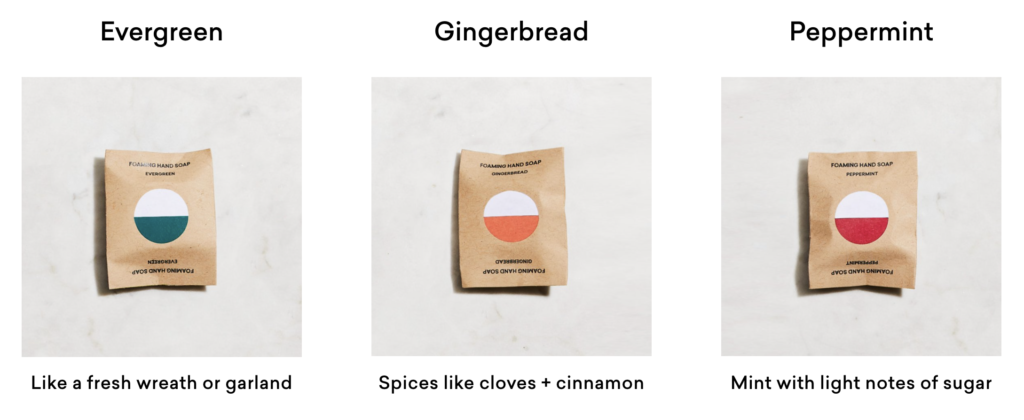 Like with the cleaning kit, you use the tablets to make the soaps using their reusable glass jars. It's super easy,
Their soap works fantastic and smells surprisingly great considering they use all-natural ingredients. I'm excited to stock up on tablets next holiday season!
Other Blueland Customer Reviews
Since everyone has different experiences, we dug deep on the web for more reviews out there. There are some of the top comments we found surrounding the brand.
"I've been using these for a couple of months now and love them. They're a space saver and way less wasteful. I've bought so many of them and will continue to!"
"I love this company and their products. Customer support is always so understanding and kind."
"This works as well as any grocery store brand dishwasher soap. No streaking, and the tablets dissolve completely. I have switched all cleaners in my house to Blueland."
Is Blueland Worth It?
Overall, I definitely think the brand is worth it (personally, I'm in love). Their scents are amazing and their products work great, plus their mission is great. It's pretty exciting to get rid of unnecessary plastic in your house!
My only downside is that I wish all of their reusable bottles were made of glass since I love how sturdy and high-quality glass feels. But, this isn't a big deal (and let's be honest, I'd probably break them).
There are a lot of companies out there that aim to help consumers eliminate waste, but Blueland is one of the few that actually makes it easy and exciting to do so. Their products worked wonderfully, all while helping save the planet. What could be better than that?
Aside from my own experience, most Blueland reviews rave about how much better the products are than store-bought ones and about how much you can truly get for such a small price. Overall, Blueland has my approval, and I suggest that you check them out too.