Living in a studio apartment can be very hard, especially if you're sharing the space with a friend or significant other. Luckily, there are plenty of tips and tricks to make your space cozy and comfortable rather than a cluttered mess with no space. 
Keep reading for our top tips for living in a studio apartment (based on our personal experience). Whether you're moving into a 250 square-foot studio or 600 square-foot studio, these tips can help make your space feel larger than it really is.
Living in a Studio Apartment (Tips + Tricks)
---
Storage, Storage, Storage
In a studio apartment, maximizing storage space is essential. It's very easy for all your belongings to become a cluttered mess when you're living in a tiny space. 
Here are some storage solutions for studio apartments:
Closet Storage
On a similar note, it's common to struggle with closet storage in a studio apartment. Instead of letting your closet become a jumbled mess or throwing everything into a pile, utilize the following storage solutions.  
A hanging laundry hamper can give you extra floor space (if you're able to make enough space to hang it on your rack).
A hanging closet organizer (or more than one) can help you store less-hangable items (like underwear, bras, and pants) without having to invest in a clunky dresser. Even small dressers can take up a ton of space in a studio apartment.
Magic hangers are able to collapse down to hang garments vertically and give you plenty of extra space. For example, you can hang all your tank tops on a magic hanger and collapse it. When you want to wear a tank top, you'll know exactly where they all are. 
S-hooks are affordable and great for storing purses.
Pants hooks that allow you to hang multiple pairs of pants also help save space (and you don't have to worry about annoying pant hooks). 
A rolling garment rack can add extra closet space and feature your favorite items. This also adds a decor element to your studio since garment racks are very trendy in interior design right now.
Storage-Friendly Furniture
Yes, we're talking about storage solutions yet again. It's truly so important to maximize your storage space in a studio apartment!
When shopping for furniture, try to make all of your furniture offer some type of storage space. Here are some common examples:
Side tables + nightstands with drawers
Storage ottoman(s)
Storage bench
Storage sectional couch
Lift-top coffee table
Bed frame risers to utilize under-bed storage
Bed frame with pull-out drawers underneath
Desk with plenty of drawers 
Mirrors with cabinet
TV stand with plenty of cabinets + drawers
RELATED: 11 Best Square Lift Top Coffee Tables
Get Rid of Unnecessary Stuff
You'll want to get rid of anything you don't need before moving into your studio apartment.
If you have stuff you use every so often (like a big bag of golf clubs), consider putting it in a storage unit if you don't want to permanently get rid of it. Or, if you have any family nearby with a larger home, ask if they can temporarily store it for you.
This will make the transition much smoother and reduce clutter. Just one big item can take up a ton of potential storage space in a studio.
Organize Everything
The key to stay clutter-free in a studio is to have a memorable place for everything. Keep your spices in one place, cleaning supplies in a single bin, and so on. 
Buy baskets, bins, drawers, or another storage solution for all of these items (you can even label them so you remember everything). 
The Container Store will be your holy grail, but you can also find some cheaper options at Target and IKEA, depending on the item.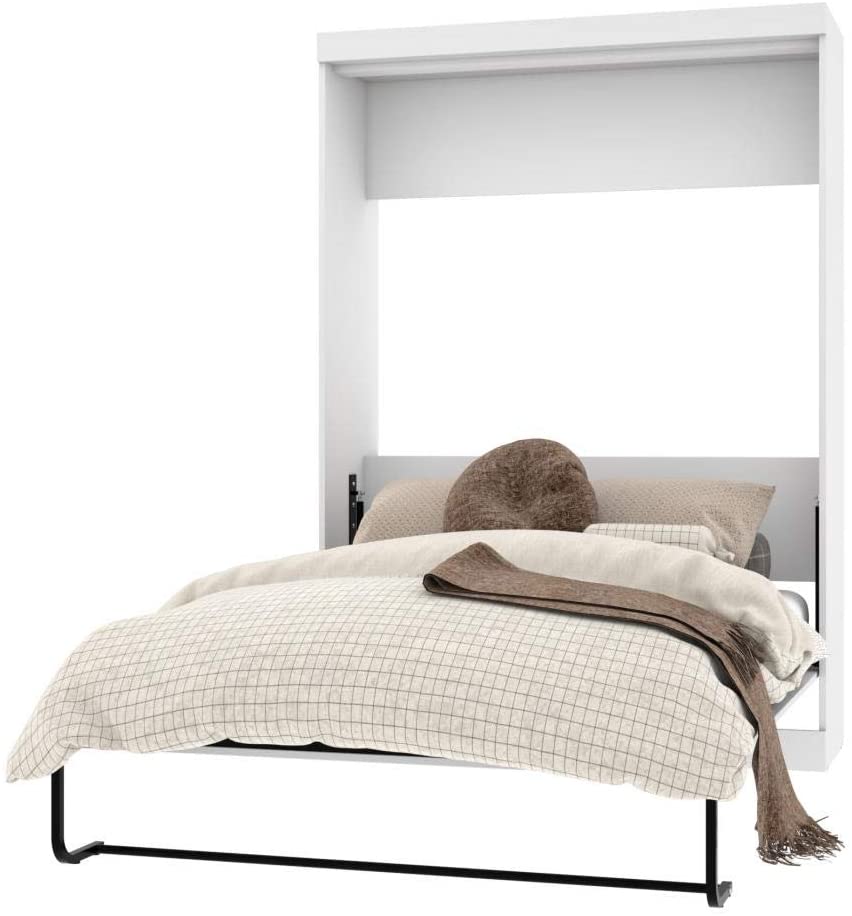 Consider a Wall Bed
If you plan to live in your studio for a decent amount of time, a wall bed (also called a Murphy bed) is an excellent investment. These beds typically cost $1k – $3k and they pull out to reveal your bed. This gives you plenty of extra space to utilize while you're not sleeping. 
You can either go for a cabinet bed or a taller wall bed (the tall versions are easier because you don't have to worry about folding up the mattress every morning). For extra storage space, there are many wall beds that come with drawers on the side.
Some even come with a mattress, so you don't have to worry about that expense. Also, there are wall beds become a desk when pulled up, making it a perfect spot for working from home. The Bestar Queen Wall Bed is one of our favorites with a desk and a ton of extra storage space.
If you're on a tighter budget, a fold-up bed is a similar option that helps save space.
Mirrors!
Large mirrors (as many of them as possible) are essential in a studio apartment. This will help make your small space feel larger.
Consider mirrored cabinets to add some extra storage! You can find standing mirrored cabinets as well as wall hanging options. 
Careful Couch Shopping
When shopping for a couch for your studio, proceed with caution. You may fall in love with that cozy sectional that fits 8 people, but it's no fun when you're struggling to walk around your massive couch.
It's easy to underestimate size, so make sure to take measurements of where you want to put your couch and check the measurements for every potential couch you want to buy. Saving a few extra inches can make all the difference. 
With a studio apartment, a high-quality sleeper couch is a great choice. This will allow you to host guests comfortably! 
Room Dividers
When your bed is right by the kitchen, having some sort of room divider will help your space feel more separated. This can involve any of the following:
Standing divider
Storage chest
Console table
Face bed the opposite way with a tall bed frame
We mentioned this previously, but a wall bed will help your studio apartment feel less like a bedroom and more like a home.
Also, the way you lay out your furniture can make all the difference in a studio, so try out a few different layouts! 
Bunk Beds
On a similar note, if you have high enough ceilings, you can opt for a bunk that has a twin on the top and a queen bed on the bottom (like this one). This way, you can sleep in your cozy queen bed regularly while also having an extra bed up top for potential guests. 
If you want to have a work area or just extra storage space, you can go for a loft-style bunk with a large bed on the top and a desk on the bottom. Or, pick a bunk with an empty area below that you can fill with a desk or anything else you want to put underneath.
Dining Table?
With a studio apartment, we recommend avoiding a dining table. Even small tables take up a ton of space when you're in a studio, and they're not always necessary (it's nice to think about dining table dinners, but let's be honest, most of us end up eating dinner on the couch). 
If you want a space to eat meals, look for an apartment that has a bar counter. Avoiding a dining table can give you extra space that can be used for extra storage, such a dresser or desk!  
Hosting Overnight Guests
When you want to host friends and family, things can get tricky in a studio apartment. But, that doesn't mean you can't host overnight guests!
It might be a bit cramped, but you can absolutely give your guest(s) a comfortable sleeping space while keeping storage to a minimum.
Some great options are the queen + twin bunk beds that we mentioned earlier, a fold-up bed, a sleeper couch, or a blow-up mattress (not our first recommendation due to poor comfortability and extra storage needed).
All-in-One Appliances
Touching on space-saving solutions again, having multiple small appliances can take up a ton of space in a studio.
An Instant Pot offers a variety of cooking features, allowing you to cut down on appliances while still getting plenty of functionality. The Crisp model comes with the Air Fryer lid and even more features!
Note: If you're moving into a studio that doesn't have a kitchen, an Instant Pot or similar appliances are especially beneficial. You might also consider a toaster oven combo as well as a countertop burner so you can still cook basic meals conveniently.
Rent Clothes
Have you ever considered a clothing rental service? These subscriptions are growing larger and living in a studio apartment is the perfect time to utilize one!
This allows you to have access to new clothes frequently without purchasing extra garments that can barely fit into your studio closet.
On top of that, it's a more sustainable way to shop for clothes and you're able to access high-value items without paying high retail prices.
Here are a few top picks:
Nuuly (6 items, $88 per month)
Vivrelle (designer bags and accessories, $99 – $399 monthly) 
Bottom Line
That just about sums it up! When it comes to living in a studio apartment, it's definitely possible to have a positive experience and keep clutter to a minimum. Organization and storage is important, so feel free to utilize the tips above to keep your new space cozy and comfortable.