When prepping your guest room for company, a great way to evaluate how welcoming your accommodations are is to imagine yourself as the guest. Where would you put your bag, plug in your phone charger, and toss your post-shower towels?
We've rounded up the essentials to make your guests enjoy their stay and feel right at home.
Guest Room Essentials
List Overview
We shared quite a few items, so here is an overview in list version. Keep reading for more details about each, styling tips, and some additional ideas!
Water (bottles or carafe)
Toiletries
Tissue box
Extra toothbrushes
Extra pillow + blanket options
A few good books
Phone chargers
Fan
Wastebasket
Laundry basket
Suitcase storage solution
Alarm clock or lamp with outlet
Storage space (nightstand with drawer, extra hangers, dresser)
Nightstand(s)
Lamp
Mirror(s)
---
Guest Room Essentials (Small Items)
Let's start off with the easiest, smallest guest room essentials.
Creature comforts like a bottle or carafe of water, a tissue box that's not almost empty, magazines or book options to drift off to sleep to, and some toiletries always make it seem like you really want your guest to be comfortable.
I usually save product samples from magazines/Sephora orders/hotel stays and also include extra toothbrushes in a basket for guests to use if they forgot anything. And of course, extra phone chargers.
Also, have the wifi info posted, run through the morning routine ("we are in pj's until noon!" or "coffee is ready by 7am, help yourself!" and leave the sugar nearby). This lets them know what they are waking up to and helps them feel more comfortable.
Finally, some people love to sleep with a fan or cool air in their face, so it's always convenient to provide one in your guest room.
Small Essentials Overview
Water (bottles or carafe)
Toiletries
Tissue box
Extra toothbrushes
A few good books
Phone chargers
Fan
Guest Room Essentials (Furnishings)
Having an obvious, convenient place to put suitcases is helpful. In the case of a shorter stay where a bag isn't being fully unpacked into a dresser or closet, you don't want dirty suitcase wheels on the bed nor do you want your guests crouching on the floor sifting through it every time they need something.
Possible solutions:
Depending on the size of your guest bedroom, at least one nightstand is great. This way, your guest can read in bed if they choose to, reach their phone and a glass of water from the bed, and check the time in the middle of the night.
Lighting
Good lighting is another way to help your guests feel right at home.
This can be in the form of a lamp or a sconce near the bed – be sure to let your guests know how things turn on and off. It helps to not have to fumble around in the dark.
Easy Outlets
Beyond providing an alarm clock with charging ports, small furniture with built-in chargers has come a long way and will likely continue to. If a new nightstand or lamp is in your future, consider one that has a built-in charger.
An added benefit to furniture with a charging element is that your guests don't have to look around for the outlets. If the outlet is way behind a heavy dresser or the headboard, built-in charging ports eliminate the need for your guests to wrangle themselves back there to plug in.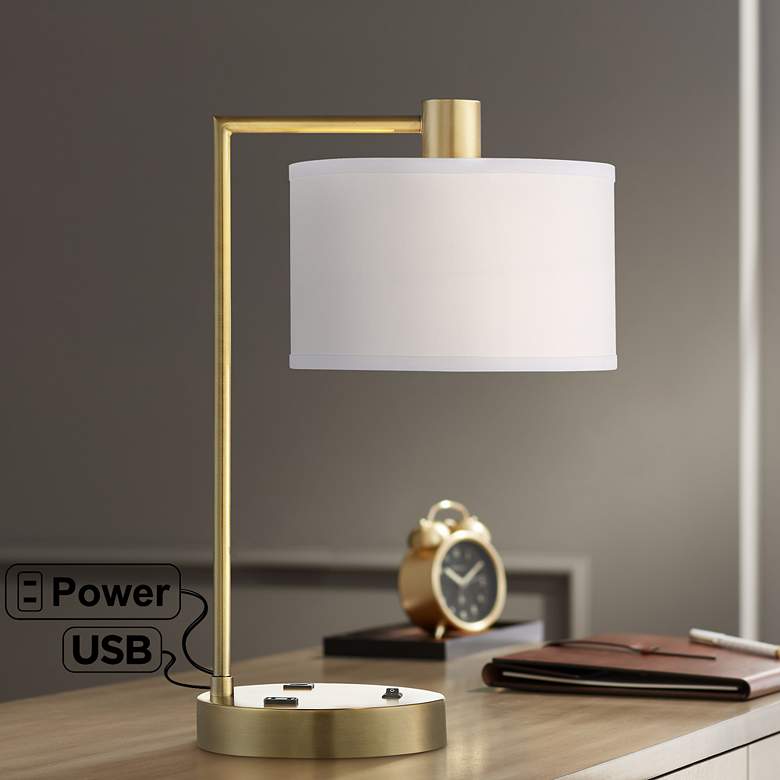 Storage Space
Many guests like to unpack some of their stuff, especially for longer-term stays, but don't want to clutter up your space. So, make this as easy for them as possible! This can include any of the following:
Nightstand with empty drawers
Extra hangers in the closet
Empty dresser
Mirrors
A mirror in the room is helpful, even if it's just a small one hanging on the wall.
If the guest bath/shared bath is down the hall or across the family room, you don't want your guests feeling like they don't know what they look like when they wake up and have to pass through the rest of the family on their way to use the bathroom first thing in the morning.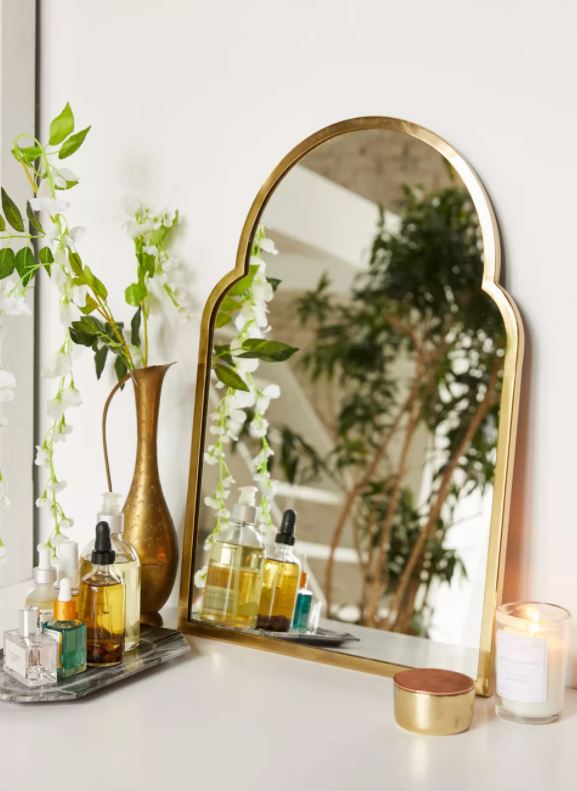 If you have the room, this full length mirror checks a few boxes. It provides a hanging clothes solution and a place to stash shoes and a bag:.
Bed
Good houseguests try to leave things the way they found them, which means tidying up (even if you've insisted that they don't have to)!
On one hand, a bed looks nice when styled in a creative combination of pillow sizes and patterns. However, not everyone may remember the pillow configuration. So, it's best to make it an easy bed to re-make.
Rather than layers of blankets, just put a duvet on the bed, a couple of pillows to sleep on, and minimal decorative pillows, so your guest can put things back together easily.
On the topic of straightening up, a wastebasket is helpful as is a hamper. If you were the guest, would you know where to put your towels and at the end of the visit if you strip the bed, where to put the used linens?
Despite the suggestion to not layer the bed with multiple blankets and pillows, it is nice to give options. Everyone's sleep temperature and pillow firmness is different. So, give a couple of options in the way of folded blankets and another pillow option in a nearby closet or in a neat pile.
Furnishings Overview
Wastebasket
Laundry basket
Suitcase storage solution
Alarm clock or lamp with outlet
Storage space (nightstand with drawer, extra hangers, dresser)
Nightstand(s)
Lamp
Guest room mirror(s)
Final Tips
If you keep a "no shoe" home, make it as comfortable as possible for guests to comply. They will appreciate being offered a few pairs of (new) cozy slippers and sock options in a range of sizes, so that during sandal weather, they're not barefoot if they don't want to be.
Obviously, an uncluttered room and clean bedding are the bare minimum. In the absence of recent guests where the bedding was laundered awhile ago (thanks, pandemic), the Laundress freshening spray smells absolutely amazing and will make it seem like you took the sheets out of the laundry five minutes before your guests arrived!
Overall, the best way to ensure that your guest room provides the most comfortable visit for your guests is to ask yourself how relaxed would you feel in the room if it wasn't your own home. You can even spend a night in your guest room to see if you feel as cozy as you'd like your guests to feel!
Hopefully, this list of guest room essentials makes hosting and visiting as enjoyable as possible for all.