When it comes to trends for the home, minimalist interior design is big lately. Maybe it's due to the war on the clutter that Marie Kondo launched, or all of the time everyone has spent at home lately, or just the desire for a more modern look, but there is a lot to digest.
If you know you want to phase in some minimalist traits but aren't sure where to start, we've pulled together a handful of ideas you can phase in one at a time or all at once.
Whether you're moving and starting with a blank slate or looking to pare down your look, we've got you covered with how to be more of a minimalist at home.
What is Minimalist Design?
The gist of minimalist design can be summed up in three words: less is more. This goes for both minimalist design and the concept of minimalism itself.
This interior design trend is still fairly new – it started becoming popular around the 1970's. It involves getting rid of any unnecessary features, focusing only on the core essentials.
It typically involves object-free spaces, with neutral colors like grey, white, brown and similar shades. Minimalist design focuses on space and natural light, making sure that everything has a purpose.
Minimalist design aims to inspire a calm feeling when you walk into the space.
Benefits of Minimalist Design
Minimal Clutter
This is where my struggle with minimalism begins . . . every time I vacuum, I wish I had moved closer to minimalism so I didn't need to move as many things around. 
Yet here I am, moving little things that don't spark joy away from the base mouldings, so I can get to the floor. In addition to having more money from buying fewer things, incorporating the clutter-free aspect of being minimalist means you'll have an easier time cleaning. 
Instead of a knick knack on every side table, minimalism incorporates space around your furnishings. So, perhaps fewer side tables equals fewer knickknacks to dust.
Sleek Look
When done right, minimalistic homes look sleek and potentially even modern or futuristic (depending on the type of furnishings chosen). 
Calming
Clutter = stress.
One benefit of minimalist design is the calming effect it has on our moods. With a neutral color palette and no extra clutter to worry about, you are more likely to feel calm when you walk into your living room rather than stressed about all of the out-of-place things you have.
Minimalist Design Characteristics
Clean Lines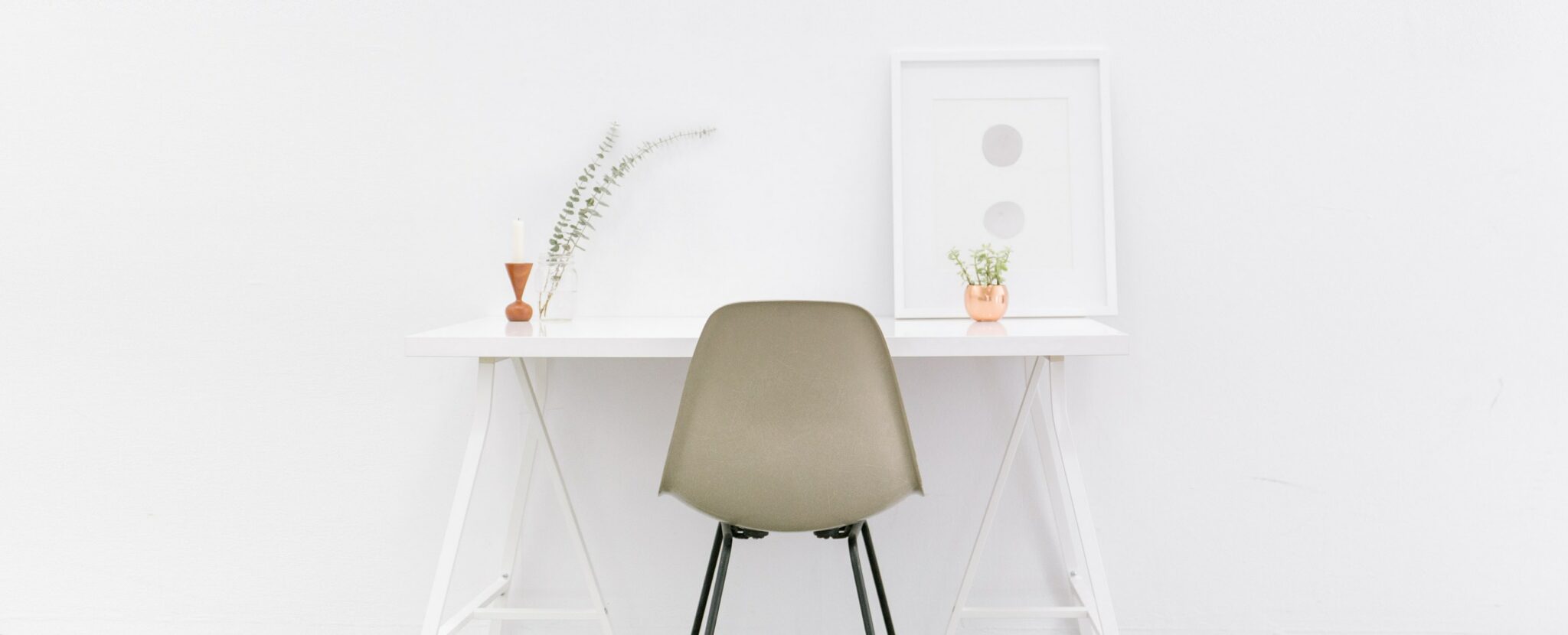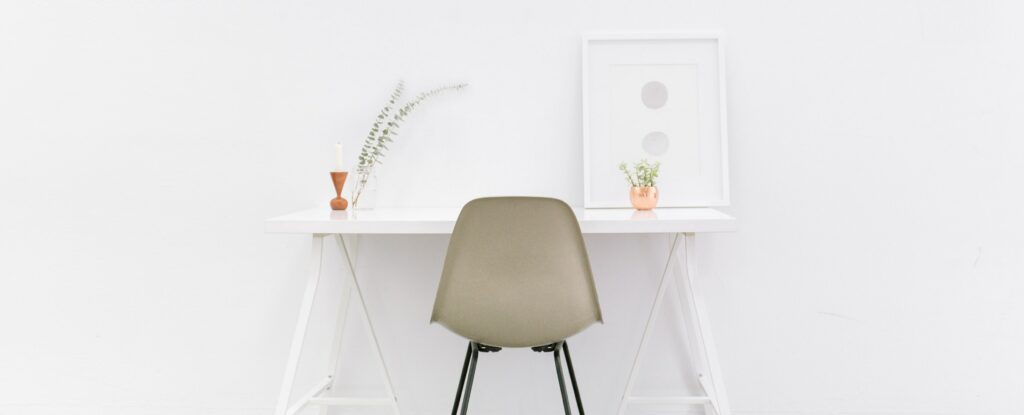 Minimalist rooms feature straight legs on furniture, gentle curves, and not a lot of extra pattern or details. Fabrics are typically solids or tone-on-tone, and the curvy legs and scrolls of more traditional furniture are a 'hard' no. 
Neutral Colors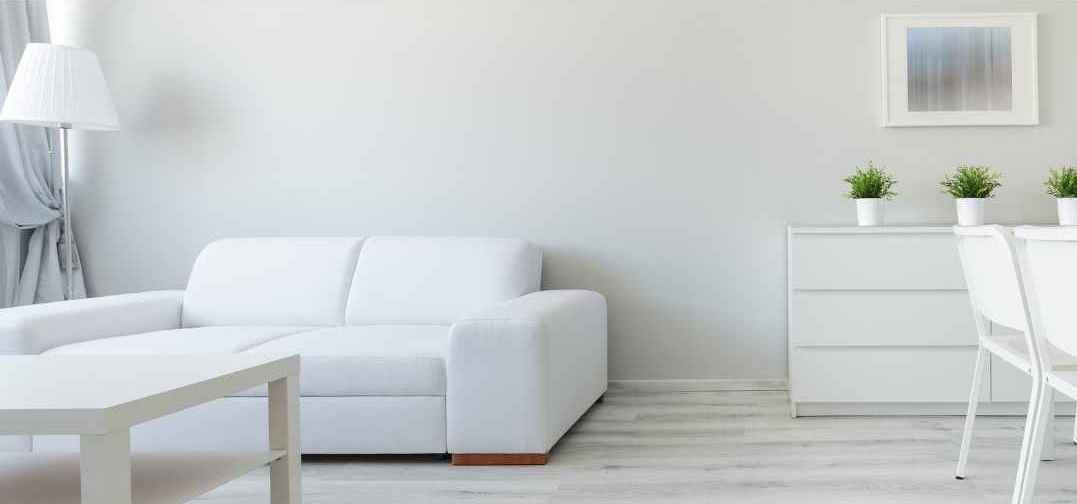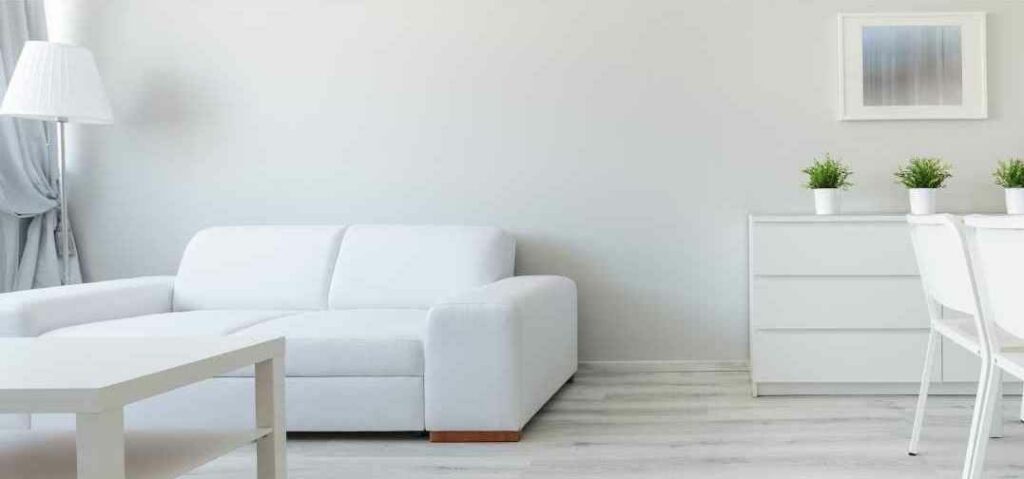 This neutral yet stylish space is a great example of the monochromatic element of minimalism.
To expand on this, you could add darker and lighter variations of the same color and/or add in a couple of touches of your favorite color on smaller accessories.
Beiges, greys, and warm whites are a great start. Don't pick anything startling that jumps out at you.
Quality Over Quantity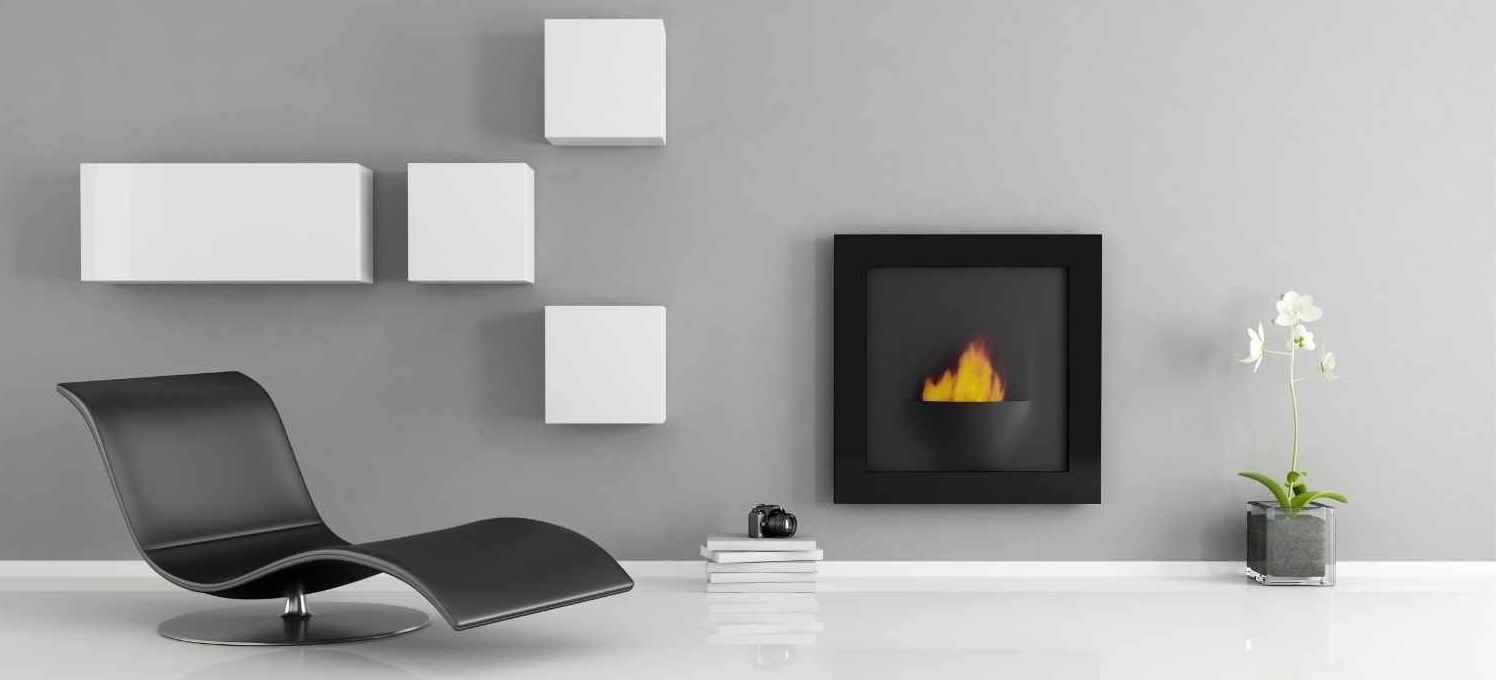 To not have a lot of furnishings means the ones that you do have, have to be good. In the case of a living room where everything is primarily straight lines, the black chair really catch your eye since it's such an interesting shape.
Add Texture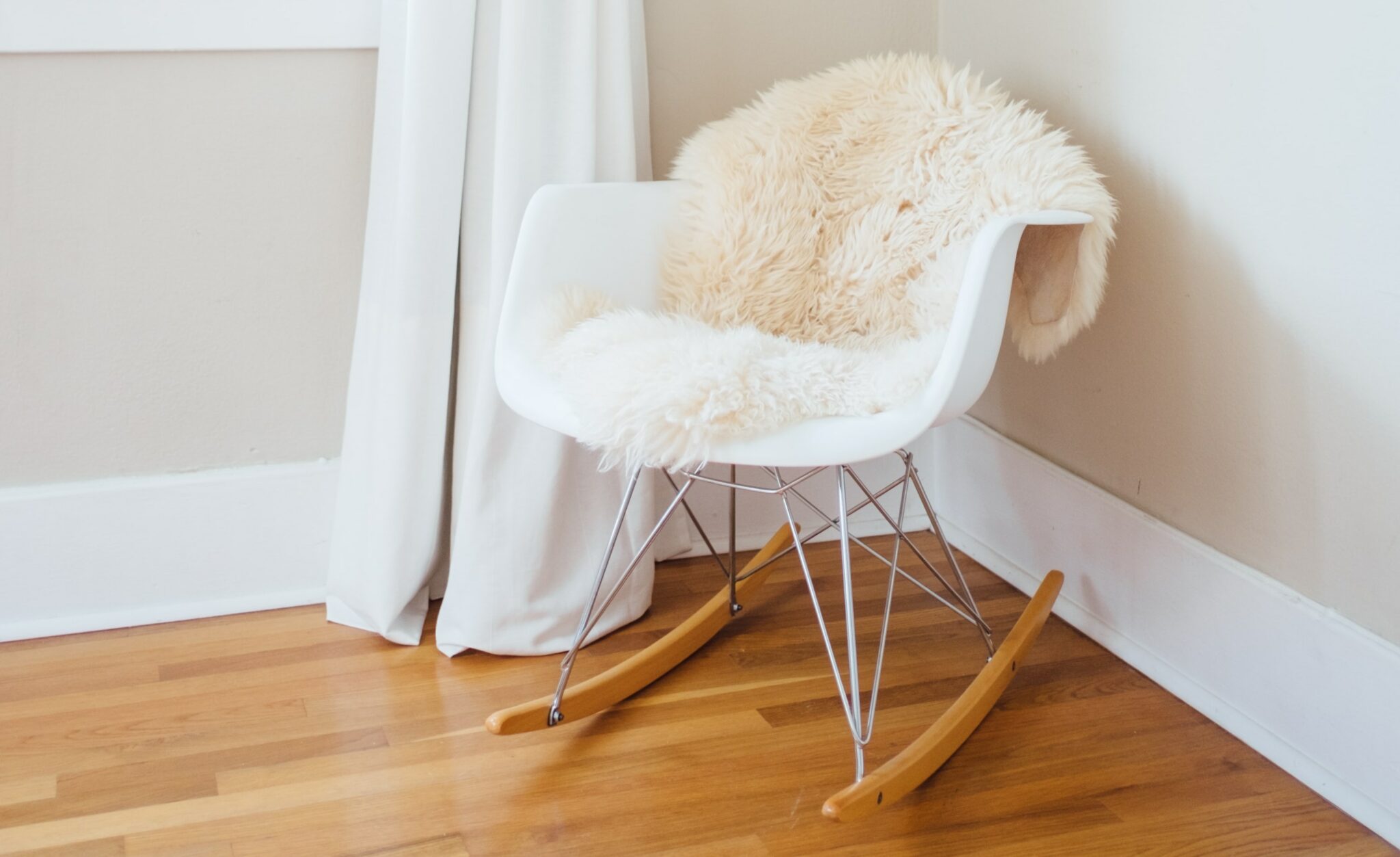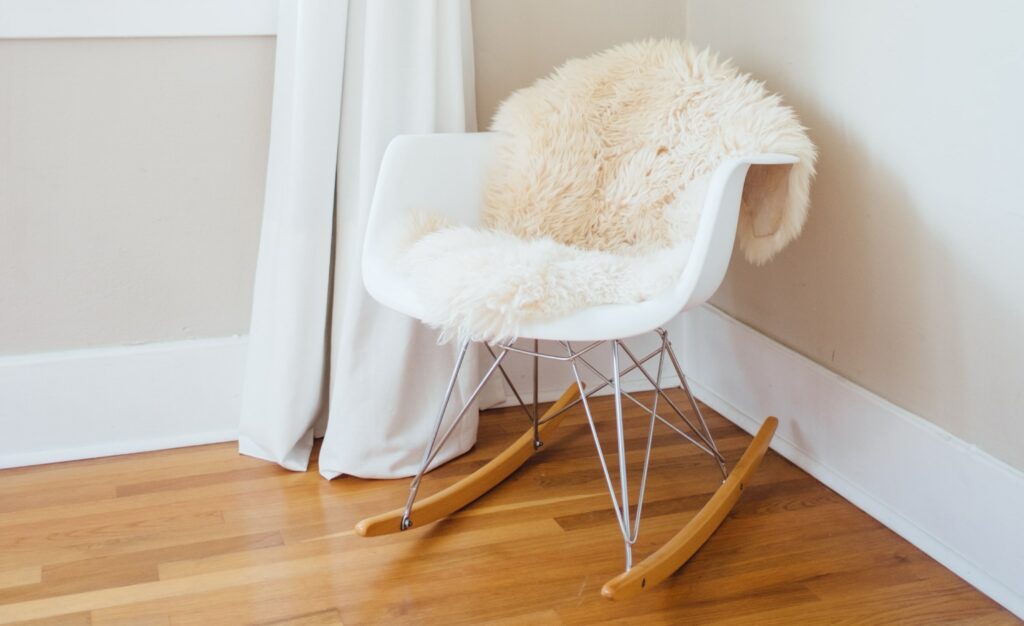 What you don't do with color, you can do with texture. A cable knit throw, a pillow or throw with tassels at the corners, a fringe on the ends of the area rug, or a furry blanket all add texture to a minimalist space. This is where you can add some personality back in with layers.  
The throw shown here adds a softness that's lacking in the wood frame of the chair and slate floor and is a great way to balance the minimalism of the hard surfaces with something to warm it up. Texture can come in a variety of finish options from roughed up wood to pitted mercury glass accessories in addition to textile options.
Functionality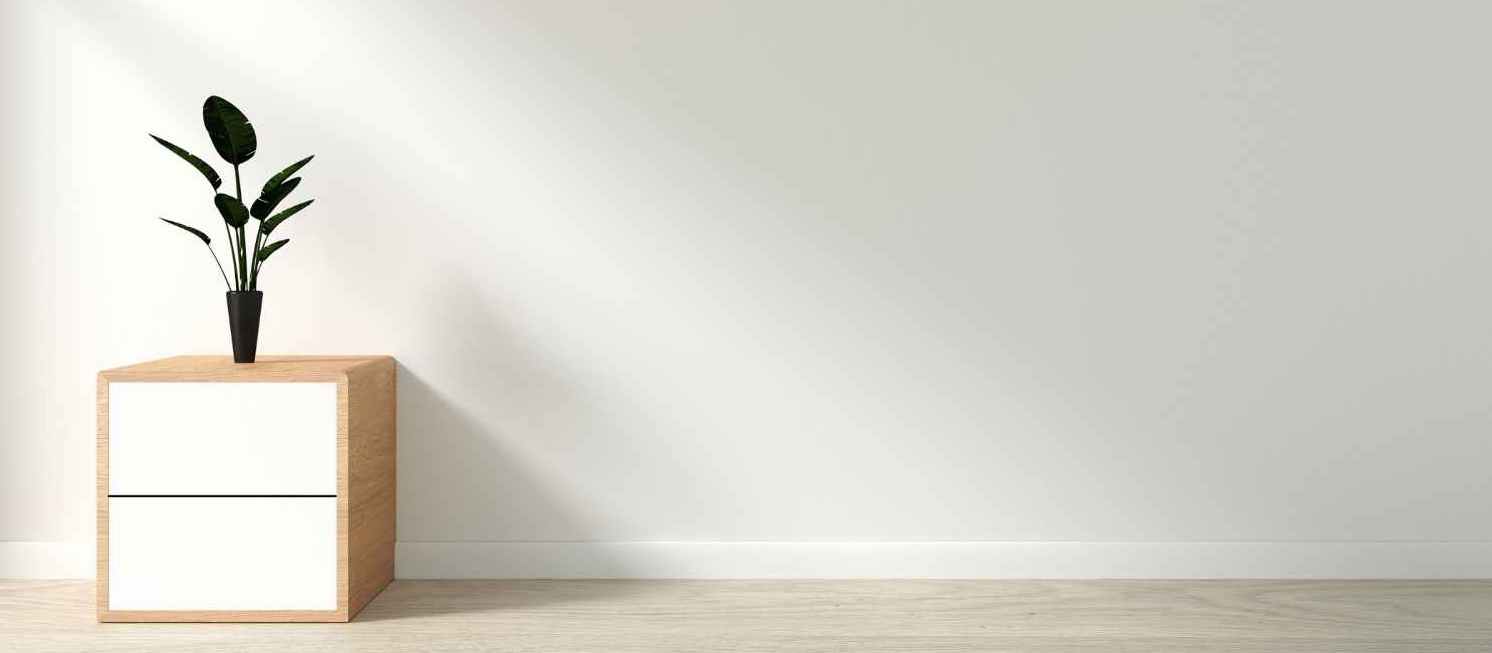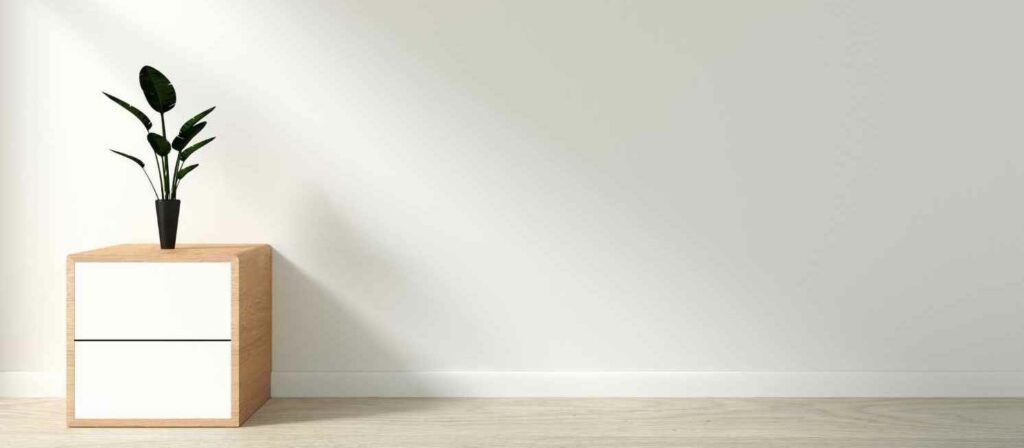 When you don't have a lot of furnishings, it helps to have some of them do double duty.
A statement sideboard with storage, a cocktail table with a lower shelf, a foyer table with a small drawer. Not to add clutter back in, but so there are still places to put things that you use everyday (remotes, keys) that don't require a wall hook or a tray or an additional piece of furniture.
If minimalism doesn't come naturally to you, then a place to put stuff is a must. Cabinets, closed storage of some type, bins/decorative boxes are your friend but keep them on the simpler side.
Natural Elements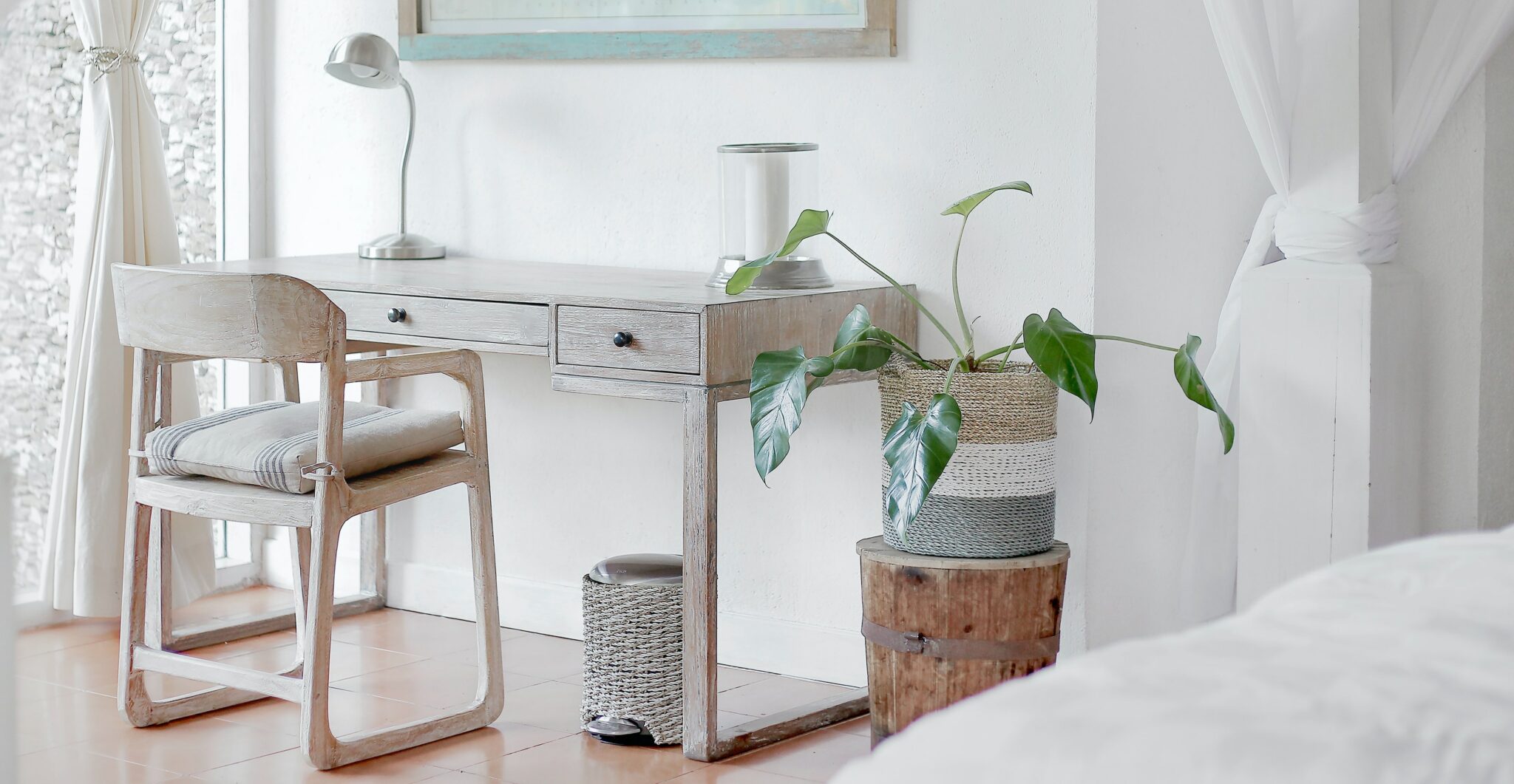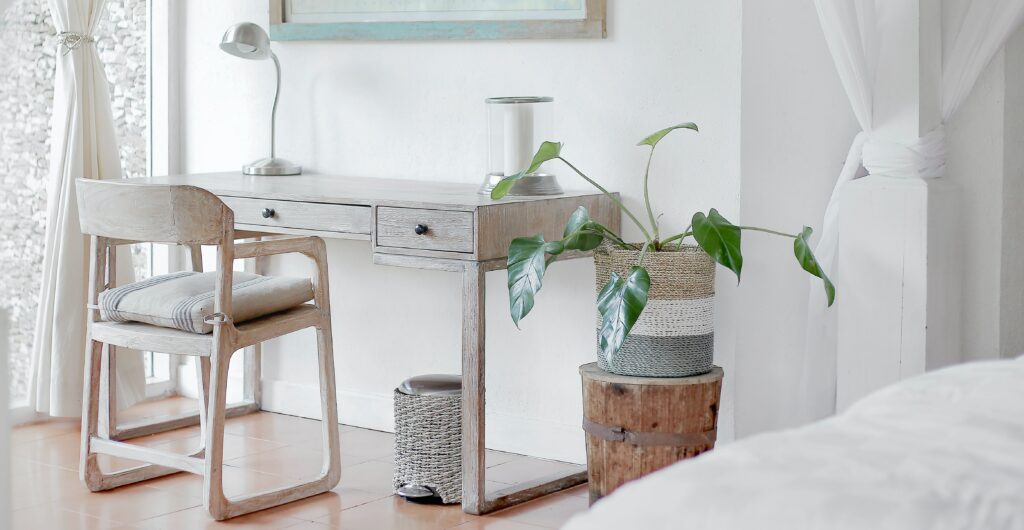 While houseplants have become one of many people's new pandemic hobby, they do add a lot to a neutral, pared down backdrop. They're colorful, they introduce organic and geometric shapes, they cheer people up and they're something to interact with (or am I the only person who looks forward to 'interacting' with my plants?). 
Using a combination of natural elements like rope, limed oak and greenery help make a neutral backdrop more interesting, and they usually work well with each other since they tie together like a subtle theme incorporated into your design.
Eye-Catching Lighting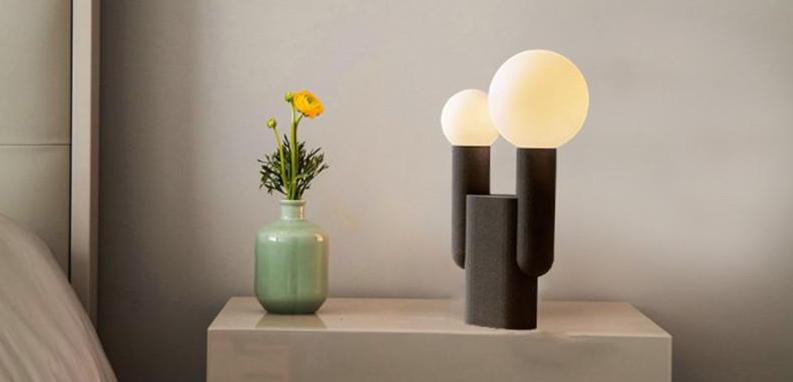 While every style of design requires lighting, it becomes especially important in the absence of a lot of other furnishings. By using sculptural, interesting lighting pieces around your room in different heights and types, you fill in some of the blank spaces that you might feel occur when you have fewer things around. 
Lighting is another way to add in a new shape or finish and can tie things together by using similar shapes for the shades or the same finish on more than one light fixture.
Bottom Line
Whether your minimalism design plans are for a blank slate or a room you're scaling back on, you can incorporate a little (or a lot) of minimalist elements to get the look you strive to have. Whether you're looking to beat back the clutter or just prefer the clean lines of a minimal look, we hope some of the suggestions from our list help you pare down and scale back to get the stylish look of a minimalist home.