Being human, poop smells are something we all have to deal with. Or do we?
Poo Pourri is an innovative product that promises to eliminate these bathroom scents. After viewing amazing Poo Pourri reviews online, you might be wondering if this product actually works to eliminate yucky bathroom scents.
I'll be sharing everything you need to know about the brand, including my personal review (unsponsored, although I should be sponsored with how many bottles I've purchased)! 
What is Poo Pourri?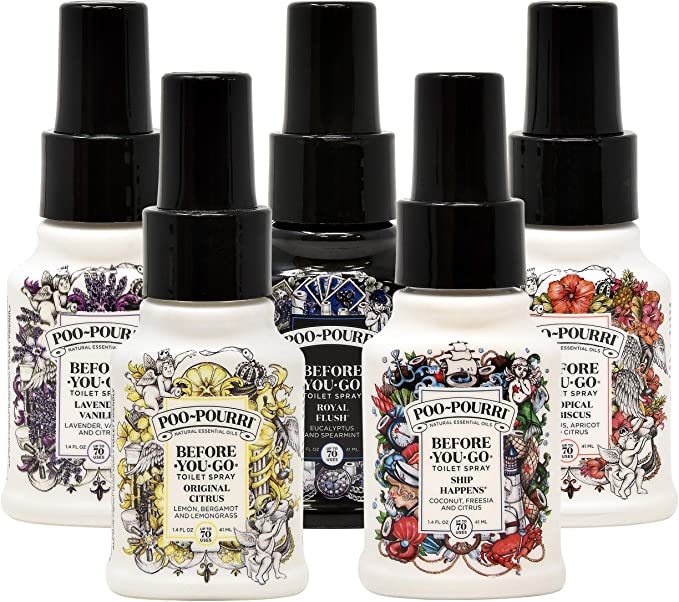 Created by Suzy Batiz, Poo Pourri is a brand creating toilet sprays that eliminate bathroom smells. Simply spritz it into the toilet a few times before you go and you'll never have to worry about bad smells.
Using all-natural ingredients such as essential oils, this simple product is a nose-saver for millions of homes. While many knockoff toilet sprays have been created based on the original product, Poo Pourri is the original brand.  
A 2-oz bottle costs around $10, with large refills available and even mini on-the-go spritzers that are perfect for keeping in your bag as well. 
How Does It Work?
Seems too good to be true? There's actually a fairly simple reasoning for why Poo Pourri works like a charm.
The essential oils used in the product create a film on the water. Your poop drops down below this film, allowing the bad scents to remain hidden underneath the film. Instead, you'll get a nice whiff of essential oils.
The key to Poo Pourri is that you need to spray it before you go to the bathroom. Spraying it afterwards will do nothing, as the scents are already released into the air.
My Poo Pourri Reviews
Now for the real question – does Poo Pourri work?
My Review: 8/10 
⭐️⭐️⭐️⭐️⭐️⭐️⭐️⭐
I've personally been using Poo Pourri for years and absolutely love it. It's truly a godsend – I discovered it quite a few years back and still use it to this day.
And of course, every spray smells incredible. The Lavender Peppermint is one of my favorites (and I especially love their winter-time scents)!
One small reason I didn't give it 10/10 stars is because you don't need to buy this specific product to get similar scent-blocking results. If you want to save money, a couple drops of essential oil before you go works the same.
There are also more affordable knock off sprays that you can find on Amazon (I don't usually buy these because I love Suzy Batiz's story and would rather support her company). 
That said, a bottle of Poo Pourri does last a pretty long time since you only need a few sprays each time you go, so it's not that much of a splurge.
I also took off a star because you need to spray it before you go. This product can't work unless you spray it into the toilet beforehand, so if you forget, you're out of luck. It can be hard to remember when you first start using it, but you'll develop the habit in no time.
Bottom Line
Overall, if you haven't tried out Poo Pourri yet, you're missing out! If you (or something you live with) stinks up the bathroom every day, these toilet sprays are a must-have. Forget spraying chemical-packed Febreeze in the air (which doesn't even fully work).
Now they just need to make a poop spray for dogs.