After a friend brought me 3 plants to bring comfort during the pandemic, I was officially in-love. What began as a slight hobby has now birthed a full-scale obsession; I am now a proud plant mom of 35 plants (and counting)!
If you are a fellow plant lover, or are considering trying your hand at horticulture, check out this list for the best places to buy plants online that will make your home feel like an indoor greenhouse paradise.
Note: Our top pick is last on the list (and trust us, it's worth it).
Best Places to Buy Plants Online
Best for Beginners: The Sill


This NYC-based company is the perfect place for those just beginning their plant journey as well as for those who live urban, busy lives.
Curated for any taste, The Sill provides a plethora of beautiful potted plants to choose from in three different sizes – mini plants range from one to three inches, small plants from three to five inches, and medium options in the six to nine range.
In addition to their extensive collection of plants, The Sill also allows you to customize the home your plant will live in, with unique planters to fit every style.
The Sill is designed specifically to help you become a thriving plant parent, no matter how many plants you may have killed in the past. Still worried that you might kill that beautiful snake plant in your cart? They offer a plant care library and online workshops where you can learn everything you need to know to keep your plant children alive.
Our Picks: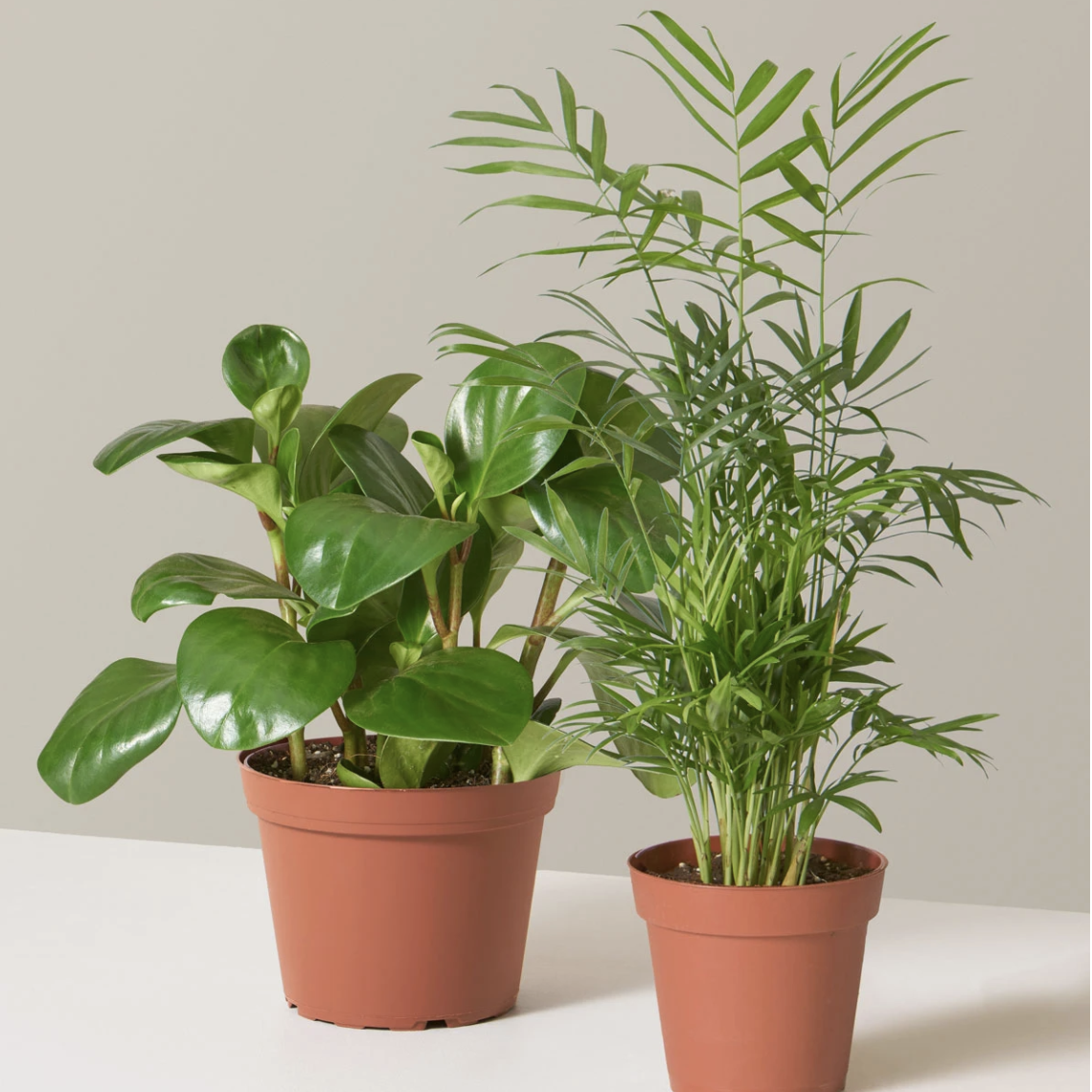 RELATED: 16 Gardening Hacks to Help Your Plants Thrive
Best for Indoor Gardening: Modern Sprout


Modern Sprout began in the kitchen of a Chicago family who loved to cook using fresh herbs and was determined to grow them at home. This store made it on our list for two reasons: 1) sustainability and 2) design.
Featuring hydroponics, Modern Sprout gives its customers the opportunity to enjoy self-sustaining herb plants right in the comfort of their own kitchen.
Beginning with their signature herb garden jars, their collections feature both an easy to manage gardening system with simple design elements that are sure to accentuate any design taste. Plus, you can snag this jaw-dropping mindful meditation kit as a gift to you or a plant-loving friend.  
Our Pick: Make your living room pop with the Glow and Grow Kit ($35)
---
Best Plant Subscription Service: Horti


"A plant subscription designed to build your confidence in plant care," Horti is leader in curating plant subscriptions to match any home and skill level.
Everything about Horti is tailored to you, as their subscription service offers a month-to-month option for beginners as well as a six month and year-long plan. We recommend the month-to-month subscription service, as it starts at $28 and is designed to relieve beginner's anxiety.
Horti also offers a la carte plant shopping. Options range from their customized Order A Jungle package where you pick how many plants that you would like to receive at one time (up to 20) to this individual crispy wave fern that you can snag today for $14.
With plants that are guaranteed to arrive at your door looking their very best, Horti is the place to check out for beginners and plant enthusiasts alike.
Our Pick: The Master Kit for Beginner Gardeners ($100)
---


Turns out Home Depot is not just a place to get quality tools and home accessories, as they feature an amazing online plant selection to satisfy both your indoor and outdoor needs.
With the ability to choose your water requirements (once a week, every other week, daily), pot colors, and price options, Home Depot offers the quickest way to find what you need to make your spice Instagram-ready.
Bonus feature: They offer free delivery for items not available at their brick-and-mortar locations.
Our Pick: Cleanse your space with this gorgeous Snake Plant ($35)
---
Best Place for Cactus & Succulents: Amazon


Similar to Home Depot, Amazon has proven that their speciality is in more areas than you would originally think. Featuring an extensive Garden Store, Amazon is a one-stop shop for all of your indoor and outdoor gardening needs.
While their garden store offers everything you could ever think you would need in your garden (like this kit that helps you grow an avocado tree), we were especially impressed with their massive selection of cactus and succulents.
Perfect for beginners or those with busy schedules, cactus and succulents are an easy way to get your feet wet in horticulture. With organic succulent plant food and affordable variety packs (like this 12-pack), you will be well on your way to making your indoor space feel like a curated jungle.
Our Pick: Wow your friends with this string of pearls succulent.
---
A family run nursery since 1950, this is absolutely the best place to purchase any outdoor plants your garden could ever need.
From this gorgeous "Mother Earth" Iris to the unique "Summer Love" vine, White Flower Farm's easy to navigate online store offers every kind of shrub, perennial, fall bulb, and garden accessory you can imagine.
With detailed descriptions alongside each plant (have a deer problem? Make sure to check the description beside the plant  to see if it is deer-resistant), you will find it both easy and affordable to catch truly unique and quality pieces to make your property pop.
Our Pick: Make your garden shine with these large Stackable Raised Beds ($100)
---
Best for Larger Plants: Bloomscape


Bloomscape is a favorite in the plant world and it's no surprise why. From their signature bloom kits to their extra-large plant collection (check out this 56ft Bamboo Palm), Bloomscape puts the power in your hand to create beautiful collections featuring unique plants you need in pots that are a perfect match for your style and space.
Add their speciality in extra large plants, Bloomspace is the perfect place to hit up for those statement pieces you can't find anywhere else.  
Our Pick: Add the unique Dracaena Gold Star tree to make any space instantly magazine-worthy ($195)
---
Best Plant Gift Service: Floom


While known specifically for their flower curations, Floom also is the place to go to find the perfect gift for the plant parent in your life. Partnering with top-rated local florists, you will find gorgeous curations like this Zen Garden and Exotic Terrarium that are handcrafted and customized for the plant lover in your life.
Guaranteed to arrive as fresh as possible, Floom boasts a top-notch delivery service, allowing you to bring happiness to the plant lover in your life instantly.
Note: Due to how each item is custom made and delivered to you, Floom will require you to enter your zip code in order to see which options are available in your area. Not all options will be available depending on where you live.
Our Pick: This stunning Lorikeet Dish Garden ($225)
---
Best Overall Place to Buy Plants Online: Soil & Clay


After thoroughly researching various online plant stores, Soil & Clay made it to the top of our list for 3 reasons:
Best Selection of Quality, Indoor House Plants
Best Price for Quality Plants
Best Selection of Pots, Planters and Plant Home Decor
No matter what you are looking for, Soil and Clay is the perfect one-stop-shop place to buy plants online.
Featuring a user-friendly website, they have made it both easy and fun to shop popular houseplants (like this Chinese Money Plant) along with unique plant-inspired home decor items (like these Glass Propagation Orbs) that won't break your budget.
And for those who are less confident of their plant-caring abilities? Soil and clay provides a complimentary Plant Doctor team of experts that is available to help you in any, and every, way possible. 
Our Pick: Add this gorgeous Marble Queen in a macrame planter to your living room.