Anyone who's used a paint sprayer before knows they have quite a few drawbacks, However, spraying cabinets does have its benefits. With a sprayer, the paint typically looks a lot more smooth and shiny, which is ideal for cabinets even more so than most other surfaces.
If you're looking to spray your cabinets and don't yet have a machine, you're probably wanting to know what the best paint sprayer for cabinets is.
We've put together a list for you based on your budget, as well as everything else you'll need to know about spraying cabinets.
---
3 Best Paint Sprayers for Cabinets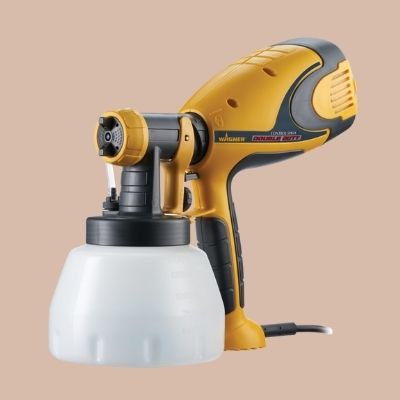 Best Budget (Under $100)
If you're on a tight budget, you can get away with spending under $100 on a sprayer while still getting good results. Our top pick is this HVLP (high volume, low pressure) sprayer from Wagner – this one's actually closer to $50. It has mixed reviews, but we've had great experiences when using it for cabinets.
When using a cheaper option like this, it's even more important to get the other details right (such as sanding, priming, etc.) Jump down to our tips for spraying cabinets!
---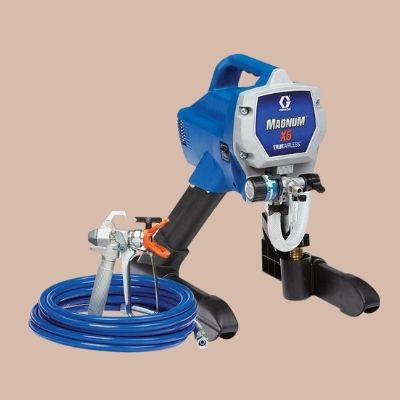 Best Mid-Range Sprayer for Cabinets (Under $350)
If you have the budget to spend a little extra than the previous category, this Graco model is worth the money. You can sometimes find this model for under $300 if there's a good sale (we've scored for $250 before).
---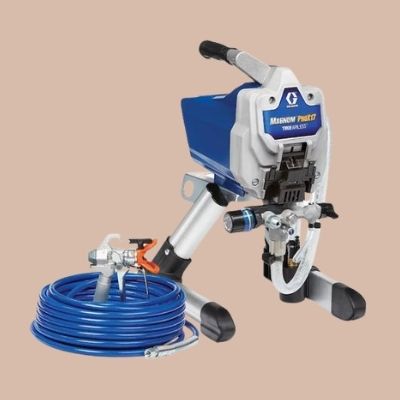 Best Splurge Paint Sprayer for Cabinets (Under $600)
If you really want the best paint sprayer for cabinets that will give amazing results and can be used for years to come, you're going to want to splurge a little more. This high-end sprayer is perfect.
If you just need to paint your cabinets one-time, you might not want to spend the money on this and go for a cheaper version instead (or just stick with the good ol' brush and roller method).
Although this is our "splurge" option, there are even higher-end sprayers that would be ideal if you're a professional looking to buy a sprayer for your business. These can cost up to $2,000 (or even more), so I would recommend investing in one of these models. The Graco 365 Ultra Contractor is one great option.
---
Tips for Spraying Cabinets with a Sprayer
Not only do you want to get one of the best paint sprayers for your cabinets, but there are a few extra tips to make sure the job is perfect.
---
Safety First!
If you've never used a sprayer before, you might want to stick with a brush and roller or have a professional do the job, especially for a one-off cabinet project. A fluid injection wound is common in non-professionals and is very severe, it can even be deadly.
However, if you still feel confident that you will be able to follow safety measures, make sure to use the sprayer far away from children and pets. Never put your hand on the nozzle, even when cleaning.
Additionally, never try to plug a leak with your finger and don't aim the sprayer at anything you're not painting (especially not other people or pets). Always install the guard that typically comes with newer sprayers.
---
Don't Forget to Prime + Sand
It's important to sand down your cabinets as well as use a primer for maximum results. Sand down doors, frames, trims, and sides lightly with 320-grit sandpaper (enough to remove the shine). Before you apply the primer, do a quick wipe down with a cloth.
You will want to use a stain-killing primer for cabinets, which can be applied with a cheap brush as you don't need to worry about brush strokes.
Note: You can use an oil-based primer under water-based paints, but not the other way around.
---
Paint Selection
To improve longevity, use higher quality paint when spraying high-traffic areas, especially cabinets that are exposed to heat and grime or grease (such as the kitchen). Make sure the paint you're using is very hard, won't be affected by harsh chemicals, and is easy to wipe down.
Additionally, check the label and make sure it's recommended for cabinets.
Oil-based paint is great for its hardness and ease of care, but many people experience yellowing over time (over years, but sometimes even months). Some brands are better than others and regular sunlight can slow this yellowing process.
Sand between coats with a sanding block to remove any bumps, but not after the final layer – this will reduce shine and a quality paint should self-level on its own.
Our top picks for cabinet paint to use in sprayers:
Benjamin Moore Advanced
Sherwin Williams ProClassic
Insl-X Cabinet Coat
---
Strain Your Paint
Sprayers are known to clog, so you'll want to strain your paint through a paint sock beforehand.
Additionally, you might want to get a reversible tip (these allow you to remove the tip and blow through to remove the clog, which makes them much easier to unclog). Some newer models come with these.
---
Take a Test Run
Whenever you purchase a new sprayer, you'll want to test it out first. Take an old piece of furniture (or buy some cheap pieces on Craigslist or OfferUp) and try painting it with your new sprayer. There will be a bit of a learning curve to your new tool, so you won't want to start right away on the cabinets you intend to paint.
If you're inexperienced with spraying, you might want to take a few extra test runs as you will be much more prone to mistakes. There's usually a steep learning curve when you're new to sprayers.
---
Spray Cabinets Outdoors
If possible, remove your cabinets and bring them outdoors to spray. Sprayers are messy and create a lot of paint dust. If you use them indoors, you'll be breathing in a lot of these particles for a few days unless you have a respiratory mask and don't plan on being inside the home for a few days.
Although you can spray indoors, it will be quite the hassle. You need to tape everything off (even the ceiling), remove switches, remove fixtures, etc. This prep takes a lot longer than you'd think, so it's truly easier to take your cabinets outdoors.
You will absolutely want to wear a respiratory mask to avoid breathing in the harmful particles. Afterwards, avoid the home for a few days because this will remain in the air.
---
Bottom Line
Overall, make sure to invest in the best paint sprayer for cabinets that you can afford and follow all instructions for spraying your cabinets. Most importantly, follow safety protocols and never put your hand on or near the nozzle. Happy painting!